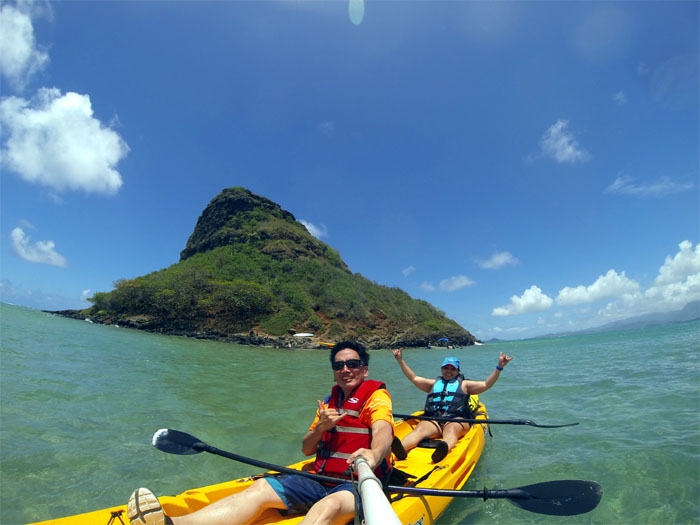 Only had time for a quick hike today. Mokoli'i Island or Chinaman's Hat as it is more commonly known fit the bill.
I met Jasmin at Kualoa Regional Park, which was crowded with weekend campers. We managed to launch the kayak in the water without flipping ourselves in the process. Always an accomplishment in my book.
The waters were a little choppy and the current kept us making corrections to make sure we landed on the island. As we got closer, we could see several kayaks already on the beach and people on top of the island.
Roughly 15 minutes later, we found ourselves on Chinaman's Hat. Looking out towards the impressive Pu'u Kanehoalani which sits on Kualoa Ranch.
It was a quick 10-15 minute walk to the top. From the 210′ elevation, we could see the Ko'olau Mountain Range, Pu'u Ohulehule and Pu'u Kanehoalani. Quite a treat. Click here for the larger image.
We saw swimmers, SUP and more kayaks approaching the island. Guess this place gets a lot of traffic. The island is owned by the City & County and is open from dawn to dusk.
Looking down at the small cove on the northern side of the island.
The swimmers came ashore on the island just in time to catch a rain shower moving in from the ocean.
Looking towards the mountains.
Looking towards the ocean.
Climbed down to get a better view of the island. Photo by Jasmin Nepomuceno.
A different view of the island.
Small kine rock climbing on the Kaneohe ocean side of the island. Photo by Jasmin Nepomuceno.
Leaving Chinaman's Hat. It was fun.
Round trip mileage including kayaking and exploring the island was a whopping one mile. Short and sweet. Almost makes me want to buy a kayak. Next island to visit: Gilligan's Island!