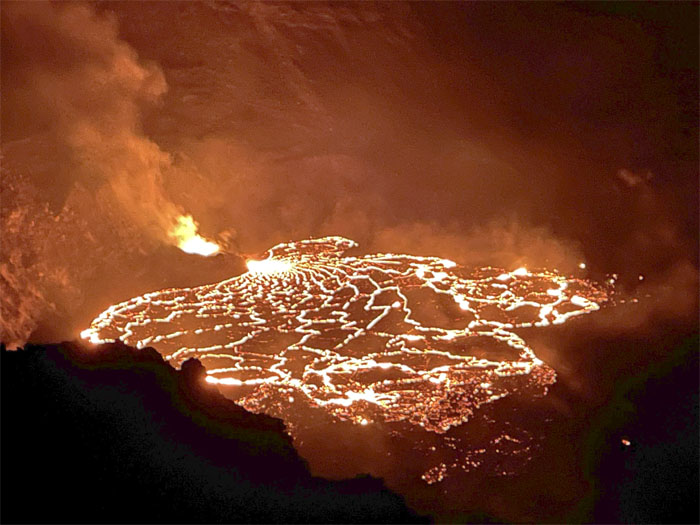 Aida, Quan, Tessa and myself flew to the only active volcanic island in the Hawaiian chain for a weekend of hiking and exploring.
We landed in Hilo International Airport, picked up our 4×4 Jeep and had a late breakfast at Ken's House of Pancakes. Checked in at the soon to be Airbnb and then made the long drive to Kalae, the southernmost point in the USA. Photo by Tessa Bugay.
Arrived at Papakolea, which is one of four known green sand beaches in the world. The other three are located in Guam, Norway and the Galapagos Islands.
We found out that our 4×4 Jeep wouldn't cut it on the road to the beach, so we shelled out $20 for a bumpy and bone jarring three mile dusty ride to the beach, driven by a 15 year old who has been driving these beach roads since the tender age of 8.
The driver gave us roughly an hour at the beach before we had to head back. Photo by Tessa Bugay.
The beach itself is located in a 49,000 year old cinder cone called Pu'u Mahana. Photo by Aida Gordon.
The green sand is a result of olivine crystals from the constant erosion from the tuff ring above the beach. Photo by Tessa Bugay.
Quan enjoying the windy day and watching the surf pound the beach. Photo by Tessa Bugay.
Making our way back to the beach. Photo by Quan Haberstroh.
Shameless promotion plug. Photo by Quan Haberstroh.
Climbing out of the beach, we decided to hike a nearby hill. Photo by Aida Gordon.
Quan enjoying the sweeping views of the beach and ocean. Photo by Tessa Bugay.
Eventually the olivine crystals that give this beach its distinctive color will run out and it will look like any other beach on the island. Photo by Aida Gordon.
Standing on top of "warm hill." It actually felt pretty chilly due to the strong breeze in the area. Photo by Tessa Bugay.
Getting a closer look before we jumped back into the truck for our ride back. Photo by Tessa Bugay.
We drove past the windmills to check out Kalae or the point which is registered as a National Historic Landmark.
No jumping today, just sitting down.
Only the local fishermen were actively using the platforms to catch ulua and red snapper.
Vise grips can be used almost for anything, including holding your iPhone to take the group photo.
Climbed down to check out the sea cave. Photo by Tessa Bugay.
Getting mesmerized by the water rushing in and out of the cave.
Jumping from here would be a little trickier than jumping off the sea cliff. Photo by Quan Haberstroh.
Finding a puka in the ground before we left.
We had our late lunch bordering on dinner where we were pegged as locals by the food we ordered.
Stopped to see a different colored beach at Punalu'u which once harbored a pier until automobiles and ocean exposure rendered it obsolete.
It is believed by some that this place was the original landing spot of the Polynesian settlers from Tahiti. It also was the site for ancient tributes, temples, fishing villages and trails that connected to other villages. Photo by Tessa Bugay.
Punalu'u means spring water or diving spring and is home to freshwater springs which mix with the salt water.
The black sand was made from lava flows that exploded into small, coarse fragments upon contact with the cold ocean water. Photo by Tessa Bugay.
Watching water at work as it slowly changes the character of everything it touches over time. Photo by Aida Gordon.
Green Sea Turtles basking on the beach due to the heat that it retains which helps them to regulate their body temperature. Photo by Tessa Bugay.
Look but don't touch. Photo by Aida Gordon.
Never turn your back on the ocean. Photo by Tessa Bugay.
We drove to Volcano National Park to see the current lava eruption but parking was non-existent and visitors were being shunted to a lookout with minimal views, so we turned around and drove down to Hilo to have a late supper at Quan's cousins restaurant, Van Vietnamese Cuisine. We then checked in and navigated the maze that passed itself off as lodging for the night.
Back again. The parking lot was still surprisingly somewhat full close to midnight, but we snagged a stall and started walking down Crater Rim Drive under a canopy of stars.
We soon saw the red glow from the lava and detoured off the road to the overlook site.
Taking in the raw primal beauty of Madam Pele's work when a nearby photographer showed us a picture of his "secret spot" which had a better vantage point.
We decided to follow the lights we saw further down the road to find the "secret spot."
No street lights on these cracked roads
I thought for a minute we were back on Honolulu's roads. Photo by Tessa Bugay.
Passing a sign marking one of many flows in this area. Kilauea is one of five volcanoes that form the Big Island and it is the youngest and most active.
I briefly thought of trying to jump over the deep crack, but quickly dismissed such a foolish notion.
Contouring our way around the break in the road.
End of the road. Literally. Photo by Aida Gordon.
Peering over the edge, despite unfounded rumors of unstable ground below us. Photo by Quan Haberstroh.
Quan watching lava spew out from a vent inside Halema'uma'u Crater in Kilauea's summit caldera. Photo by Aida Gordon.
Aida watching the lava lake which started on September 29, 2021 and is estimated to contain over 10 billion gallons of molten rock. Photo by Quan Haberstroh.
Matchy-Matchy. The lava lake is over 200′ deep and spreading over 170 acres in size. Photo by Aida Gordon.
After everybody had gotten their fill of Pele's fireworks, we walked back down the road to our car to call it a night, actually early morning. Photo by Tessa Bugay.
Note: I have been made aware that some hikers have been using my blog as a hiking guide and getting lost on the trails. Please note that this blog was made to document the hike for the crew(s) that did it. That is why some of my comments will seem to have no relevance or meaning to anybody outside of the crew(s) that hiked that trail. My blog was never meant as a hiking guide, so please do not treat it as such. If you find inspiration and entertainment from these hikes, that is more than enough. If you plan on replicating these hikes, do so in the knowledge that you should do your own research accordingly as trail conditions, access, legalities and so forth are constantly in flux. What was current today is most likely yesterdays news. Please be prepared to accept any risks and responsibilities on your own as you should know your own limitations, experience and abilities before you even set foot on a trail, as even the "simplest" or "easiest" of trails can present potential pitfalls for even the most "experienced" hikers.