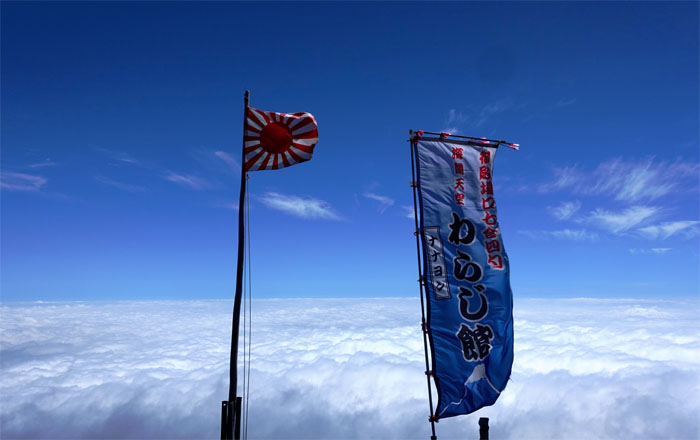 Our fourth pilgrimage to the mountain of the rising sun. We arrived in Japan during the sweltering summer. Hot and humid was an understatement. Stick a chopstick in me, I'm done.
Today was Mountain Day in Japan, to provide "opportunities to get familiar with mountains and appreciate blessings from mountains." With that being said, we packed our bags and left scorching Shinjuku to arrive three hours later in the crisp air of Gotemba New 5th station that used to be the old 2nd station. Must be the new math.
The Gotemba station was a marked contrast to the almost carnival like atmosphere of the more popular Yoshida station where we had started from the previous three years. It barely left a footprint that consists of a small shop, bathrooms, bus stop and an adequate parking lot.
We pushed off just shy of 10am to begin our hike on the Gotemba trail, which has been described as the most physically hardest route amongst the four trails leading to the summit. The starting elevation is at 1,440 meters (4,724′), which is 2,738′ lower than the more popular Yoshida trail. More elevation to climb. More cardio. Huffing and puffing.
Last chance for refreshments and … hiking sticks. The old shop lady was calculating, probably pegged me as a tourist due to my non-native language skills, 1200 yen … (wait, longer stick) 1900 yen… (wait, stamps ) 2400 yen… (wait, flag) … okay, 2900 yen ($29). Domo arigato gozaimasu.
Leaving the conveniences of civilization behind us.
Japanese knotweeds with their red flowers and green leaves offered a colorful contrast against the volcanic gravel.
Mari passing the twin mountains of Futatsuzuka Uezuka and Futatsuzuka Shitazuka. No detour. Stay on the trail.
The national park covers 474 square miles that includes Mount Fuji, Fuji Five Lakes, Hakone, Izu Peninsula and Izu Islands. No entrance fee. Just a 1,000 yen ($10) donation at the trailhead and you get a shiny button to pin on your backpack.
Clouds rolling down the featureless terrain.
Sitting down at the Jirobo trail marker at an elevation of 1,920 meters (6,300′).
Starting at a lower altitude than from prior years, helped Mari cope with the transition to thinner air.
What's for lunch? Anpan and Pocari Sweat. Tastes better than it sounds.
Hiking in the clouds. The trail had zero shade. Nature provided shade in the form of rolling clouds.
Trail crew passing us on the way down. Hard hats. Safety first.
On a good day, you can clearly see the summit of Fuji. Cloudy conditions made it less than an ideal day.
Where there are clouds, rain can not be far behind.
Our first hut and it was closed. There are very few huts on this side of the mountain, as compared to the more popular Yoshida trail.
Zig. Zag. Switchback hiking. Zag. Zig.
Hikers were few and far in between on this trail, along with the mountain greetings of "konnichiwa" exchanged between hikers.
Mari standing in front of Mt. Hoei, a flank volcano, standing at 2,693 meters. In other words, a pimple on Mt. Fuji.
Mari at the 3,000 meter mark (9,842′).
We arrived at the first open hut at 5pm. No bags of rice for sale here.
Hey, that flag is bigger than mines.
Every hut has a branding iron specific to them that they will happily impress on your hiking stick. 300 yen ($3) please.
High above the clouds. Notice the snowboard-turned-seat in the background.
Another hut. Another stamp. Another 300 yen ($3) shelled out.
Scenic spot. Once we climbed above the rain clouds and showers, we were blessed with beautiful weather on the mountain.
I hope that's our hut. This trail was getting the better of me. Lack of sleep was not helping either. I know. Excuses. Excuses.
Reservations for Saito? We got to our hut sweet hut for the night at 6:20pm. Prince Naruhito, future Emperor of Japan, stayed in this hut in 2008.
All you can eat curry and hot tea. Free bathrooms. Stacked like sardines horizontally and vertically. Stuffed into musty futons. No prince treatment for us. Mountain hut living at its finest.
We left the relative warmth of our shuttered hut at 4:14am to venture outside to a 48 degree morning to wait for the sunrise.
The morning glow of the sun breaking through the clouds.
Sunrise at 4:59am. Slightly delayed by cloud cover.
Ringing the bell on our way to the summit at 5:33am.
Nothing like cold mountain air to get your blood flowing in the early morning.
Looking back at the sea of clouds.
Multiple choice. Is this hiker a) passed out from the thin air b) shielding his eyes from the unfiltered sun or c) deeply disappointed to find out that the hut is closed?
Monument to all the fallen hikers that failed to summit. Actually it's meant to recognize and honor the people that created this rugged trail.
Panoramic view looking down.
The final push to the summit.
We summited Mount Fuji around 7:30am.
Standing on the edge of the crater as wind gusts threatened to blow us into the maw of the active volcano. Active what?
Neither snow nor rain nor cold nor high altitude will stay your postcard from being slowly delivered from the highest mountain in the land. Summit temperature was a cool 42 degrees. Not counting wind chill.
We left the summit a little past 8am. No walk around the crater this year. Too cold and tired. Next year.
Hiking back down into the clouds.
All downhill. Back to zigging and zagging.
Making our way back down to our hut to get Mari's backpack. Some huts will allow you to leave your backpack to lighten your load as you hike to the summit.
Goodbye Fuji-san. We will see you again next year.
Last chance to use the bathroom. All out of 100 yen coins.
Panoramic view of the trail going down.
That's one way of taking the load off your back. Sledding it down the mountain.
We left the 6th hut and the mind numbing switchbacks for …
… the start of the "great sand run."
The trail turned into a bed of thick volcanic ash that goes down for 7 km (4.34 miles).
Clouds started to roll up the mountain, blocking the promised panoramic view of the mountains and city below us.
It paid to have gaiters or spats to prevent the fine volcanic pebbles from getting into our shoes. I saw several hikers stopped on the sides of the trail emptying out their shoes.
While at the hut, we heard that there was an injured hiker on the trail. I met this paramedic who was looking for said hiker. Kept on looking.
Running down the trail as my feet sank up to my ankles with each stride going down. It was crazy fun.
Mari making her way down, the hiking sticks came in handy to help brake our sometimes rapid descent.
Still no view as we made our way down, passing hikers going up the mountain.
No stopping at the hut. Don't want to get trapped into overpriced and unnecessary trinkets again.
We got back down around 1pm. Our bus back to the train station was at 3:35pm. So much time on our hands. What to do? Filled out a survey. Japanese language only. Here comes the rain again. Fired up my Jetboil and boiled a bowl of beef pho and a cup of hot chocolate. Chatted with a fellow American named John who was from Virginia. Contemplated sharing a taxi to the train station to cut down on the wait time. But in the end, we boarded the bus along with a dozen other smelly hikers to the train station that took us back to Shinjuku.
Our fourth and hardest hike up Mount Fuji started off cloudy and rainy and ended up with crisp weather, stunning scenery and another epic sunrise. The hike covered 10.44 miles with an elevation gain slightly over 7,600′. Congrats to Mari for finishing her fourth and hardest hike up Mount Fuji. Post hike meal at Coco's. I come back every year to this restaurant for their Tomato Seafood Spaghetti. Add hot sauce. Broke da mouth.