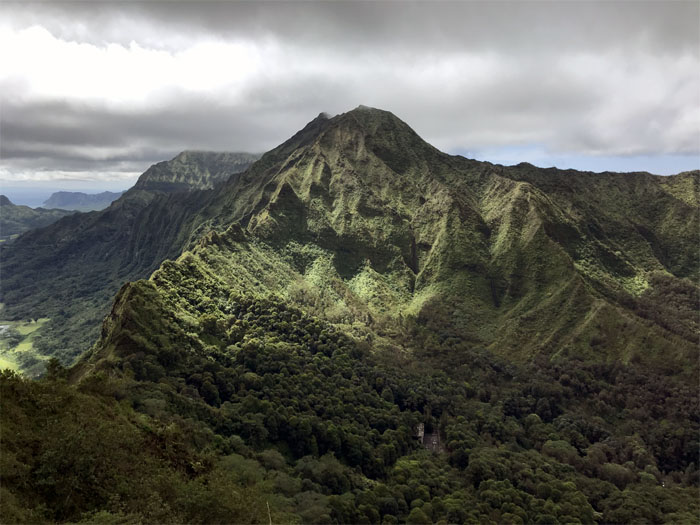 Met up with Chris, Chun, and Ferlino in Moanalua Valley to be shuttled by Jasmin to the trailhead. Photo by Chris Bautista
We waited for Anne as the weekend traffic whizzed passed us; expecting oxtail soup, but instead was just graced by her presence. I guess that will have to do.
Panoramic view of the jagged saddle overlooking the valley that was once known for its fishponds, but now home to a colony of rock wallabies.
Hammering our way up the powerlines trail.
The hammer had more balance than somebody on this sawed off pole. Photo by Chris Bautista.
Climbing up to Camp Centipede, thankfully the tenants were not home.
Rounding the knob through knee high shrubbery.
Making our way up the crumbly backside. Photo by Ferlino Carinio.
Coming down the conical shaped rock.
Looking ahead to the crumbly ridge line ahead of us.
Chun had the best seat in the house.
Humping it over the rock, hiking like it was a Wednesday. Photo by Ferlino Carinio
Chris all smiles after crossing a saddle on a saddle. Photo by Chris Chun.
Making my way to tabletop rock. Photo by Chris Chun.
Scrambling up by branch, rock or root; whatever would safely get us up.
Approaching the first rock triangle. Photo by Ferlino Carinio.
Thankfully we had favorable weather on our saddle hike today.
I forgot if I was yawning or yelling. Photo by Chris Chun
The rest of the group making their way on what I call the Hot Wheels Track, a chunk of earth seemingly suspended above the earth.
Is this thing safe? Photo by Chris Chun
Hanging out at the broken wave.
Contouring on the Leeward side of the ridge. Photo by Ferlino Carinio.
Pulling ourselves up the dirty slide. Photo by Chris Bautista
No views at all up here, let's check Facebook to keep us occupied until the others make it up.
Dirt surfing on the saddle. Photo by Chris Chun
Chun pondering the age old question; over or around?
Looking towards Heaven as the clouds slowly collected and gathered near the mountains.
Pushing up the final steep climb to …
… where we had our lunch at the socked in summit of Bowman.
Shaking off the kanak attack, we resumed hiking on the cloud soaked ridge.
What? Nobody wants to do the sun dance? Photo by Ferlino Carinio.
Chris nearing the second set of power lines on the ridge.
Climbing up the hill towards the defunct relay station or is it now active?
I guess hanging upside down is not the same as climbing. Photo by Anne Fai.
Lady avoids being on the six o'clock news. Chris bumped into this visitor who thought this was the way to Stairway to Heaven.
This is the way to Heaven, filled with mud and a deeply rutted trail.
Group photo at the CCL building. Heaven was closed for business. Photo by Ferlino Carinio.
Weather conditions did not look too sunny, so the group decided to take the safer route back down. Photo by Ferlino Carinio
Leaving Heaven behind us as we dropped in elevation.
Escaping the clouds but not the erosion and crowds on the trail. At least we got the views back.
Chillin' in my own cave. Photo by Chris Bautista.
To knock or not knock down? Such is the age old question.
Chun looking forward to hiking four more miles in the valley.
When you have too much time with your feet, you end up playing hopscotch in the dirt.
Short and sweet saddle hike with good friends. When you confuse Salt Lake with Moanalua, you end up eating at Ramen-Ya for your post meal hike.
Note: I have been made aware that some hikers have been using my blog as a hiking guide and getting lost on the trails. Please note that this blog was made to document the hike for the crew(s) that did it. That is why some of my comments will seem to have no relevance or meaning to anybody outside of the crew(s) that hiked that trail. My blog was never meant as a hiking guide, so please do not treat it as such. If you find inspiration and entertainment from these hikes, that is more than enough. If you plan on replicating these hikes, do so in the knowledge that you should do your own research accordingly as trail conditions, access, legalities and so forth are constantly in flux. What was current today is most likely yesterdays news. Please be prepared to accept any risks and responsibilities on your own as you should know your own limitations, experience and abilities before you even set foot on a trail, as even the "simplest" or "easiest" of trails can present potential pitfalls for even the most "experienced" hikers.