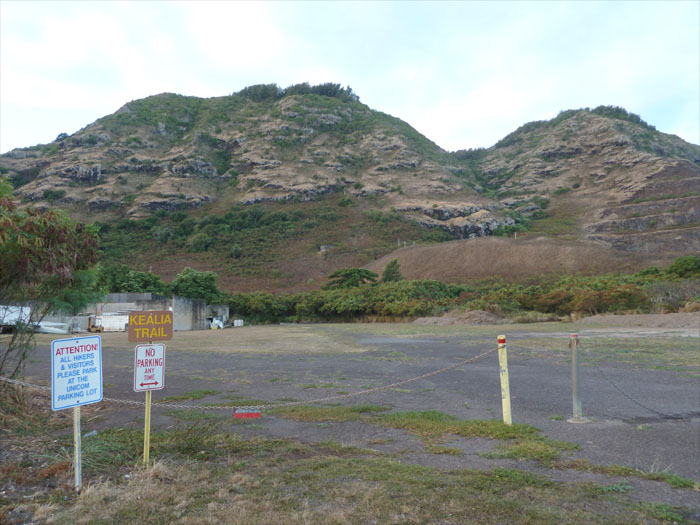 We drove all the way to the North Shore to hike Kealia trail which starts at Dillingham Airfield. There were already several cars waiting at the gate at the end of the runway when we got there, as they don't open until 6:30am. 
We pulled into the parking lot by the control tower that was quickly filling up already. As we walked to the trailhead that is right across the parking lot, we passed some Boy Scouts that were just waking up and taking down their tents.
There are 19 switchbacks going up the face of the mountain. This all made for slow and steady climbing on the trail that was littered with boulders of all shapes and sizes, I guess that's what the earlier sign meant by "falling rocks."
The picnic table marks the end of Kealia trail. We stopped for a spell to gulp water down and chowed down on power bars.
From here on we were hiking on the red dirt roads of Kuaokala Trail. We turned right at the first junction which soon led to the Kuaokala Public Hunting Area. Didn't see any pigs or goats. We turned left at the next junction and another left at the T-junction. We kept to the right at the last junction which led to the lookout.
We made it to this lookout and discovered that somebody had driven their Mercedes SUV all the way up to this point. There was also a campfire pit with a bunch of bottled water next to it. We found out later that somebody had staged it there for a hiking group that was coming from the Kaena Tracking Station side. Now that's planning!
We took the trail to the right from the lookout and soon had a nice view of Makua valley which is used by the military for live fire training exercises. Needless to say, it is not advisable to hike down into the valley.
It was also at the point in the trail that we met the hikers from the Kaena Tracking Station. They offered to give us a ride back to the airfield if we wanted to follow them back, we thought about it but decided to just go back the way we had come. On second thought, we should have took them up on the offer as who knows when the next time we would be able to visit the Kaena Tracking Station?
Coming down the switchbacks, we had sweeping views of Mokuleia and Haleiwa. We also saw skydivers, hang gliders, ultralights and glider planes floating around the airfield. The hike took us about four hours to complete.