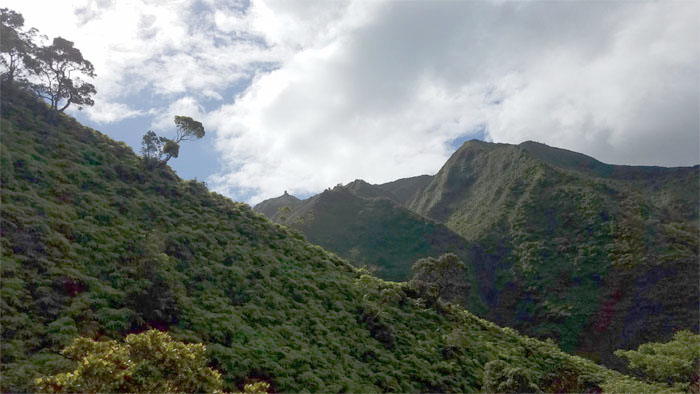 Some folks wanted to be broken into the saddle; so I met up with Ani, Annalyn, Chris and Stuart in Moanalua Valley.
I think it would be nice to ride this road in a 4×4 once in my lifetime. Just saying.
Looking for the Korean hikers that seem to dominate and populate this trail.
Is this the way to Haiku Stairs? Group photo left to right: Stuart, myself, Chris, Ani and Annalyn.
Walking underneath the tangled thicket of hau branches.
One needs it and the other one doesn't.
You're from the same village?
Climbing up the short and steep spur ridge.
Clear views of the mountains, Leeward and Windward coastlines greeted us at the top.
Heading towards Heaven. Photo by Stuart Krempin.
Chris giving pointers to Annalyn on climbing up the chossy rocks. Photo by Stuart Krempin.
Contouring up the Windward side.
Making our way towards the Dirt Triangle. Photo by Ani Lagpacan.
Some people ( read: girls ) were having another photo shoot in the back.
The sweet but sometimes tart gift that keeps on poking. Photo by Stuart Krempin.
Chris hanging out and waiting for his turn to climb. Photo by Stuart Krempin.
Annalyn climbing her way up. Photo by Stuart Krempin.
Say cheese! Photo by Ani Lagpacan.
Stuart making his way up the dirt and rock encrusted ridge.
Looking back at the mountain tops shadowed by the clouds. Photo by Stuart Krempin.
Ani climbing up the cracked and crumbly ridge.
Striking distance of Heaven.
Annalyn coming up to the first landing. Photo by Stuart Krempin.
Who are you talking too? I hope it's not that inanimate object in your hand. Photo by Ani Lagpacan.
Climbing up the ladder. Short people problems.
Leaving the saddle behind us.
Approaching the mountain where the sky and the Earth touch.
The view from Heaven. Photo by Stuart Krempin.
We have arrived at Heaven.
Memoirs of alcohol induced stimulation and perceived warmth lined the top shelfs.
Rocking radar dishes.
Just hanging out.
We are easily amused.
Somebody still has to grow into their wings and halo.
Getting ready to leave the summit as all the photo shoots have been completed. I think.
Making our way along the ridge with Kalihi Saddle on the left. Photo by Chris Bautista.
Panoramic sweep of the Heavenly and Windward views. Photo by Stuart Krempin.
Descending down the noticeably empty ridge.
Making our way down the eroded and rutted trail. Photo by Stuart Krempin.
Heading down into Moanalua Valley.
What came first? The tree or the rock?
We heart the rock. Or is that we miss the heart rock? Photo by Stuart Krempin.
Hanging off the ridge to get her hands on an invasive fruit. I don't get it either.
Passing one of many broken and fallen trees on the path down.
Getting off the ridge and back onto the valley trail.
Crossing one of seven storied bridges in the valley.
We just missed the origami class.
Stuart and Chris doing a CrossFit workout on the trail. When the cardio and climbing just isn't enough.
Our valley and ridge hike covered 9.73 miles. It was a beautiful day to be outside with a great group. Post hike meal at The Alley Restaurant. Everybody ordered Oxtail Soup. Except one.
Note: I have been made aware the some hikers have been using my blog as a hiking guide and getting lost on the trails. Please note that this blog was made to document the hike for the crew(s) that did it. That is why some of my comments will seem to have no relevance or meaning to anybody outside of the crew(s) that hiked that trail. My blog was never meant as a hiking guide, so please do not treat it as such. If you find inspiration and entertainment from these hikes, that is more than enough. If you plan on replicating these hikes, do so in the knowledge that you should do your own research accordingly as trail conditions, access, legalities and so forth are constantly in flux. What was current today is most likely yesterdays news. Please be prepared to accept any risks and responsibilities on your own as you should know your own limitations, experience and abilities before you even set foot on a trail, as even the "simplest" or "easiest" of trails can present potential pitfalls for even the most "experienced" hikers.