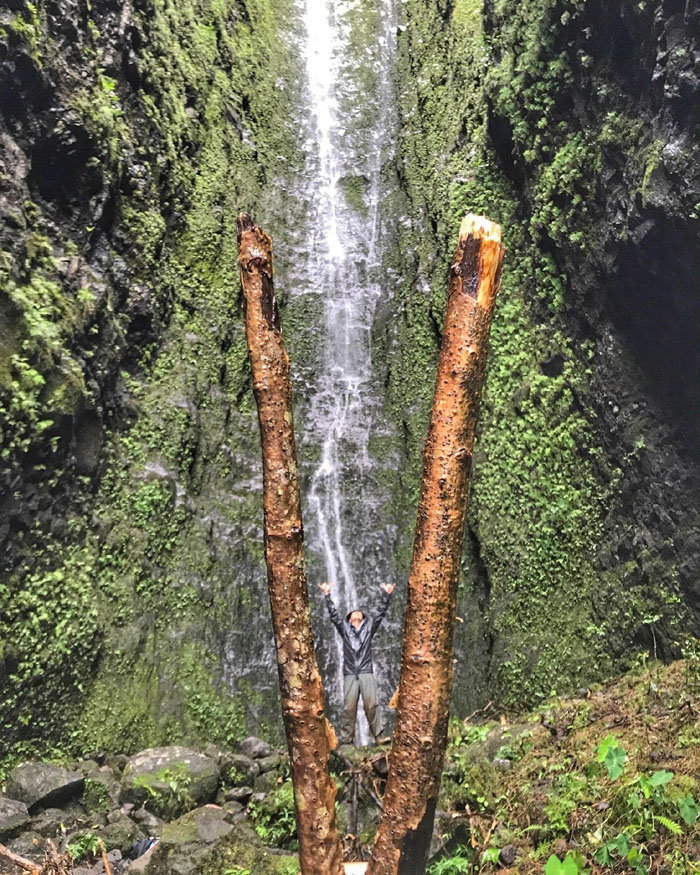 We decided to explore one of the islands last (un)touched waterfall. This was actually two visits combined into one story, as redundancy has its limits. Photo by Chris Bautista.
Met up with Analyn, Anne, Chris, Daryl, Ferlino, Jasmin, Lopaka, Sean and Tina at the parking lot that is only hospitable to church (body of collective Christians) and golfers.
We swung a collective left at the water tank to remain on the muddy trail.
Can you see the hole for the mountain?
Ducking our way underneath the tangled thicket of hau trees.
Passing the world's oldest cultivated crop.
Surprisingly, we had the popular watering hole all to ourselves. Photo by Jasmin Nepomuceno.
We came back with umbrella props on our second visit.
Group photo left to right: Ferlino, myself, Analyn, Chris and Rocky.
Following the stream down hill.
The well-defined trail took us through several gullies and stream beds gouged from rain cascading off the Ko'olau Mountains.
Can it really be any easier than this?
Making our way up the stream bed that was strewn with trees and assorted boulders washed down from the mountain.
The twin falls teased us with her trickling water. No gusher today. Group photo left to right: Sean, Ferlino, Lopaka, Tina, Analyn, Anne, Jasmin, myself, Chris and Daryl.
What happened to the forecasted rain showers?
Pssst. Call Lopaka over here as there is a certain amphibian friend that wants to meet him.
A little more trickle on our second visit. Still no gusher.
Aspiring umbrella models posing at the waterfall. Photo by Chris Bautista.
Ferlino getting up close and personal.
Time to leave as a few scattered rocks dropped in on our party. Photo by Chris Bautista.
Going down the timber mountain log ride. Photo by Ferlino Carinio.
Clear and sunny. Good conditions for a ridge hike, not so much for a waterfall hike.
Back down in the hau jungle gym.
Group photo against the vegetation blocked backdrop of the Ko'olau Mountains.
We decided to see where this trail would take us. It has to come out somewhere, right?
Somebody ran their car into the ground.
Some had a high center of gravity …
… others had a low center of gravity.
Passing the most expensive interstate highway built, at a cost of $80 million per mile. I'm sure the rail will surpass that cost by leaps and bounds.
We couldn't find the gate.
Who will make it into the 2019 Hiking Models calendar? I should have showed more skin.
Group photo with Kalihi Saddle in the background. Mahalo to Jasmin for picking us up.
Anne and Analyn plundering, I mean harvesting the tender tips of the Warabi or Pako ferns.
From the farm to the table. Just add kamaboko, tomato, onions, fish sauce and a vegan appetite.
Chris found a comfortable seat amidst the tree branch tangled top.
Can you see me now? Photo by Rocky Abad.
Coming up. Photo by Chris Bautista.
Going down.
Free range bacon …
… fresh eggs …
… and a tree loving hen. We had all the fixings of a post hike meal! Fun little hike with friends to see a flowing and trickling waterfalls tucked away at the base of the mountains.
Note: I have been made aware that some hikers have been using my blog as a hiking guide and getting lost on the trails. Please note that this blog was made to document the hike for the crew(s) that did it. That is why some of my comments will seem to have no relevance or meaning to anybody outside of the crew(s) that hiked that trail. My blog was never meant as a hiking guide, so please do not treat it as such. If you find inspiration and entertainment from these hikes, that is more than enough. If you plan on replicating these hikes, do so in the knowledge that you should do your own research accordingly as trail conditions, access, legalities and so forth are constantly in flux. What was current today is most likely yesterdays news. Please be prepared to accept any risks and responsibilities on your own as you should know your own limitations, experience and abilities before you even set foot on a trail, as even the "simplest" or "easiest" of trails can present potential pitfalls for even the most "experienced" hikers.