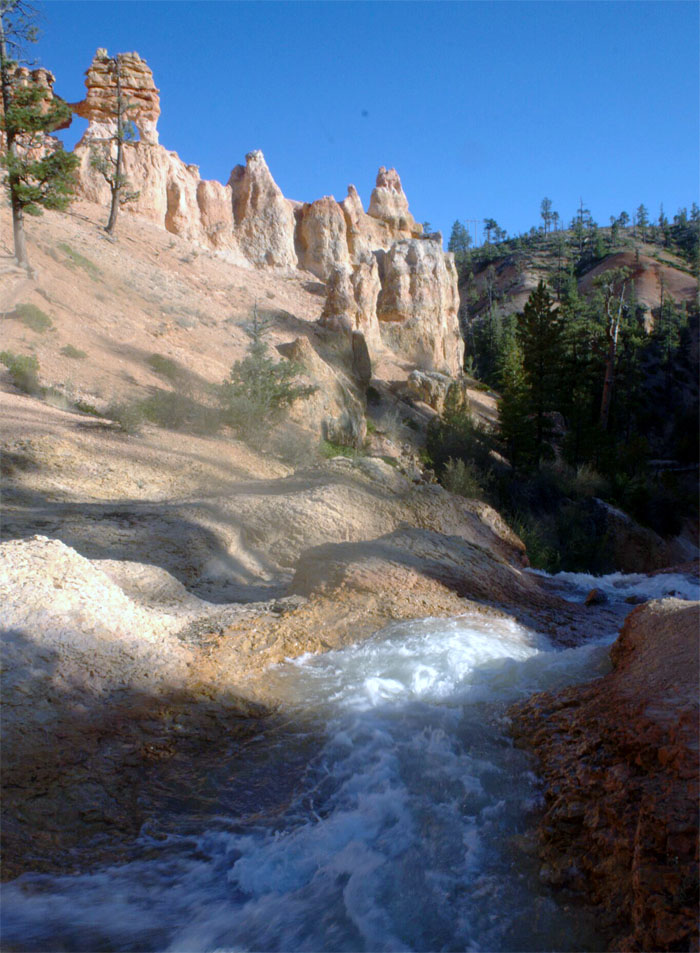 Our day was not over yet, so we dropped in to the Red Canyon Visitor Center to get some ideas for another hike in the area. I had an interest in the tunnel trail, but somebody's legs were burnt out, so we decided on the slipper friendly hike instead. Photo by Jasmin Nepomuceno.
We drove down Highway 12 and snagged one of the few remaining spots left in the parking area and started our short stroll through Water Canyon.
Crossing over the tropic ditch that is fed by the Sevier River.
Walking on the dirt path that parallels the ditch.
Another bridge crossing.
Making our way to the shelter cave.
No moss. No icicles. Come back another time.
Heading our way up to the waterfall.
There she flows.
Does anybody want to go to the bathroom?
Looking downstream.
I went upstream as far as my slippers would keep me dry and then turned around.
The rock formations I was seeking. Trail closed.
Dipping my big toe to gauge the water temperature. No skinny dipping. Photo by Jasmin Nepomuceno.
Get closer! Photo by Jasmin Nepomuceno.
Behind the curtain of water.
Irrigating the towns of Tropic and Cannonville since 1892.
Last chance to use the bathroom before the long, scenic drive back to our motel.
Note: I have been made aware that some hikers have been using my blog as a hiking guide and getting lost on the trails. Please note that this blog was made to document the hike for the crew(s) that did it. That is why some of my comments will seem to have no relevance or meaning to anybody outside of the crew(s) that hiked that trail. My blog was never meant as a hiking guide, so please do not treat it as such. If you find inspiration and entertainment from these hikes, that is more than enough. If you plan on replicating these hikes, do so in the knowledge that you should do your own research accordingly as trail conditions, access, legalities and so forth are constantly in flux. What was current today is most likely yesterdays news. Please be prepared to accept any risks and responsibilities on your own as you should know your own limitations, experience and abilities before you even set foot on a trail, as even the "simplest" or "easiest" of trails can present potential pitfalls for even the most "experienced" hikers.