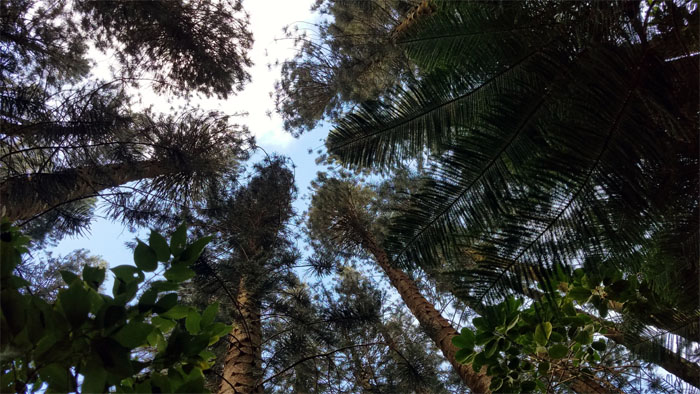 Kicked off the New Year with an easy hike so I can be ready for the hardest hike by Christmas Day.
Met up with Chris, Ferlino and Robin at the Pali Lookout as the morning sun torched the tops of the mountains turning them orange red. Photo by Robin Farr.
Nothing like a short cardio puff up the forested hill to get our blood pumping this chilly morning.
Enjoying the panoramic view of the Windward coast from our windswept vantage point.
Climbing down one of the notches that was cut out of the ridge by the army of Kalanikupule in the late 1700's.
Robin making her way down the deeper notch that once served as gunports whose cannons were trained on Kamehameha's invading army.
Making our way towards the Chimney. Photo by Ferlino Carinio.
Robin keeping her center of gravity low as she scrambled up and down the nipple, lest the gusting winds carry her away.
The winds were whipping something fierce as we climbed up the chimney. Photo by Ferlino Carinio.
Robin climbing up with a little help from her friends.
Group photo left to right: Chris, Ferlino, Robin and myself.
Climbing our way up, around and over through the jumbled rocks seemingly glued together with dirt, trees and grass and just as stable as it sounds.
Treading carefully where an angel fell. Photo by Robin Farr.
All smiles as we left behind the crumbly and eroded ridge for …
… greener pastures filled with uki grass.
Robin scrambling up the mud stained and stepped wall.
Chris and Ferlino coming up to the Windward ridge junction that drops down into Maunawili Valley.
Bogging our way through the pocket of moss wrapped trees and shoe sucking mud.
Where oh where have the views gone? Nothing to see, so we sat down and ate our lunch on the highest point on the Ko'olau Mountains that was swallowed by the clouds.
Dropping into the moist and overgrown saddle between the large testicles.
We didn't get any view on the second summit as well, and on top of that, somebody took down Chris's summit sign from our last visit! Auwe!
Chris and Ferlino dropping off the Ko'olau Mountain spine.
Robin making her way down the deeply rutted section of the trail.
We finally gained somewhat cloud muted views of the ridges and valleys.
Looking down into one of many dams built to control potential flooding into densely populated areas.
Crossing paths with an "Aussie."
We finally got a view at the windy 1,600′ lookout.
Robin walking down the bamboo lined trail.
Taking our group selfie on this quintuple trunked tree. Photo by Ferlino Carinio.
A short stroll on the boardwalk before branching off the trail.
Passing through one of many moss and fungi infested trees.
Ferlino soon realized he had left his walking stick at the multiple trunked tree and raced back to recover it before it became finder keepers.
Looking across the sea of trees to the views of Honolulu.
The bench that begs the question, "Who is Jay Kent Bien?"
Chris going down the well manicured trail.
Leaving one trail for another.
Descending through the mind-numbing switchbacks on the trail. We lost count, but I heard it's in the neighborhood of 25.
Christmas was surprisingly alive and well in these mountains.
All that was missing were the blinking multi-colored lights.
I didn't realize coqui frogs celebrated Christmas. Photo by Robin Farr.
We left Christmas behind us as we descended through the grove of towering pine trees.
Loggers were particularly busy here.
Ducking through the tangled thicket of hau branches as the trail continued above the burbling stream that fed Ginger Jackass Pool.
Wading through Nu'uanu Stream to get to the other side. Photo by Chris Bautista.
Mahalo to Ferlino's son-in-law, RJ, for picking us up from the side of Nu'uanu Pali Drive.
Our first hike of the year covered less than six miles through windy ridges, cloudy mountains and wide open trails. Great hike with good company. Post hike meal at Lilihia Bakery. Somebody had a phobia about eating something from where the sun don't shine.
Note: I have been made aware that some hikers have been using my blog as a hiking guide and getting lost on the trails. Please note that this blog was made to document the hike for the crew(s) that did it. That is why some of my comments will seem to have no relevance or meaning to anybody outside of the crew(s) that hiked that trail. My blog was never meant as a hiking guide, so please do not treat it as such. If you find inspiration and entertainment from these hikes, that is more than enough. If you plan on replicating these hikes, do so in the knowledge that you should do your own research accordingly as trail conditions, access, legalities and so forth are constantly in flux. What was current today is most likely yesterdays news. Please be prepared to accept any risks and responsibilities on your own as you should know your own limitations, experience and abilities before you even set foot on a trail, as even the "simplest" or "easiest" of trails can present potential pitfalls for even the most "experienced" hikers.