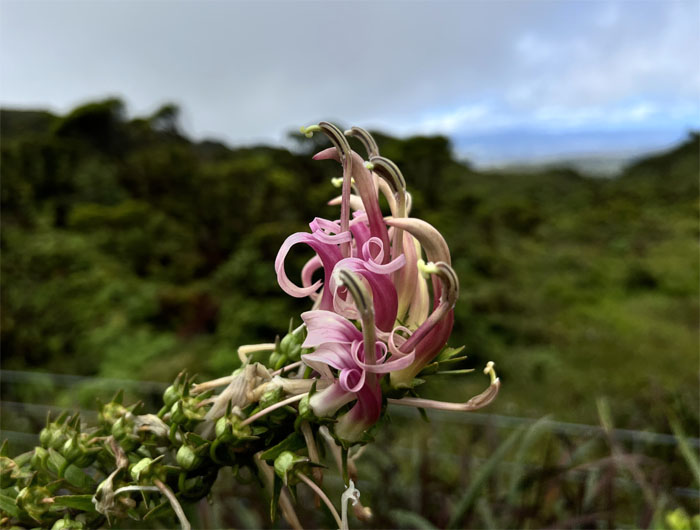 We went to the mountains to help celebrate a friends birthday today. No cabins were cleared this year, unlike the prior one. Photo by Art Young.
Thanks to Andy and Roseanne for letting us borrow her 4×4 so that we could all drive up the muddy, rutted road. Photo by Andreas Wiegand.
Group photo left to right: Andy, Dale, myself, Marilyn, Aida, Lilyn, Art, Tessa and Quan.
This was Andy's first time stepping foot on this trail. Killing two birds with one stone.
Somebody was either taking headcount or was turned around. Photo by Tessa Bugay.
HTMC has done a remarkable job in clearing the overgrowth and reclaiming the trail from the numerous landslides that had wrecked the area from earlier this year.
Dale ducking underneath one of the many downed trees on the trail.
Going across the first landslide. Photo by Art Young.
One usually stretches before the hike and not during the hike.
Andy looking down at a direct route to Poamoho stream. Photo by Art Young.
Side stepping our way up the muddy trail.
The teacher was reading while the rest of us just milled around at the halfway point. Further vs farther. Photo by Tessa Bugay.
Yelling and falling in a hole go hand in hand. Photo by Tessa Bugay.
Going off trail. Photo by Tessa Bugay.
View from the sloping landslide.
Over and under.
Rounding the corner to the largest landslide on the trail. Photo by Tessa Bugay.
The group crossing the mass wasting.
Looking back at the recently cleared trail. A vast improvement from our last visit. Photo by Lilyn Avendano.
Popper telling us about the heavenly body that he sees at his waterfall hikes. I think he was trying to pull up a picture on his phone. Photo by Andreas Wiegand.
Art heading into the cloud soaked gulch.
The group crossing the stream while displaying individualistic and teamwork tendencies.
We hunkered at the memorial for our group photo and sought scant shelter from the storm like conditions sweeping the summit.
Hikers in the wind. All we are is hikers in the wind. Same old summit. Just asking for a view of the endless valleys.
It was looking to be another socked in summit day. Photo by Tessa Bugay.
Then out of the blue, the winds blew away the clouds to reveal the magnificent views. Photo by Tessa Bugay.
Andy against the verdant valley backdrop. Photo by Lilyn Avendano.
Our group photo at the now clear but still windy 2,520′ summit with commanding views of Punalu'u and Kahana valleys.
The howling winds snatched more than one of our Santa hats from our heads.
All Santa hats were recovered with the help from Art, Dale and a certain red-headed stepchild of a hiker.
Art keeping his social distance from the group. Photo by Tessa Bugay.
Group shot by segregated gender.
Jump shot. Not the kind that will blow out your knee.
Many happy returns to the Birthday girl as she blew out her imaginary lit candles. Photo by Art Young.
Group photo as we descended back down the stream.
Going back down what was once a marsh trail. Talks of exploring the falls went out with the wind. Photo by Dale Yoshizu.
The girls holding a bunch of botanical berries and the blossom.
Splish splash. Andy was trying to give Art and Dale a mud bath driving back down the jeep road. Thanks to everybody for coming out for this fun hike. Post hike meal at Chicken in a Barrel where they cater to people like us and only toast the corn bread if asked. Photo by Lilyn Avendano.
Note: I have been made aware that some hikers have been using my blog as a hiking guide and getting lost on the trails. Please note that this blog was made to document the hike for the crew(s) that did it. That is why some of my comments will seem to have no relevance or meaning to anybody outside of the crew(s) that hiked that trail. My blog was never meant as a hiking guide, so please do not treat it as such. If you find inspiration and entertainment from these hikes, that is more than enough. If you plan on replicating these hikes, do so in the knowledge that you should do your own research accordingly as trail conditions, access, legalities and so forth are constantly in flux. What was current today is most likely yesterdays news. Please be prepared to accept any risks and responsibilities on your own as you should know your own limitations, experience and abilities before you even set foot on a trail, as even the "simplest" or "easiest" of trails can present potential pitfalls for even the most "experienced" hikers.