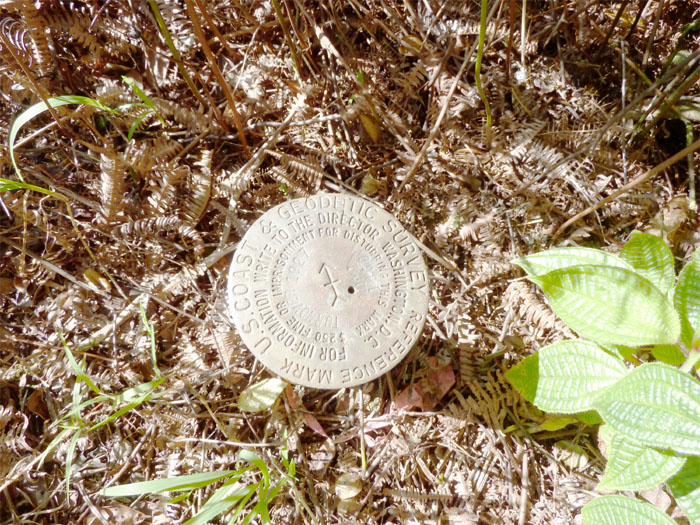 We were looking for a challenging hike this weekend, and we found it in the Pu'u Manamana trail. We drove towards the Crouching Lion Inn in Ka'a'awa and parked on Trout Farm Road. We walked back towards the Crouching Lion Inn and right after the Route 83 sign, we saw the pink ribbons on the trees to the right that marked the trailhead.
We made our way through ti plants and Christmas Berry shrubs and eventually broke out onto an open grassy area, where we had a commanding view of Kahana Bay. To our left was the Crouching Lion rock formation. If you're going to do this hike, you have got to make the short detour to climb to the top of the Crouching Lion!
Once I made it to the top, stunning views from Laie Point to Kaneohe Bay were just fantastic and gorgeous.
We resumed our steep climbing along the ridge, when we noticed somebody had left a pair of slippers on the trail. That must have been a better man than me that can do this hike in slippers!
After climbing several steep rock faces, we made it to the main ridgeline, with sweeping views of Makua Beach to Kaneohe Bay.
We continued our push up the ridge, passing a Christmas Berry grove and a couple of eroded spots on the trail. Looking back down the ridge we had come up, the sun bouncing off the mountains and ocean gave it some cool colors.
At this point, the ridge started to level off a bit, allowing us to catch our breath.
After we went around this rock face, looking back, it looked as if some menehune hands had put this together.
We then descended this pretty steep rock face, with the assistance of ropes. The trail then became quite narrow, at one section, it was about a foot wide. The ridge eventually widened and was covered with native plants such as ohia trees and uluhe ferns and other sorts of plant life. We then tackled at least five rollercoasting knobs before we finally made it to the top, known as Turnover, elevation of 2,027 feet.
Looking towards Kaneohe, we saw the Jurassic-looking mountains that were by Kualoa Ranch. The side trail to go back down is marked with a pink ribbon, but I can see how others have missed it as the vegetation is quite thick up there. We passed it on our right as we made our way to the clearing, for good measure, my friend stuck his water bottle in the tree to plainly mark the trail.
Coming down or sliding down, as the downward trail starts off muddy and steep, we had a nice view of Kahana Valley, which is Hawaii's only public ahupua'a, it stretches from Kahana Bay to Pu'u Pauao at 2,670 feet. I believe that about 30+ Hawaiian families live in the valley today.
The trail then became quite narrow, as the ridge seemed to be held together with rocks and tree roots, carpeted with moss. At least, there were a lot of trees to brake our descent, as we lost elevation in a hurry.
The ridge eventually widened but the descent didn't slack up. We passed these rock croppings that reminded me of silent stone sentinels. After passing through a hala grove, we ended up in a graveyard, which explains how Cemetery ridge got its name. Making sure we didn't step on anybody's grave, we emerged onto a lawn on Trout Farm Road and our truck was parked right in front of it. The entire hike took us about five hours and while many say this is one of the most dangerous hikes, I would say it was difficult and challenging.