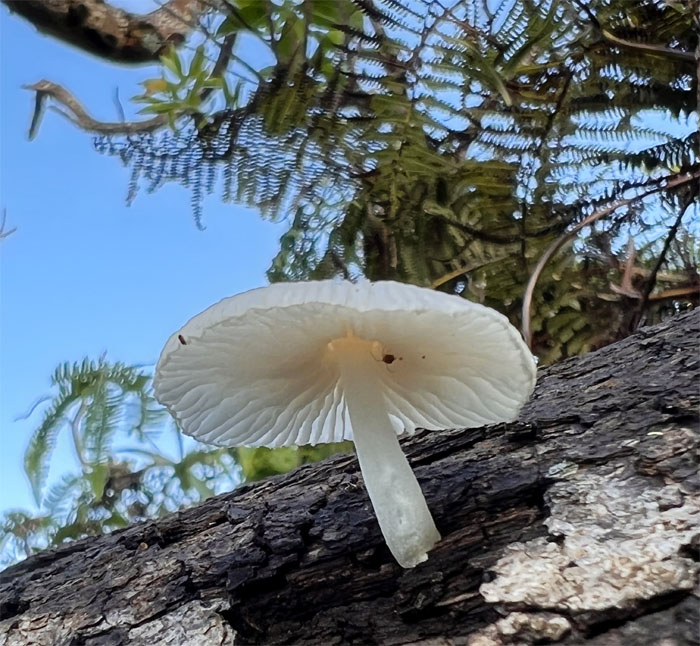 Met up with Chris, Marilyn and Tessa to hop, skip and jump over the saddles this weekend. It turned out to be more slip and fall.
We crossed the seven bridges and Tessa grabbed a handful of ohi'a'ai from a neighboring stream.
Group photo with Rocky and his group who continued their hike on Moanalua Middle Ridge.
Going up the route developed by Chuck Godek and Erwin Jaskulski.
Looking at the saddle being bathed by the breaking daylight.
Making our way up the stiff and steep trail.
No nana baket left behind.
Looking out towards the $80 million per mile highway before tackling the four false peaks that lay ahead of us.
Group photo at the top with Haiku Valley and the Windward coast behind us.
Leaving the summit for the saddle.
Chris scrambling over a badly eroded section.
The girls climbing down a steep rocky section.
Dropping in elevation as we worked our way around the wrap around views.
Some people leave their hearts in the mountains, others leave their skin behind. Nothing that some antibiotic and ankle support can't temporarily fix.
Chris going down the dirt corridor that is currently choked with overgrowth.
Standing on the oft-photographed rock.
Marilyn was just a couple humps away from our last summit for the day.
Group photo at the scenic summit.
Alcoholic and non-alcoholic toast to celebrate our abbreviated hike.
Chris going down the spur ridge into Moanalua Valley.
Hitting the valley floor and not looking forward to the 28 stream crossings and two miles of valley trail that I thought we had left behind earlier in the morning.
Thanks to Andrew who met us at the park with cold soda and something that resembled more of a first aid kit than the one we had in the mountains. Post hike meal at Max's of Manila, where accented ordering prevented the timely delivery of our family style meal.
Photos taken by Chris Bautista, Marilyn Bermudez, Tessa Bugay and yours truly. Not necessarily in order.
Note: I have been made aware that some hikers have been using my blog as a hiking guide and getting lost on the trails. Please note that this blog was made to document the hike for the crew(s) that did it. That is why some of my comments will seem to have no relevance or meaning to anybody outside of the crew(s) that hiked that trail. My blog was never meant as a hiking guide, so please do not treat it as such. If you find inspiration and entertainment from these hikes, that is more than enough. If you plan on replicating these hikes, do so in the knowledge that you should do your own research accordingly as trail conditions, access, legalities and so forth are constantly in flux. What was current today is most likely yesterdays news. Please be prepared to accept any risks and responsibilities on your own as you should know your own limitations, experience and abilities before you even set foot on a trail, as even the "simplest" or "easiest" of trails can present potential pitfalls for even the most "experienced" hikers.