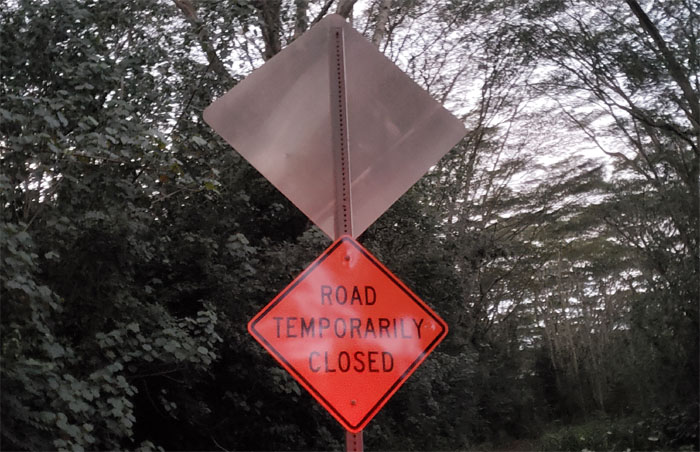 Mia invited Bill, Chris, Cisco, Ed, Liezl, Shirley, Suzie and myself to celebrate her birthday bash on the Garden Isle. We all flew in and collected what we needed at the big box and little box stores before heading into the valley to start our hike.
The guys checking out the flooded and rutted road that had just turned another jeep away. We got this!
But first, we had to stuff somebody back in the jeep as she failed to heed the warning of keeping your hands and feet in the vehicle at all times. Photo by Mia Garrison.
Ed taking the wheel despite having an experienced 4×4 driver sitting in the back. He did good.
Bill fording the somewhat swollen stream crossing. Photo by Mia Garrison.
Ed noticed that he had a leaking tire, luckily Bill had come prepared with a valve core tool and compressor. Boy Scout!
Thankfully the Jeeps had saved our feet over three miles of wear and tear.
Getting our feet wet.
The start of our rock hopping adventure. Photo by Bill Yogi.
It's harder than you think to synchronize four girls alternately going up and down. Photo by Ed Baptista.
Scampering up a boulder while trying not to fall back in the water. Photo by Chris Bautista.
Walking on the riverbank as we followed the indistinct trail upstream.
Approaching the first waterfall that were formed by the convergence of three streams. Photo by Cisco Quintanilla.
Silky shot. Photo by Ed Baptista.
Bill took the plunge. Repeatedly. Some guys are just all wet.
After all the splashing was said and done, we detoured to the side falls.
Group photo by Bill Yogi.
We contoured around the main falls to continue our rock hopping up the stream.
So let's see, the front goes which way and the back goes where?
Climbing up the side of the gorge as waterfalls "expressed" themselves through the mountain flanks. Photo by Cisco Quintanilla.
Looking at one of several multiple tiered waterfalls. A rapeller's wet dream.
Approaching the second set of waterfalls on the trail. Photo by Ed Baptista.
Another inviting pool. No cannonballs this time. Photo by Cisco Quintanilla.
Mia trying to repeatedly blow out her birthday candles. Bill and Shirley celebrating their one year anniversary. Crown shots.
Chris and I climbed up to the upper falls, where we found out that going down was harder than coming up.
Dropping down into the canyon as we were within a helicopter throw from the weeping walls.
Approaching the inner sanctum. Photo by Chris Bautista.
Looking up at the lush and verdant, towering walls soaring thousands of feet up to one of the wettest spots on Earth. Photo by Bill Yogi.
My attempts to circle the falls ended prematurely due to the rotting and crumbly ground that constantly gave way. Photo by Cisco Quintanilla.
Bill flew his drone to get our group shot and joined the other air traffic that was buzzing the canyon on a regular basis. Sure beats yelling group photo at the top of my lungs.
It was more like the Gray Hole today. Photo by Shirley.
Some of us started to make our way back while the rest continued with their photo shoots.
Following instructions as we made our way back. Photo by Cisco Quintanilla.
Cisco dropping back down to the second set of waterfalls.
Climbing down the gorge.
Threading our way through a huge blowdown that was blocking the trail.
Contouring our way down the first set of waterfalls.
Making our way downstream Kauai's longest and largest river.
Leaving no trace and hopefully no shoes as well.
Rock hopping our way back to our Jeeps. I had my fill of such activity for the week. Another great hike with fun company in the books. Post hike meal at Mariachi's Mexican Cuisine where their food was better than their math.
Note: I have been made aware that some hikers have been using my blog as a hiking guide and getting lost on the trails. Please note that this blog was made to document the hike for the crew(s) that did it. That is why some of my comments will seem to have no relevance or meaning to anybody outside of the crew(s) that hiked that trail. My blog was never meant as a hiking guide, so please do not treat it as such. If you find inspiration and entertainment from these hikes, that is more than enough. If you plan on replicating these hikes, do so in the knowledge that you should do your own research accordingly as trail conditions, access, legalities and so forth are constantly in flux. What was current today is most likely yesterdays news. Please be prepared to accept any risks and responsibilities on your own as you should know your own limitations, experience and abilities before you even set foot on a trail, as even the "simplest" or "easiest" of trails can present potential pitfalls for even the most "experienced" hikers.