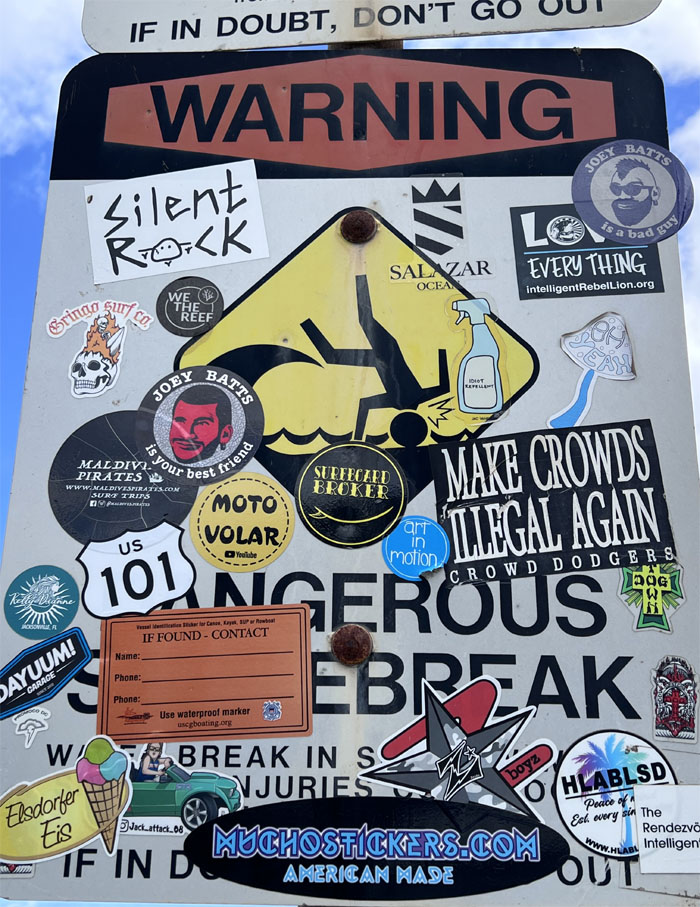 We spent Kamehameha Day doing our perimeter walk #5 around the island.
Early hiker gets the sunrise view.
Aida, Mari, Tess and myself boarded the bus as the others failed to wake up or became ill.
We got off the bus, checked out some wood carvings and pushed off on our walk.
Passing by shrubs of naupaka with their distinctive lower half flowers. The other upper half flowers live in the mountains. Hawaiian folklore spins it as lovers separated by a jealous god.
The golf ball originally started out as a wooden ball, then leather balls filled with cows' hair, then leather pouches filled with chicken or goose feathers, then balls made from dried sap from the Malaysian sapodilla tree, then rubber thread wound into a ball covered by sap from the balata tree, and finally the modern golf ball we know today which is made from polymer blends.
Good morning from the Rank Amateurs. What a day this is going to be. The early start with the unknown, straight off the streets, the skies are a canvas of colors, the air is thick with anticipation. The putt for birdie.
He made the shot with his hybrid shaft topped with a MAX 360 head. The crowd of two was nonplussed at the display of low level athletic ability. He flashed the shaka, which supposedly has its origins with a Kahuku Sugar Mill worker who lost his three middle fingers and would wave his disfigured hand at kids who soon imitated him.
Got my first yellow shirt. I'm going to Disneyland!
Standing in front of the sprawling resort that covers 858 acres and was built in 1972 with the intentions of becoming the state's first legal casino. Needless to say, that didn't happen as the illegal game rooms continue to flourish in its absence.
Stopped at a fruit and vegetable stand to gawk at the sky high prices and Aida settled on a bag of cut pineapple slices. Where's the pizza?
Dry run. Flat elevation. Daytime. Easy peasy.
Do they have a walking hiker ranch as well?
Looking out towards the offshore islet, Kukaimanini. The place was certainly living up to its name, the heat.
No wonder business is not booming.
Standing in front of what used to be called the Sheepside Skatepark that was in use from 2016-2022. I believe these abandoned buildings were part of the other ruins …
… across the highway. The buildings were part of the Waialee Home for Wayward Boys that was operated by the Hawaii Board of Education from 1906-1947. The mauka buildings were later purchased in 1954 and became the Crawford Convalescent Home, which is supposedly still in operation. The makai buildings were left to rot and return back to Mother Nature.
I didn't know they added a trail for mopeds.
Passing through a little red pocket in a deeply saturated blue state.
We had to make a quick stop at this iconic North Shore eatery that has been in business since 1987.
Group photo at the two mile beach known as Paumalu in Hawaiian.
Some swung better than others.
Share the path, or they'll just run you over.
I'm glad I'm not the only illiterate person on the beach, home to big wave surfing in the winter.
Passing through another famous surf break.
The girls got their swings, I got my banyan tree.
If the slippah doesn't fit, you must acquit.
Swinging the day away.
Looking out at the lava beach that is popular with snorkelers and scuba divers due to the myriad of caves and tunnels underneath the water.
Taking a bathroom break along with the scuba divers.
Stopping at the oldest and largest supermarket chain in the islands for some cold refreshments.
Looking out at low tide with the exposed flat reef which gives the place its name, is another popular spot with snorkelers and swimmers due to the underwater lava tubes and marine life.
The birthplace of big wave surfing. The winter waves were first ridden here in 1957 and the rest is history. During summertime, the waters are calm and clear.
Watching Waimea River drain into Waimea Bay.
Across the street was once the valley of the priests that has has since been turned into a tourist attraction showcasing the botanical garden, waterfalls and pool.
Watching the swimmers jumping off table rock to make a splash. It's hard to believe, but a 1928 photo showed the same rock surrounded by sand. Beach erosion is real.
Looking back into the bay that was the site of Oahu's first recorded contact with Europeans back in 1779, after British ships stopped here to get fresh water after the Big Island battle that resulted in Captain Cook's death.
Taking a group shoefie while we waited for our bus ride.
Our hot as heck hike covered 10.3 miles that was filled with interesting pit stops and with a fun group.
Photos taken by Aida Gordon, Mari Saito, Tessa Bugay, and yours truly. Not necessarily in order.
Note: I have been made aware that some hikers have been using my blog as a hiking guide and getting lost on the trails. Please note that this blog was made to document the hike for the crew(s) that did it. That is why some of my comments will seem to have no relevance or meaning to anybody outside of the crew(s) that hiked that trail. My blog was never meant as a hiking guide, so please do not treat it as such. If you find inspiration and entertainment from these hikes, that is more than enough. If you plan on replicating these hikes, do so in the knowledge that you should do your own research accordingly as trail conditions, access, legalities and so forth are constantly in flux. What was current today is most likely yesterdays news. Please be prepared to accept any risks and responsibilities on your own as you should know your own limitations, experience and abilities before you even set foot on a trail, as even the "simplest" or "easiest" of trails can present potential pitfalls for even the most "experienced" hikers. One should also always let somebody know of your hiking plans in case something doesn't go as planned, better safe than sorry.