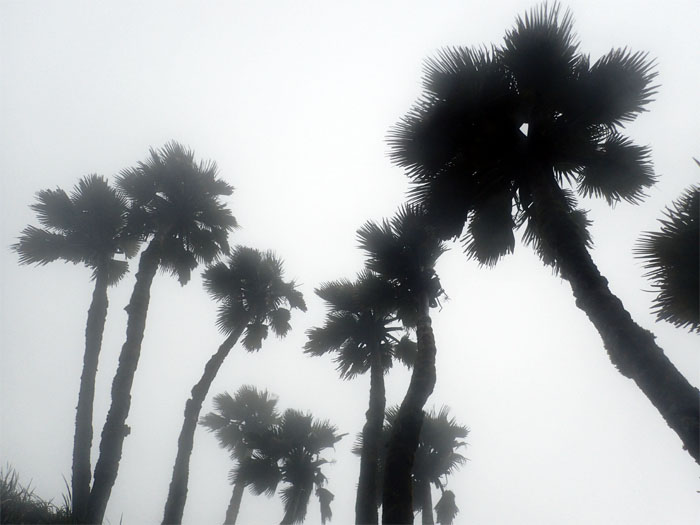 The weekend was here. What better way to spend it than camping and hiking in the Ko'olaus in dripping rain. Or was that dripping sarcasm?
Thanks to James for dropping Gen and myself off at the top of Aiea Heights. Saved us from possible car abuse over the weekend.
We soon stepped off the Aiea Loop Trail and onto the Aiea Ridge Trail.
Dressed for dry weather.
Our last view for the day.
Dressed for wet weather.
We stopped shy of the summit to set up camp. Time lapse by Genesaret Balladares.
Jose hustled up the trail after work to join us. Our view for the rest of the day. No star gazing for us. Just tent gazing. All night long.
After a night of howling wind and pounding rain, we rolled out of our tents to take in the morning view. What a view.
We passed the power lines on our way to the summit and turned left on the Ko'olau Summit Ridge Trail.
Arnold! We found your tent. Maybe not. The search continues.
The ridge thinned out in some sections.
What goes down …
… must go back up.
We stayed on the Windward side of the ridge to remain on trail.
Close to whiteout conditions.
Gen staring into the abyss.
Back to hiking.
The cloud deck lifted somewhat to give us a view spanning from Kahalu'u Pond to Heeia Pond.
The mountains were trying to keep the clouds at bay on the Leeward side.
Making our way off the ridge.
Somebody needed to roll some tobacco.
Heading down into the meadows. Photo by Genesaret Balladares.
Testing for leptospirosis.
Anybody see Kikaida? The search continues.
Leaving the meadows behind us.
Jose the Redeemer overlooking Waihe'e Valley.
The trail was a roller coaster of a hike. Up. Down. Rinse. Repeat.
Looking back towards Kaneohe Bay.
Gen making her way down to Waimano Summit.
Waihe'e Valley, shadowed by heavy cloud cover, bordered by Ulimakoli Ridge and Kalahaku Teeth.
Hanging ten. The summit where time turns from 15 minutes to 45 minutes.
The human windsock.
We got back on the trail with dry tents but still soggy feet.
Looking back at Kalahaku Teeth.
Looking towards Eleao Windward or Ulimakoli Ridge.
Leaving the clouds behind us.
Spoke too soon.
Gen soaking in the mountain views.
Home for the night.
Pitching our tents on pitched ground before the bitching weather came. Time lapse by Geneserat Balladares.
Good morning. Got five bucks for the bus?
Saying goodbye to the miniature meadows.
Different day. Same trail. Better views. More smelly.
We saw Chris and Khym hustling up to the Manana summit.
Group photo, left to right: Khym, Gen, Jose, Chris and myself. They came bearing cheese rolls and snickers.
Passing Ka'alaea Valley to our right.
Leaving Manana summit behind us.
We were not alone. The trails were heavily rooted by pigs.
Chris preparing to mark a junction where the trail started to bend to the left.
Semi-synchronized headstands.
Hikers in the mist.
Lobelia gaudichaudii and homo sapien.
Group photo enjoying the views in the company of grumpy and princess. Photo by Khym Ansagay.
A clear view of the Waianae Mountain Range.
Looking out towards Pu'u Ohulehule and Kanehoalani.
A good place as any to eat our lunch and enjoy the views while we had them.
Gen climbing down to the saddle.
Group photo at the notch.
Climbing out of the saddle.
Clear on the Leeward side, cloudy on the Windward side.
The rollercoaster ride got more pronounced.
Somebody saw people. Not everybody has 20/5 vision.
I'm glad this is the last hill. This is not the last hill? Photo by Jose Luis Delaki.
We ran into another group that was hiking from Kipapa to Manana. Group photo left to right: Justin, Becca, Hugh, myself, Jose, Gen, Chris and Khym.
No birds sighted. Photo by Khym Ansagay.
Almost there.
The rusted remnants of Kipapa Cabin.
Walking through a corridor of Sugi Pine Trees.
Pushing up the last hill.
Congratulations to Gen for finishing the Ko'olau Mountain Range. Full circle from our last hike in September. Too tired to do her 30 second victory dance. It was cold, wet and we were tired.
Time to get off the mountain.
All downhill from here.
Some sections were steeper than others.
Kapitan Davy Jones in the mountains.
Khym wading through uluhell.
Gen coming down off the ridge.
Our mountain trek was over. Just a walk in the valley left.
Who needs webbing? We got branches.
Picking our way through nature's game of jenga. Hoped no trees would come loose and crashing down. Photo by Khym Ansagay,.
Waiahole stream flowing down through the valley.
Time to do that dance now?
Many thanks to Zack for picking up five ripe hikers from the valley and taking us home.
Our roller coasting weekend hike covered a little over 16 miles blessed with fantastic views towards the end and great company. Post hike meal was supposed to have been at Haleiwa Joe's to have a thick slab of cow to celebrate Gen's KST completion. Long lines and no beef lead us to Pahke's for our family style dinner. Pass the rice.
Note: I have been made aware the some hikers have been using my blog as a hiking guide and getting lost on the trails. Please note that this blog was made to document the hike for the crew(s) that did it. That is why some of my comments will seem to have no relevance or meaning to anybody outside of the crew(s) that hiked that trail. My blog was never meant as a hiking guide, so please do not treat it as such. If you find inspiration and entertainment from these hikes, that is more than enough. If you plan on replicating these hikes, do so in the knowledge that you should do your own research accordingly as trail conditions, access, legalities and so forth are constantly in flux. What was current today is most likely yesterdays news. Please be prepared to accept any risks and responsibilities on your own as you should know your own limitations, experience and abilities before you even set foot on a trail, as even the "simplest" or "easiest" of trails can present potential pitfalls for even the most "experienced" hikers.