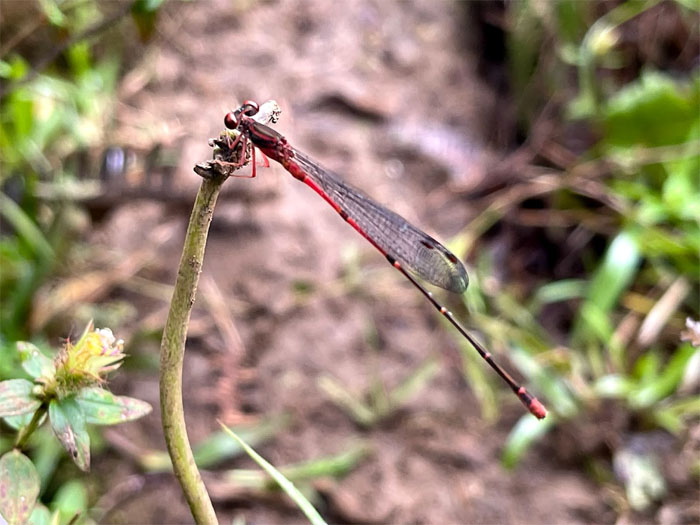 Met up with Lilyn and Quan for a camping weekend in the mountains. It turned out to be a shorter stay than expected. Photo by Art Young.
Stepping foot on the popular trail as it already started filling up with trail runners and casual hikers. Thanks to Allison for shuttling us to the trailhead.
Trading the wider trail for a narrower one. Why are our packs so heavy? Perhaps because we are camping?
Passing through introduced and native trees on the trail. Photo by Lilyn Avendano.
We are going that way. Photo by Lilyn Avendano.
The views were still holding steady as we paused at the 2,441′ peak.
Quan standing on top of the grassy clearing with commanding views of the Windward side. Photo by Lilyn Avendano.
Looking back at the Leeward side with its multiple ridges leading to the summits.
Group photo at the 2,805′ top with uncommonly clear views of the Windward side.
Beginning our roller coaster ride on the ridgeline.
A cramp perhaps of spiritual design directed somebody's gaze to where her parents are buried. Photo by Quan Haberstroh.
Lilyn contouring her way past another powerline tower.
The summit of Waimalu seemed so close, yet so far away. Photo by Lilyn Avendano.
Climbing our way up … Photo by Lilyn Avendano.
… to enjoy the valley views. Photo by Lilyn Avendano.
Lilyn preparing for colder temperatures that thankfully never materialized.
The ups and downs seemed to go on and on. Cardio city.
The panoramic views never get old.
Are we there yet? Photo by Lilyn Avendano.
Our second summit of the day which turned out to be our last as we were running out of daylight.
We pitched our tents and settled in for the sunset that never quite showed up.
However, it did show up for Aida and Art who were camped on Manana Ridge. Lucky them. Photo by Aida Gordon.
Camping night lights. Photo by Art Young.
Somebody was "volunteered" to take our night lights.
The morning moon greeted us rather than the sun peeking out from the mountains.
Hikers in the morning mist.
Pictures or it never happened. Photo by Lilyn Avendano.
Hiking down into the clouds. Photo by Lilyn Avendano.
The girls coming down the spongy ground.
And then just like that, Mother Nature snapped her fingers and lifted the cloud veil. Photo by Lilyn Avendano.
Our individual and not collective photographic memories of the meadows.
Somebody just had to get past the off-putting color and floating dead bugs to taste the H20.
One last look around at this magical and mythical place before we took our leave. Photo by Lilyn Avendano.
Waving from the edge. Photo by Lilyn Avendano.
Leaving the largest meadows on the KST behind us.
Quan enjoying a wide section of the trail. Photo by Lilyn Avendano.
Panoramic view of from the 2,160′ top of Waihe'e Valley bordered by the toothy ridges of Kalahaku and Eleao Windward.
Our parting group photo as the girls decided to cut short the hike and go down the seven mile graded trail.
Crossing over the landslide section. Photo by Quan Haberstroh.
Looking down into the saddle as the girls saw me off on what turned out to be an abbreviated journey for myself as well.
Following the fence line as it lead me through the bowl shaped grassy field.
Aida enjoying another uncommon view from the 2,660′ knob, before she made her way down. Photo by Art Young.
The heat had gotten the better of me, so I decided to go down Manana instead.
Art being recalled from the semi-dry watering hole.
Traversing our way through the multiple humps on the ridge. Where is Aida?
Passing through the gate with no latch and the 3.5 mile marker. Photo by Art Young.
We left behind the countless false peaks and enjoyed the relatively flat trail as we made our way out.
Just glad it wasn't us being airlifted. Even though we might have appreciated the ride.
Who wants to be my Popeyes? Thanks to Tessa who picked us up and brought ice cold beverages. Photo by Art Young.
Our camping hike covered roughly 13.5 miles, give or take. It seems the mileage varies with what GPS unit is tracking the hike. Post hike meal at Alley Restaurant where Lilyn, Narissa and Quan joined us. We were then segregated based on our odorous scents. At least oxtail soup was still on the menu. Fun weekend with good friends.
Note: I have been made aware that some hikers have been using my blog as a hiking guide and getting lost on the trails. Please note that this blog was made to document the hike for the crew(s) that did it. That is why some of my comments will seem to have no relevance or meaning to anybody outside of the crew(s) that hiked that trail. My blog was never meant as a hiking guide, so please do not treat it as such. If you find inspiration and entertainment from these hikes, that is more than enough. If you plan on replicating these hikes, do so in the knowledge that you should do your own research accordingly as trail conditions, access, legalities and so forth are constantly in flux. What was current today is most likely yesterdays news. Please be prepared to accept any risks and responsibilities on your own as you should know your own limitations, experience and abilities before you even set foot on a trail, as even the "simplest" or "easiest" of trails can present potential pitfalls for even the most "experienced" hikers.