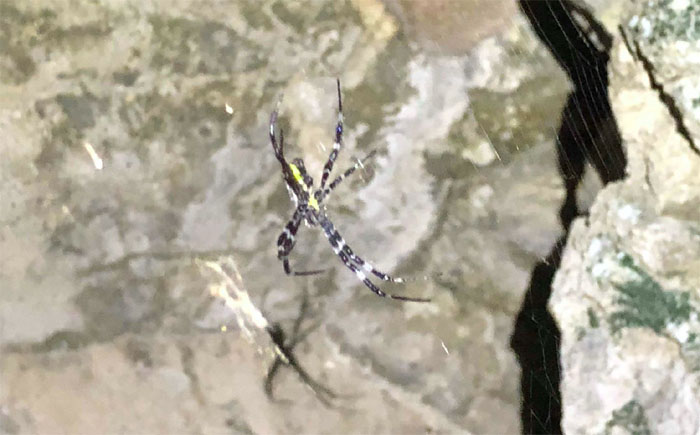 A chance meeting at a windy lookout lead me to wrangling an invite from Allison to explore a sprawling abandoned military tunnel complex. Analyn, Glenn and myself met up with her group, where we then consolidated ourselves into one van and drove off to begin our bunker exploration.
Some of us were blithely unaware of the hanging arachnid as we squeezed our way inside the pitch black bunker.
Every girl's dream – tall, dirty and yellowish.
You're not supposed to look happy when you're being fried, unless you're a chicken.
Stepping it up into the warren of rooms and tunnels.
The General Services Administration had this place up for sale back in the late 1980s. No takers. From the looks of it, I guess they had a fire sale instead.
Hmmm, what happens if one turns this lever?
Perhaps it's best to leave some things untouched.
This room had the kitchen sink, but was missing everything else.
Is this the way out? So many exits, so many turns and multiple rooms. One could get lost for hours in here.
Climbing up to the pipe platform, where Elizabeth was the only one to climb up the 100′ ladder to spot any surface dwellers. Photo by Allison Banks.
Husband and wife team.
Gives new meaning to the term four eyes.
Queing up to go up one of the air shafts. Photo by Allison Banks.
Watching out for sliding rocks and Greg's scolding. Photo by Elizabeth Lytle.
Exploring a longer shaft.
Drinking and picking. Photo by Elizabeth Lytle.
The arm doesn't quite match the apparition. Photo by Analyn Baliscao.
Group photo left to right: Jesse, Allison, Elizabeth, Glenn, Analyn, myself and Greg.
Walking through the suspended asbestos, dirt and pesticide particles in the air wasn't too kind to our clothes, let alone our respiratory systems.
Following directions was not one of our strong suits.
The next time, I'm bringing a locksmith and the networks. Move over Geraldo Riveria.
No urine was released into the wild for the making of this picture. Photo by Analyn Baliscao.
Well if we can't find our way back out, at least we have a place to stay for the night. Photo by Glenn Toyama.
The bunker sitting on Army property was used by the Hawaiian Sea Frontier navy command during the end of WW2 and seemingly abandoned 31 years later.
Descending down the stairs and leaving the bunker where we then drove back to an empty parking lot and was promptly sandwiched between a LEO and our truck. I guess he just wanted to get up close and personal. Thanks again to Allison and her group for showing us around the innards of a bunker that long ago outlived its original purpose, only to be repurposed as the playground for all sorts of folks.
Note: I have been made aware that some hikers have been using my blog as a hiking guide and getting lost on the trails. Please note that this blog was made to document the hike for the crew(s) that did it. That is why some of my comments will seem to have no relevance or meaning to anybody outside of the crew(s) that hiked that trail. My blog was never meant as a hiking guide, so please do not treat it as such. If you find inspiration and entertainment from these hikes, that is more than enough. If you plan on replicating these hikes, do so in the knowledge that you should do your own research accordingly as trail conditions, access, legalities and so forth are constantly in flux. What was current today is most likely yesterdays news. Please be prepared to accept any risks and responsibilities on your own as you should know your own limitations, experience and abilities before you even set foot on a trail, as even the "simplest" or "easiest" of trails can present potential pitfalls for even the most "experienced" hikers.