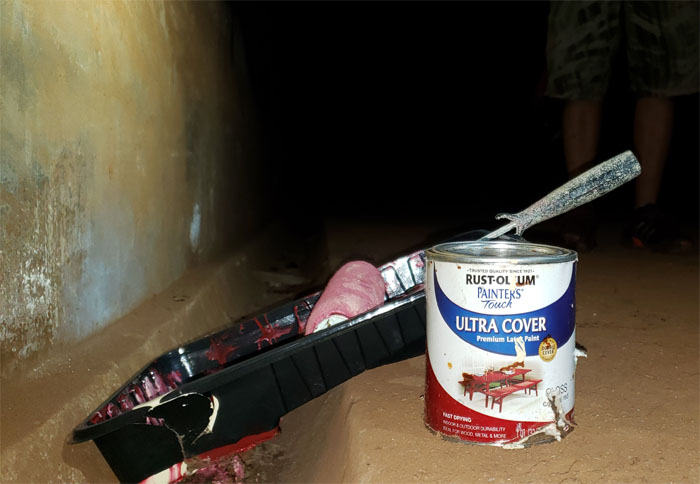 I got the opportunity to explore another abandoned bunker with Allison, Ani, Cisco, Dale, Greg, Janell, Jason, Naomi, and Tina.
We got turned around in the wrong neighborhood, as they all look alike in this part of town. Greg checked his coordinates and we relocated to the correct part of town to start our hike.
Cisco jumping off one of many bike ramps that dotted the trail.
Where no longer needed modes of transportation go to become habitats for bugs, plants and rubbish. Photo by Cisco Quintanilla.
Crossing one of two shallow streams on the trail.
Our headlights illuminating the way as the sun slowly disappeared over the horizon.
Arriving at our intended destination, where the hog proved mightier than the mouse. Somebody had conveniently burrowed a hole through the thick bunker walls to provide access to people such as ourselves. Photo by Ani Lagpacan.
Some of us went head first, others went feet first.
Making our way through the cavernous bunker tunnels, it was rumored to have stored planes back in the day.
Jason using his powerful lamp to shed some light on the subject(s) at hand.
I've seen this persons art scattered throughout the island.
We put the "I" in dysfunctional. Group photo (if you can make everybody out) left to right: Dale, Ani, Cisco, myself, Greg, Allison, Tina, Janell, Jason and Naomi.
Sampling of the many graffiti splattered on the stone cold grey walls that provided color and warmth when illuminated.
The girls hanging out with the party guy. Just missing his scythe and hourglass. Photo by Janell Tuttle.
All the openings have long been walled up and blocked off from the outside world.
Does somebody have the number for 808 Cleanups? Janell?
The ventilation fans have long stopped working, leaving us with stagnant air to suck into our lungs. As least we don't have to deal with asbestos, right? Photo by Ani Lagpacan.
Exploring a small room that apparently can serve as a holding cell, bathroom and sleeping place among other uses. Photo by Ani Lagpacan.
Looking upwards to the mineralized icicles hanging from the bunkers ceilings.
We returned to our starting point to find common cockroaches crawling on the wall, the ones that can fly and occasionally bite. Yes, bite. Who wants to go first?
It seemingly takes a village to pull people out of a small hole in the wall.
Exit Strategy. Turn on your speakers for the full sensory effect. Video by Jason Wilkins.
Our last group photo of the night. Still hard to make everybody out. We need more light!
Making our way back on the trail that was now amply lit from the moon and our headlamps.
Our short stroll through a bike path and WW2 bunker covered 1.39 miles that was filled with good company, painting lessons and neat finds. Many thanks to Allison and Greg for showing us another bunker that are part of the islands military history.
Note: I have been made aware that some hikers have been using my blog as a hiking guide and getting lost on the trails. Please note that this blog was made to document the hike for the crew(s) that did it. That is why some of my comments will seem to have no relevance or meaning to anybody outside of the crew(s) that hiked that trail. My blog was never meant as a hiking guide, so please do not treat it as such. If you find inspiration and entertainment from these hikes, that is more than enough. If you plan on replicating these hikes, do so in the knowledge that you should do your own research accordingly as trail conditions, access, legalities and so forth are constantly in flux. What was current today is most likely yesterdays news. Please be prepared to accept any risks and responsibilities on your own as you should know your own limitations, experience and abilities before you even set foot on a trail, as even the "simplest" or "easiest" of trails can present potential pitfalls for even the most "experienced" hikers.