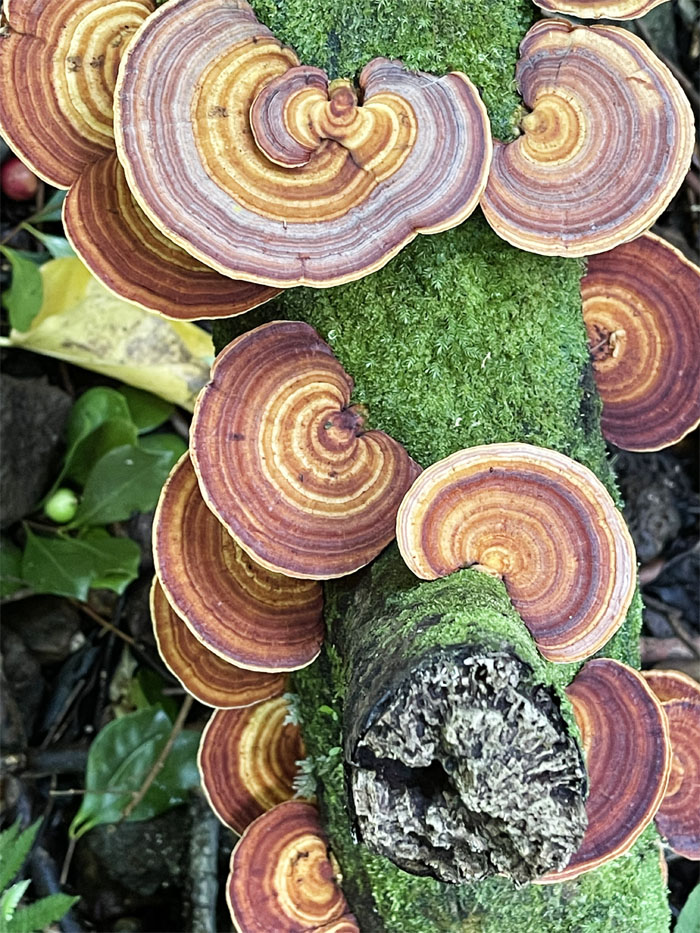 We decided to get wet in the mountains today. All wet. All day. Met up with Allison, Art, Cisco and Quan in the historical sanctuary for fugitives. Sort of fitting. Photo by Art Young.
Making our way up the rutted trail that only a dirt biker can love. Photo by Cisco Quintanilla.
Light showers moisturized our bodies and the trail. Somebody asked about flash floods. Plan B? Photo by Cisco Quintanilla.
Entering the introduced pine tree forest that was planted to retard the erosion brought on by the introduced cows and pigs.
We soon left the trail and dropped down the steep flank of the ridge where our progress was thankfully slowed by the invasive strawberry guava trees.
Art descending down to the stream …
… that was covered in a tangled thicket of mangrove trees.
We had to contort our bodies to fit over, through and under the twisted and often rotting branches that were floored by slippery rocks. Did everybody stretch before the hike? Photo by Cisco Quintanilla.
Snap, Crackle and Pop. We're not talking about breakfast cereal here. Treading on the often rotten branches could be more harmful to your health than a sugary bowl of morning goodness. Photo by Art Young.
Cisco going through a relatively "open" area of the "trail." Photo by Art Young.
Low clearance. Glad none of us were basketball players. Photo by Art Young.
Out of the woods. Not quite yet. Photo by Cisco Quintanilla.
It wasn't pretty. But whatever works. Photo by Art Young.
Fighting against the current, just like migratory salmon. Except we're not spawning, just hiking.
Quan going against the flow. Photo by Art Young.
Cisco preparing to climb up through some boulders.
Out of the stream and back into the water. Ice cold water. Photo by Art Young.
Human anchor pressed into service. My nickel rate must not be keeping up with inflation. Photo by Art Young.
All this running water. Bathroom break? Photo by Cisco Quintanilla.
Allison working her way up to the next waterfall.
What waterfall is this? Who's counting? Photo by Art Young.
Quan climbing her way to the top.
Can we climb that waterfall?
Perhaps not.
Rock hopping our way up the stream. Photo by Art Young.
The group deciding on which direction to wade through the pool of brown water.
Using the trees to pull ourselves up to go around the twin waterfalls. Photo by Art Young.
Happy belated Birthday Cisco!
Climbing up the side of the waterfall … Photo by Cisco Quintanilla.
… that was a two-tiered fall.
Somebody wanted to take a bath in the ice cold water. Photo by Cisco Quintanilla.
It was wet, cold and exhausting trying to pull myself up this particular waterfall. Photo by Art Young.
So we decided to detour up and around the hill to bypass the fall. Photo by Art Young.
Going up another two-tiered waterfall. Photo by Cisco Quintanilla.
The group trying to stay dry as long as possible by avoiding the water on a waterfall hike.
Climbing up the moss slicked rocks. Photo by Art Young.
Watching the rest of the group climb their way up. Photo by Art Young.
Somebody really liked playing in the water. Photo by Cisco Quintanilla.
The waterfall that stopped us dead in our tracks. The flow was too strong to climb up and no place to be seen to detour.
We decided to make like a tree and leave. Straight up bushwhacking on a uluhe infested spur ridge. Whose idea was this?
Sucking pollen and dust in as we plowed our way through the interlocking and clawing ferns.
We soon reached the top of the ridge line and after some crude wayfinding, we determined that the trail was below us somewhere. Photo by Art Young.
Art dropped down to the trail and yelled out that the descent wasn't that bad. Somebody was extremely glad to be back on a "real trail."
Going back to our cars after our waterlogged hike. Fun day with good friends. Need to go back and finish the hike one day. Post hike meal at Zippy's. Hot soup does a body good.
Note: I have been made aware that some hikers have been using my blog as a hiking guide and getting lost on the trails. Please note that this blog was made to document the hike for the crew(s) that did it. That is why some of my comments will seem to have no relevance or meaning to anybody outside of the crew(s) that hiked that trail. My blog was never meant as a hiking guide, so please do not treat it as such. If you find inspiration and entertainment from these hikes, that is more than enough. If you plan on replicating these hikes, do so in the knowledge that you should do your own research accordingly as trail conditions, access, legalities and so forth are constantly in flux. What was current today is most likely yesterdays news. Please be prepared to accept any risks and responsibilities on your own as you should know your own limitations, experience and abilities before you even set foot on a trail, as even the "simplest" or "easiest" of trails can present potential pitfalls for even the most "experienced" hikers.