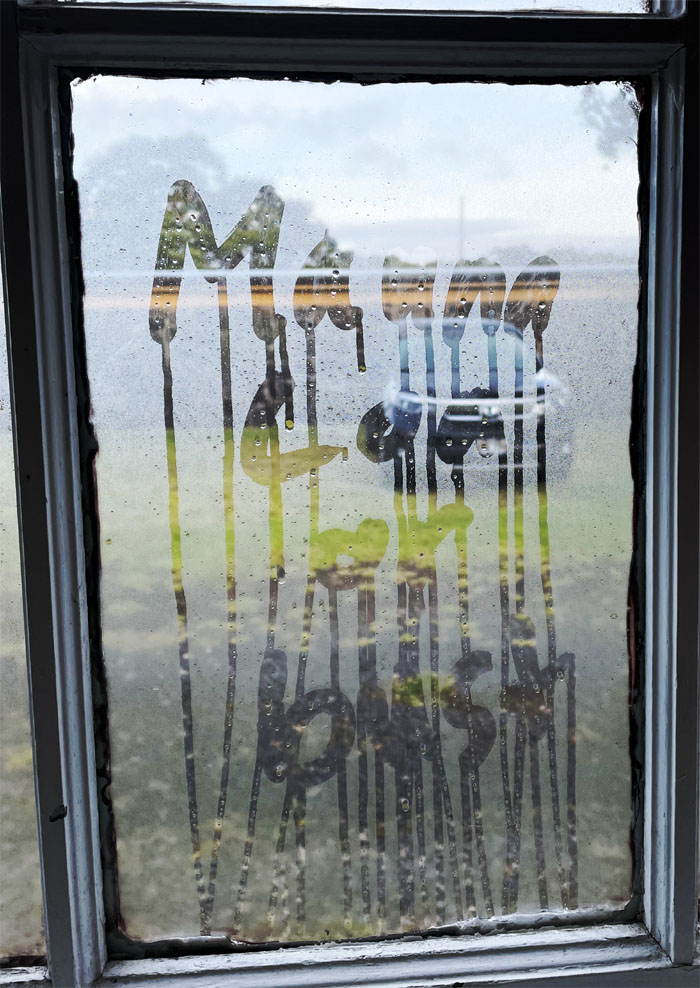 We woke up to a slightly chilly morning at 4,000′ elevation hoping that all our bodies were properly acclimatized for our high altitude trek ahead of us. Wishful thinking.
The group stretching for what they thought was going to be a three day hike and in the end it turned out to be for a five minute walk to breakfast.
Early birds get to wait for Hawaiian time. Sugar and cream in your coffee? Nah. Locals use shoyu. Kikkoman.
The bathroom had a vacancy that Narissa wanted to fill. Calisthenics wasn't helping matters much.
New York jive got us the combination to the gate. Plan A was back into effect. Everybody was too busy repacking to be jumping for joy. Photos by Matt Vidaurri.
Quan opening the gate to the 11.2 mile road. Photo by Matt Vidaurri.
Driving along the narrow road that cut through the verdant forest life that was filled with pheasants and the odd stray cat. Photo by Matt Vidaurri.
Leaving behind the dog walkers and bicyclists as we gained elevation. Photo by Matt Vidaurri.
These ahinahina found at the 6,662′ lookout are quite distinct from their cousins on Mauna Kea and Haleakala. Photo by Matt Vidaurri.
We pulled off the road going back down to enjoy the views and take a group photo by Matt Vidaurri.
Levitating around the old lava flow. Photo by Aida Gordon.
The tree of life and death.
Earthquake driving. Thanks Matt. Payback is a Kenji. Photo by Quan Haberstroh.
The start of our 17 mile drive through the narrow ribbon of asphalt that cut through the lava fields that we shared with other cars and bicyclists.
One of the descendants of the original invasive animals introduced to the islands in the late 1700's by European explorers. Photo by Lilyn Avendano.
The drone pilot in the back seemed to be more droning than flying. Photo by Lilyn Avendano.
Looking at the different colorations and textures of lava that made up the lunar like landscape; pahoehoe (smooth) and a'a (rough), chocolate fudge and chocolate thunder.
Driving down the road of last temptation. Photo by Lilyn Avendano.
Looking towards the white mountain with her observatories sparkling in the sunlight. Photo by Lilyn Avendano.
We snagged the last parking stall as a bicyclist blocked us in with her "photo ransom."
Nothing beats a rubber slippah tripod to take your group photo at the start of our 11,140′ elevation hike. Matt also grabbed the bag of musubi's that Justin had stashed for us.
Walking down a solitary path. Photo by Aida Gordon.
The group took the shorter and steeper route. Photo by Aida Gordon.
I caught up with Justin's group as they had took the jeep route which would eventually reconnect back to the trail. I needed the extra exercise anyway.
Following the ahu or stacks of rocks as we navigated our way on the trail. Photo by Matt Vidaurri.
Hiking through the lava fields. Photo by Lilyn Avendano.
Our two groups met at 11,680′ elevation and the reduced atmospheric pressure had taken its toll on some of the group. Less oxygen to the lungs resulted in headaches, lightheadedness, nausea and poor judgment. Some had it worse than others. As a result, the group separated into the ascenders and descenders.
We took a parting group photo left to right: Aida, Lilyn, Quan, Kurry, Matt, Anissa, Narissa, myself, Justin and Ken. Photo by Kurry Wong.
Resuming our hike to the summit. Only 1,998′ more to go. So close, yet so far. Photo by Matt Vidaurri.
It soon become obvious that high altitude sickness had claimed another member in our group. Faced with a dwindling group and time, we decided to turn back and throw in the towel at 12,305'elevation. We called ahead to make sure our rides didn't leave without us. No bueno to be walking another 17 miles down to sea level.
Our attempted hike up the long mountain became abbreviated into a short climb up and down.
We decided to make the most of our limited time on the mountain and spent some of it at the cavernous lava tube marked by two large stacks of rocks. Photo by Kurry Wong.
Poking around the lava cave.
Stupid human tricks. Or what passes for entertainment at high elevation.
Making our way back down the trail. The only remedy for altitude sickness is to descend back down to a lower elevation where the symptoms will eventually subside.
Rolling clouds diffused the views of the Mauna Loa Observatory which monitors and collects data on atmospheric changes. Photo by Matt Vidaurri.
Meeting back up with the gravel road and leaving the lava fields behind us.
Back to our trucks and cold beer for those with a taste for it. Post hike meal at Hawaiian Style Cafe where the wait was long but tolerable.
We returned to our five star accommodations for the night, Matt even got a late night dish of noodles and real shrimp. All joking aside, much appreciation to Quan's cousins, Binh and Huy, for putting us up at such short notice and letting us borrow their truck.
Our hike up to an active volcano clocked in under six miles. While it fell short of our intended goal, we all got down safely and had a good time and lived to hike another day.
Note: I have been made aware that some hikers have been using my blog as a hiking guide and getting lost on the trails. Please note that this blog was made to document the hike for the crew(s) that did it. That is why some of my comments will seem to have no relevance or meaning to anybody outside of the crew(s) that hiked that trail. My blog was never meant as a hiking guide, so please do not treat it as such. If you find inspiration and entertainment from these hikes, that is more than enough. If you plan on replicating these hikes, do so in the knowledge that you should do your own research accordingly as trail conditions, access, legalities and so forth are constantly in flux. What was current today is most likely yesterdays news. Please be prepared to accept any risks and responsibilities on your own as you should know your own limitations, experience and abilities before you even set foot on a trail, as even the "simplest" or "easiest" of trails can present potential pitfalls for even the most "experienced" hikers.