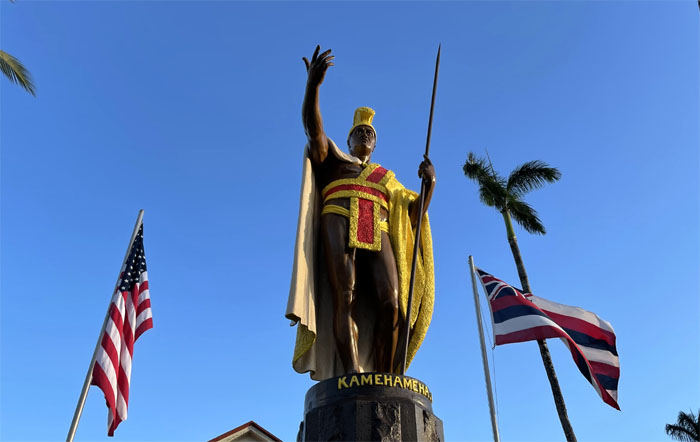 We didn't get to summit one of the world's largest volcanoes yesterday, so instead we stood underneath a waterfall today. After recovering Quan's cousins truck from Mauna Loa Lookout and checking out of our restaurant cum hostel, we all piled into the rental truck and began our long drive up North. Many thanks again to Binh and Huy for their generous hospitality. Persistence and perseverance paid off in determining the agenda for our remaining time on the Big Island.
Having our breakfast under the yellow lehua flowers in the parking lot of McDonalds. Photo by Matt Vidaurri.
Eating cholesterol drenched sticks of potatoes underneath the crimson colored stamens of another ohia tree at another McDonalds. Is this a food tour or a hike? Photo by Matt Vidaurri.
We thought we had a spot to park but then the guys truck died. Moving to the next spot where Matt had to reverse the truck just to the point of not going off the road.
Group photo with the islands of Paokalani, Mokupoku and Pa'alalea in the background. Photo by Matt Vidaurri.
Hiking our way through the grassy fields intersected by crisscrossing roads. Photo by Matt Vidaurri.
We all took different paths at times. The paths of least resistance.
Unwanted hitchhikers attached themselves to us as we pushed through the unkept fields under the sweltering sun.
A shirtless Matt taking us deeper into the mountains.
We soon spotted a bridge too far. But first we had to find the trail that would get us there.
The princess was in good hands with Matt.
Going down the trail as it hugged the side of the cliff.
Quan standing in one of the 57 irrigation tunnels that was built in the early 1900's by mainly Japanese contract laborers who were paid one dollar a day. Translated to 2021 wages, that still comes out to roughly $29.91 per day. Photo by Lilyn Avendano.
Crossing over the bridge that was replaced in 2012 due to the Kiholo Bay Earthquake of 2006.
Looking out from the back of the waterfalls to the rock bridge to the metal bridge. Past to the present. Photo by Matt Vidaurri.
There were multiple waterfalls cascading down the rocks. Photos by Matt Vidaurri.
Looking towards the waterfalls. Photo by Quan Haberstroh.
Following the trail as it continued to hug the side of the cliff. Photo by Lilyn Avendano.
The girls crossing over a side waterfall and ruins.
Crossing over a short patch of loose rocks and low hanging trees. Photo by Quan Haberstroh.
Watching our steps as the dirt was soft and unforgiving in some spots.
The sounds of the waterfall greeted our ears before we saw it. Photo by Lilyn Avendano.
Taking in the roughly 600′ waterfall from top to bottom.
At first glance from afar, the trail looked impassable due to erosion. But on closer inspection, it was highly doable and there were anchored ropes that ran around the waterfall. Photo by Lilyn Avendano.
Standing underneath one of the few waterfalls in Hawaii where you can do that.
Group photo by Matt Vidaurri.
Drone photos by Matt Vidaurri.
Looking out towards the valley from the waterfall. Photo by Lilyn Avendano.
Exploring the other side of the waterfall that was heavily eroded.
Do I get paid a nickel for dropping into this dank and dark cave? Photo by Quan Haberstroh.
Walking underneath the waterfall.
Looking up to the top. Photo by Quan Haberstroh.
Everybody getting in their solo shots before taking our leave of this tucked away waterfall.
Going back over the shifting and loose rocks that passes for a trail.
Crossing back over the bridge that the earthquake built. Photo by Aida Gordon.
According to some people, volunteerism and overbearing go hand in hand. Creepy chuckle at the end tied everything together. Somebody should make a ringtone.
Somebody was hungry. Photo by Lilyn Avendano.
Walking our way out where we still picked up unwanted hitchhikers. Souvenirs from our hike. Photo by Aida Gordon.
Valley views. Photo by Matt Vidaurri.
Island views. We returned back to our truck to find plentiful road parking and a niele person nosing around our business. It pays to know people. Photo by Lilyn Avendano.
We met up with Grant to have our post hike meal and Father's Day dinner at this rustic café and bar. Extra tip to the waiter for recognizing the aunteh in the house.
Note: I have been made aware that some hikers have been using my blog as a hiking guide and getting lost on the trails. Please note that this blog was made to document the hike for the crew(s) that did it. That is why some of my comments will seem to have no relevance or meaning to anybody outside of the crew(s) that hiked that trail. My blog was never meant as a hiking guide, so please do not treat it as such. If you find inspiration and entertainment from these hikes, that is more than enough. If you plan on replicating these hikes, do so in the knowledge that you should do your own research accordingly as trail conditions, access, legalities and so forth are constantly in flux. What was current today is most likely yesterdays news. Please be prepared to accept any risks and responsibilities on your own as you should know your own limitations, experience and abilities before you even set foot on a trail, as even the "simplest" or "easiest" of trails can present potential pitfalls for even the most "experienced" hikers.