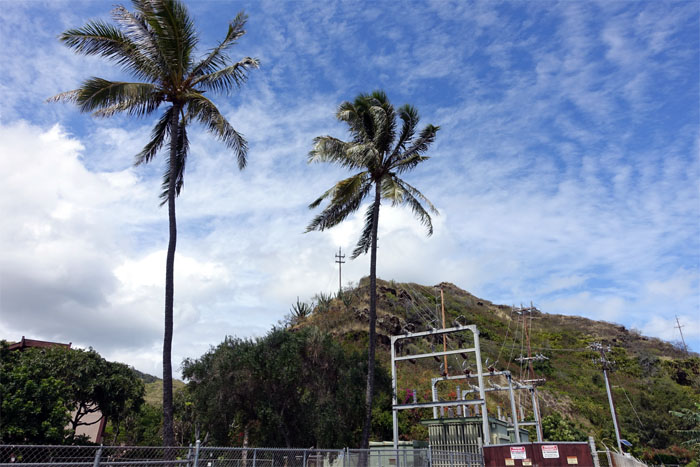 Met up with Jasmin and Jose to do a short ridge loop trail in Hawaii Kai.
Climbed up a small cliff thick with bougainvillea bushes. Nothing like a poke in the morning to get the juices flowing.
Small mountain ball cacti.
Jasmin and Jose following the electric poles to the top of the ridge.
Glad to know that. I can sleep better at night now.
Looking back towards Maunalua Bay.
Let me lick my finger and find out.
We were buffeted with blustery winds and blessed with overcast skies.
Trail snacks not ready for plucking.
Towering trees started to dominate and cover the ridge.
Taking a short break.
Short cardio climb to the top, as the ridge took on a steeper slant.
Uprooted tree.
Group photo at the 1,735′ summit left to right: Jasmin, Jose and myself.
Looking back at another steep Windward Ridge.
We turned right on the Ko'olaus to continue the trail that weaved between the Windward and Leeward sides of the mountains.
Windward views of Waimanalo, Mokulua Islands and Kaneohe Bay.
Providing power since 1891.
It was a nice day on the mountains. Photo by Jose Luis Delaki.
Flower power. Wilted orchid.
We contoured on the Windward side to stay on the KSRT.
Jasmin looking back at the Pyramid Rock from the Leeward side.
Looking out towards Hahione Valley and Koko Head.
Jasmin coming up the hard way.
Jose headed towards the lonely 1,361′ summit.
Your other right.
Click here for the larger image.
The original plan was to hike to Makapu'u, but due to time restrictions, we had to bail out at Mariner's Ridge. A trail that is now closed to the general public. Several hiking clubs are granted limited access.
Jasmin be limbo. Jasmin be quick. Jasmin go unda limbo stick.
The once bustling trail was now eerily empty going back down.
Signs of modern man.
The trail is slowly being reclaimed by Mother Nature.
The trailhead is now blocked by a wrap around gate. Greased from top to bottom. Left to right. Jiffy Lube?
The breezy ridge loop hike covered 4.97 miles. Post hike meal at Aina Haina Chop Suey. Family Style. Pass the rice. Post hike run to Kaimuki Laundromat. Got quarters?