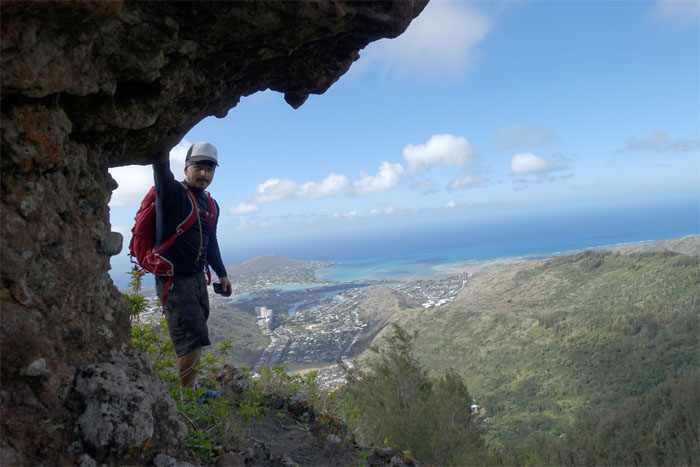 We picked up where we left off from a prior hike that was interrupted by the rain and strawberry season. Nice to be back in the islands.
Picked up Jose in Waimanalo and we started deep in an East Oahu Valley.
Short, sweet and steep. This trail has become more popular based on the numerous fluttering flags on the branches.
Click here for the larger image of Hahaione Valley and her surrounding ridges.
Jose within spitting distance of the summit.
Hanging onto the views. Photo by Jose Luis Delaki.
Jose and myself at the 1,566′ summit. The winds were blowing today. Hard.
Climbing down the pyramid rock.
See the resemblance? The rock, not the hiker.
The ridge going down soon dropped off sharply. Is this the right ridge?
That ridge looks promising, never mind the steep drops. It has pine trees!
Jose climbing back up. Part of hiking, sometimes you get lost and have to backtrack.
Brief walk on the Ko'olaus.
We over shot the ridge again due to all the overgrowth and spotted the ridge to our left. Got our bearings straight.
Crawling and ducking underneath the low hanging branches. Any lower and we would have been with the slugs and snails.
Jose contouring around a stand of pine trees that were blocking the ridge.
Looking at the ridge with the steep drop off we had been on earlier.
Weaving in and out of the trunks and branches. Pays to be skinny sometimes.
Back on the exposed ridge.
Click here for the larger image.
I was mildly surprised at how relatively easy this Windward ridge was so far. Spoke too soon?
Slip and slide.
Replenishing my electrolytes before the hardest obstacle.
Does the webbing reach to the bottom?
Time to find out. Photo by Jose Luis Delaki.
A Go Pro view.
Jose making his way down the 60′ cliff.
The hard parts were over, time to go home.
Beating the bushes, we made our way down.
We followed the cleared firebreak underneath the power lines to connect to the Tom-Tom trail.
Stepping over and around to avoid the hundreds of golf balls that littered the ground, as we picked our way through the neighborhood's private driving range. Half expected to duck an errant golf ball coming our way.
We popped out at the end of the Tom-Tom trail and saw no signs of loose dogs, only fenced dogs. Good boys and girls!
The welcome back to Hawaii hike covered 4.36 miles of mountains and ridges. Post hike meal at Greek Marina. Kali Oreksi! Did I say that right?