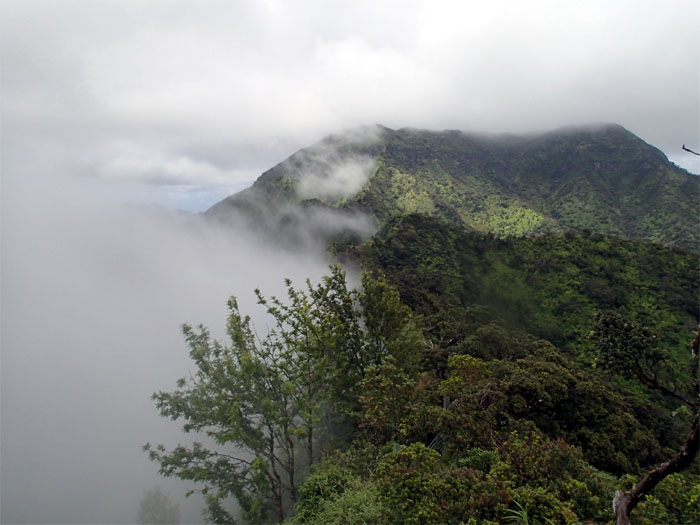 I had a hankering to revisit the entire Waianae Summit Trail. Helping me to scratch that itch again was Chris, Gen and Jose. Shout out to Brian who dropped us off deep in Waianae Valley.
A friendly hunter greeted us and advised us to sign in, just in case we got lost. Hmmm. We then talked about the hanging cloud system over Ka'ala and hoped it would clear up. The hunter quickly dissuaded us from such foolish notions, by saying it was sticking around. All day. And then some. Really? And then some?
Walking up the paved road. Loving it. Not. Click here for the larger image.
Waianae Farmer's Market is now open. Bring your own knives.
We left the road behind us and started following the purple caps and ribbons as we made our way up. Hiking bread crumbs. No time for picnicking.
Nothing like a good cardio workout to get your juices flowing in the morning.
Scenic break overlooking Waianae Valley.
We ran into a hiker that had returned from attempting to summit. He ran into the boulder section and couldn't get past the slippery rocks. Better safe than sorry.
Click here for the larger image of Bolo Head Ridge, Waianae Valley, Kamaileunu and Ohikilolo Ridges. Photo by Jose Luis Delaki.
Gen working her way up.
Safe. Not sorry.
Chris making the final steep climb to the summit.
Group photo at the highest point on the island at 4,025′, left to right: Jose, myself, Gen and Chris.
Keeping our feet dry.
Getting our feet wet.
We ran across some native Hawaiian tree snails, of which only 25 known species are known to exist. Their habitats are found at the cooler, higher mountain elevations.
There was an actual flagged trail running through the misty bog that we followed.
Rain, rain go away.
Jose making his way down the cloudy exposed ridge.
Gen getting ready to climb down the steep, rain slicked boulders.
Chris making his way down.
Jose looking back at the small gap that we had to get over.
Inspected the inviting boulders. One day.
Somebody always has to be different in the group. Guess who?
Abundant and abusive blackberry thorns became a major obstacle along this section. Hawaiian barbed wire. Ouch for miles.
We dropped in elevation below the cloud deck to gather some views and enjoyed a brief respite from the thorns in our sides.
Somebody was yelling about the views. She was drowned out in the mountain's vast silence.
Click here for the larger image.
Erosion at work.
Time for some trail clearing action. Break out the machete.
Chris passing the junction with the spur ridge that comes up from Waianae Valley.
We said goodbye to those pesky blackberry thorns. Or so we thought. Photo by Genesaret Balladares.
Brushing past the numerous crimson colored flowering evergreen trees. Make it rain.
Getting closer to the top of Puu Kalena.
The fence line was soon interrupted by the earth that was rent asunder. Or something like that.
One person at a time.
Gen about to climb down a steep section. Needed extra traction.
Jose reaching for a hold to pull himself up.
Have a seat. Sign in. Make yourself comfortable.
Jumping for joy at the second highest peak on the island at 3,504′. I guess nobody gave me the memo.
Ladybug, Ladybug, Fly away home …
Click here for the larger image.
Gen heading down from the summit.
Looking down at the forbidden mountain.
The scream of nature. Photo by Chris Bautista.
Single file shuffle.
We hopped over the fence to pay a visit to sexy. ridge. that is. Photo by Genesaret Balladares.
Patiently. Before the wind pushed me off the rock. Click here for the larger image. Photo by Jose Luis Delaki.
Everybody's here. Say cheese.
That was a fun little detour.
The crew crossing the narrow sheeted rock.
The nipple of the Waianae mountain range.
Time to take our leave of the fence and head down. Missed that memo again.
It was a little windy as we made our way down the steep descent.
Coming down the mountain. Here we come. Photo by Genesaret Balladares.
Making our way down to the lowest section on the Waianae range.
Click here for the larger image. Photo by Jose Luis Delaki.
Gen and Chris against the backdrop of the red, crumbly rock.
Making our way down the washed out section. Photo by Chris Bautista.
We dropped down onto Kolekole Pass Road and were picked up by Chris's brother, Jonathan. Thank you!
The mountain and ridge hike covered a distance of roughly nine miles. Fun times with good friends. Post hike meal at Outback. Can't go wrong with clam chowder and prime rib.