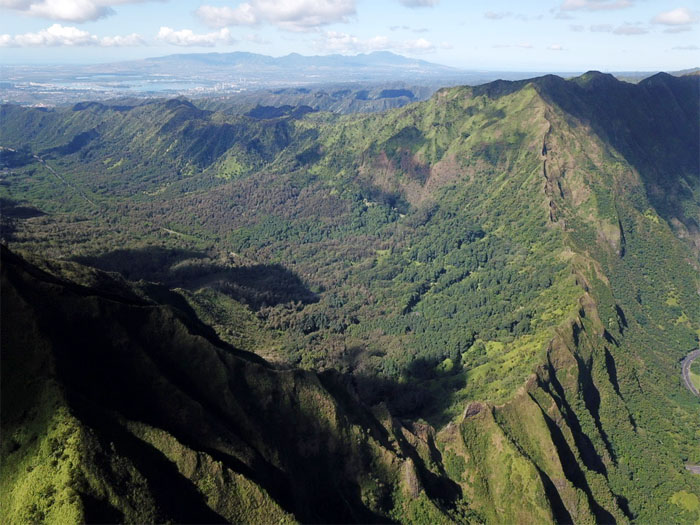 Met up with Anne and Dennis at the Pali Lookout to break in their saddle cherries. Drone photo by Dennis Regan.
Scrambling our way up the steep and slippery rooted trail.
The sun was slowly peeling the shadows away from the imposing rock spire ahead of us. Glad we are not climbing that!
Looking back at the strikingly clear summit of the highest peak on the Ko'olau Range.
View from the other side. Drone photo by Dennis Regan.
Anne making her way up the long slippery slope to the ridge line.
We hit the exposed ridge line and starting climbing our way down the saddle. Photo by Dennis Regan.
Anne and Dennis passing the wind bent trees, but hardly a whisper of wind blew through the mountains today.
Swinging myself up and over the rock. Beats contouring any day. Photo by Dennis Regan.
Anne and Dennis coming down one crumbly rock at a time.
Passing thorny bushes of these tart trail snacks.
We had stunning panoramic views from Kanehoalani to Olomana.
Grabbing fistfuls of uki grass as we made our way up to the adventure in the mountains.
It's on like Donkey Kong. Photo by Anne Fai.
Dennis contouring his way down the non-visible trail.
Somebody was either exhausted or glad to have made it to the top. Or both.
Anne and Dennis trying to pass themselves off as the 23rd letter of the alphabet.
Making my way down the short drop. Photo by Anne Fai.
Did that rock just move?
Anne contouring her way back up to the ridge line.
Pulling ourselves up the severely eroded ridge line which has seen much better days.
Climbing our way out of the saddle and to the summit.
Drone photo of Swirling Heavens by Dennis Regan. The only thing swirling was our heads over the crystal clear 360 degree heavenly views around us.
Sometimes a helping hand is all a drone needs.
Leaving the 2,700′ summit behind us as we dropped down into another saddle.
Scooting and scrambling our way down the serpentine ridge. Photo by Anne Fai.
When hikers on a narrow ridge line have to regress to their pronograde posture of their forebears.
Group photo on the crumbly back, left to right: Dennis, Anne and myself.
What happened to the webbing?
Lowering ourselves down the steep flank of the ridge line.
Dennis contouring his way back to the ridge line.
Drone photo by Dennis Regan of the most photographed spot on the saddle.
Leaving the eroded section underneath the sofa sized rock that is just waiting to pop out. And we're not even at the pimple yet.
Making our way down to start our colorful climbs. Photo by Anne Fai.
Trying my best not to dislodge any rocks going up. Photo by Anne Fai.
Dennis climbing his way up. Photo by Anne Fai.
Anne making her way to the top.
They sure don't feel soft as one. Photo by Dennis Regan.
Anne and Dennis making their way down the crumbly ridge line.
You go your way and I'll go my way. Photo by Dennis Regan.
Almost there. Really.
Request wide angle photo please. Photo by Dennis Regan.
Anne making her way down the last obstacle.
Drone photo by Dennis Regan with Kalihi Valley in the background.
Walking out the service road as we finished our less than three mile saddle hike that was blessed with the best weather I have seen to date. Thanks to Jasmin for picking us up. Nobody had time or wanted to eat, so it was McDonald's for me.
Note: I have been made aware that some hikers have been using my blog as a hiking guide and getting lost on the trails. Please note that this blog was made to document the hike for the crew(s) that did it. That is why some of my comments will seem to have no relevance or meaning to anybody outside of the crew(s) that hiked that trail. My blog was never meant as a hiking guide, so please do not treat it as such. If you find inspiration and entertainment from these hikes, that is more than enough. If you plan on replicating these hikes, do so in the knowledge that you should do your own research accordingly as trail conditions, access, legalities and so forth are constantly in flux. What was current today is most likely yesterdays news. Please be prepared to accept any risks and responsibilities on your own as you should know your own limitations, experience and abilities before you even set foot on a trail, as even the "simplest" or "easiest" of trails can present potential pitfalls for even the most "experienced" hikers.