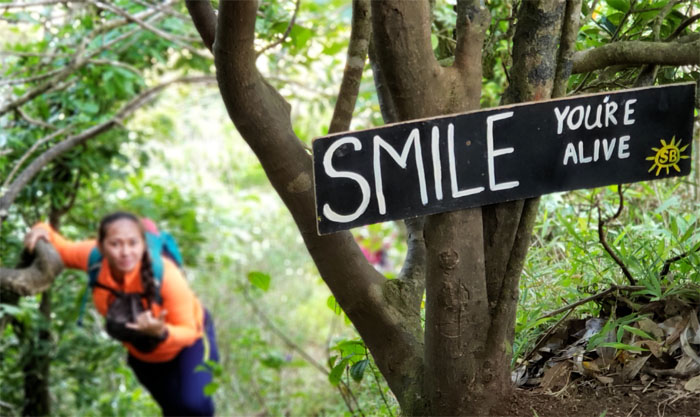 We decided to have Christmas come early for Lilyn today. Met up with Analyn, Anne, Art, Lilyn and myself at the Pali Lookout where typical windy conditions greeted us.
Right off the bat, it was a short and steep climb up. The best part of waking up, is hiking up. Photo by Art Young.
Anne breaking out into the open grassy spot which afforded us much better views than the lookout.
Working our way towards the first of the man-made notches where we ran across two other hikers. Photo by Art Young.
Lilyn climbing down the first notch. Photo by Art Young.
Taking a break on the other side. Photo by Art Young.
Everybody waiting their turn to make their way down the second notch.
Time to climb the chimney. Photo by Art Young.
Lilyn trying not to get tangled up in the ropes on her way up.
Need a hand?
Some folks liked to savor their climb up the chimney by sitting down. Photo by Art Young.
Others like to be on their back. Photo by Art Young.
The climbing was not over yet. Photo by Art Young.
Lilyn pulling herself up to the ridge line with backdrop views of Kalihi Valley and points beyond.
Making our way up the grassy ridge line that was punctuated with boulders of assorted sizes and shapes. Photo by Art Young.
Looking back at our crumbly climb.
The girls enjoying a relatively flat section of the ridge line with sweeping Windward views in the background.
Rock climbing. Photo by Art Young.
What happens when you don't take the helping hand is you land on your back. Some people are used to that already.
Something old, something new, something borrowed, something purple.
Pushing our way on the muddy trail to the top.
Group photo at the highest peak on the Ko'olau Mountain Range. Socked in as usual.
Traversing between the schweddy balls.
Met up with Aida, Janell, Quan and Tessa at the shift right peak. There was also a reunion of sorts celebrated with a yawyaw dance and food regurgitation.
Before we left, the girls did their traditional male-excluded butt grab group shot.
Watching as the ridge line kept the clouds at bay on the Leeward side.
Panoramic cloudy view.
Coming down the trail that was partly open and partly overgrown. Photo by Art Young.
Janell making her way down with the spine of the Ko'olau Mountain Range ahead of her. Photo by Lilyn Avendano.
Leaving the crown jewels of the Ko'olau Mountains behind us. Photo by Art Young.
One had to be quick to catch this rainbow. Not all of us saw it. Photographic proof by Aida Gordon.
Coming down the sandwiched meadow.
Horizontal rain blurred the way to our destination summit.
Our not so synchronized group photo, where some of us were more enthusiastic than the others.
Heading down into Manoa Valley. Photo by Aida Gordon.
Trail snacks to keep you constipated while hiking.
Coming down the steepest part of the trail. Photo by Aida Gordon.
Communal bathing to rinse off the collective mud and grime.
Climbing out of the stream fed bath.
Exiting Pu'u Pia Trail, where we got rides from Tessa, Aida and Quan. Some of us showered and freshened up to make ourselves somewhat presentable for our dinner that was a little more demanding in terms of personal hygiene than our usual hang outs. Photo by Art Young.
We celebrated Ferlino's birthday at Jade Dynasty where Cathy, Dale, Edgar, Jasmin (2), Matt, Richard and family, Sally and Somphet also joined the party. Thanks to Sally for putting the delicious menu together and setting up the private room arrangements. Photo by Ferlino Carinio.
Our 4.7 mile hike that took us to the highest peak on the Ko'olau Mountain Range and down into the deep and thick valley of Manoa was another fun adventure with good company.
Note: I have been made aware that some hikers have been using my blog as a hiking guide and getting lost on the trails. Please note that this blog was made to document the hike for the crew(s) that did it. That is why some of my comments will seem to have no relevance or meaning to anybody outside of the crew(s) that hiked that trail. My blog was never meant as a hiking guide, so please do not treat it as such. If you find inspiration and entertainment from these hikes, that is more than enough. If you plan on replicating these hikes, do so in the knowledge that you should do your own research accordingly as trail conditions, access, legalities and so forth are constantly in flux. What was current today is most likely yesterdays news. Please be prepared to accept any risks and responsibilities on your own as you should know your own limitations, experience and abilities before you even set foot on a trail, as even the "simplest" or "easiest" of trails can present potential pitfalls for even the most "experienced" hikers.