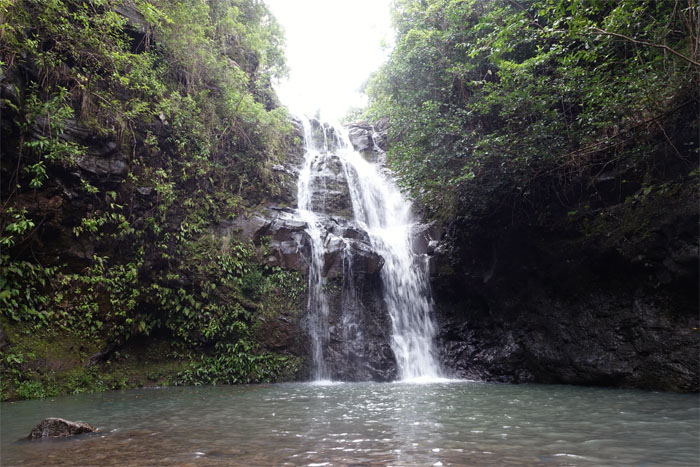 I have hiked Manana trail multiple times but not once did I have a chance to veer off down into Waimano Falls. Today Jasmin would show me the way.
No signs of pig hunters or hikers. We must be early.
Grafitti magnet. Don't stand still otherwise you might get tagged.
Tree filtered sunlight on the ridge.
Jasmin going down the steep tree lined hill.
It was a short and steep drop under the forest canopy to the stream.
The watering hole was dry. Of people.
We wanted to explore further up the stream to see if there were more waterfalls tucked deep in the valley.
Got ginger shampoo. Got water. All that was needed were dirty hikers.
We followed the stream to see where it would lead us.
Going further into the valley, the stream seemed to be swallowed by the lush forest.
The stream seemed endless with no waterfall payoff in sight, and besides today's hike was only supposed to be a few hours. Time to go back. Group photo of Jasmin and myself.
We followed the stream back to the falls to find a lot of people had arrived. This place is packed on the weekends.
Group photo at the empty falls. Everybody was frolicking in the pools below us.
Swinging like Tarzan.
Jasmin climbing out of the falls.
Boys and girls just want to have fun.
Jasmin making her way back up the hill.
Really?
You take the hill and I'll take the path.
Jasmin has left the trail.
The trail, stream and waterfall hike covered a scant 4.10 miles. Post hike meal at Aiea Bowl. Best oxtail soup on the island. Sorry Kam Bowl.