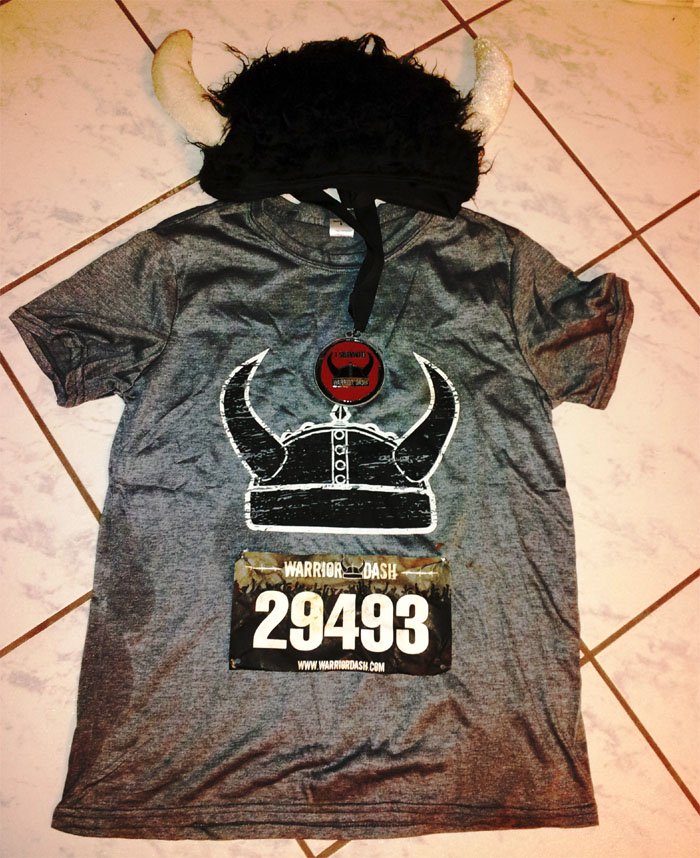 1:30pm starting time + traffic = not going to make it. I had persuaded Glenn to sign up for the Warrior Dash, which is a 3 mile obstacle course which benefits the St. Jude Hospital. But first we had to get to Dillingham Ranch in Waialua on the North Shore, where the race was being held. Traffic was backed up all the way on Kaukonahua Road due to an earlier accident. To make matters worse, Glenn's empty fuel tank alarm had just gone off. Luckily, we made it to a gas station in Haleiwa and took the back roads to Dillingham Ranch, where we merged with cars either parking on Farrington Highway to save the $10 in parking fees or parking on the ranch grounds.
We made our way towards the booths to pick up our registration packets and faux viking hats. It seemed that nobody cared or checked what starting times people were in, as we just made our way to the starting line. We had to wait about 15 minutes before our batch was released onto the course at 2:30pm. Just as we passed under the start banner and the twin puffs of fire, Mother Nature turned on the sprinklers.
Jogging and walking the first mile in rain got the trail nice and muddy. The rain stopped as we got to the first obstacle. Climbing over and under barricades. Warm up.
Water already? Just enough to moisten the mouth and spit the rest out.
On our hands and knees. Crawling under a net and weaving in between obstacles with butts in your face. Hoping nobody would butt burp.
Lamest obstacle on the course. Bunch of mud piles. Most runners just passed on the edge. Including myself.
A quick crawl underneath wooden planks. Ho-hum. Where are the obstacles?
Going up and over, slowed by some girls who were afraid of heights. Are you kidding me?
Now this was fun. Balancing on foot wide planks going up and down. A nice splash on the bottom if you trip and fall.
Running down the muddy slope and back up the slippery slope.
Climbing up mud encrusted blocks of wood over and over. Mud made it a bit slippery to climb up. I got some mud on my GoPro here and it stayed with me until the very end. Gotta rub some Rain-X on my case next time.
Used the water to rinse my muddy hands. Why bother? Use the grass instead.
Taking a cold plunge in chest high waters and pulling your water soaked body over these floats.
Time to take a shower while climbing over this obstacle.
Climbing the cargo net. Just like back in the Army days, only easier.
Jumping over two small fire lines. Marshmallows anybody?
Nothing like a cool and refreshing mud bath while floating to the finish line, underneath barbed wire.
Almost missed the folks giving out the medals. Where's my turkey leg?!
Standing in a sea of mud caked runners waiting to rinse off. Waiting my turn probably took longer than the entire race! This was a fun race, expected more challenging obstacles but hey it was all for good fun and a good cause.