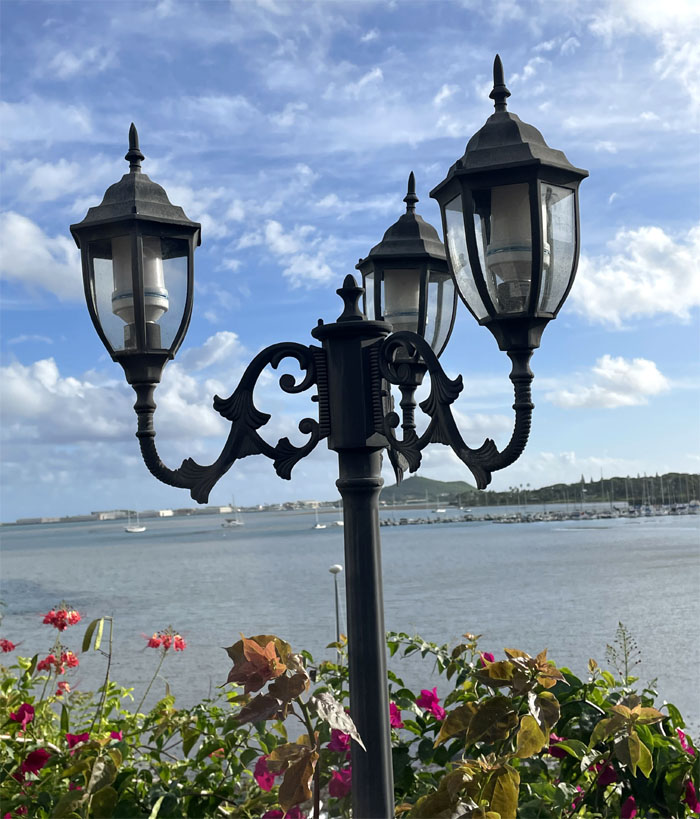 Met up with Chico, Jen, Laredo, Lilyn, Mari, Quan, Tessa and William for the second leg of our perimeter walk.
Group photo where picking of the plants is not allowed.
How many people does it take to pick a mango from a neighbor's house when the tallest person watches from the sidelines?
A bunch of bananas, not just talking about the botanical berries.
Click your heels together three times and you're still on Kaneohe Bay Drive.
All that was missing was a half drunk cup of coffee. Preferably Dunkin Donuts or Starbucks.
The shopping cart races. Trying to qualify for a spot in the Idiotarod.
Best to stay retired.
Look But Don't Touch. This is not the neighbor's house.
Bathroom break for some at the Golden Arches.
Watching the tilapia swim upstream and preventing an unsafe and unsteady walk across the bridge.
Searching for a working pay phone amongst the roughly 3,600 iconic blue boxes that are scattered throughout the island. Viiz Communications bought all the pay phones from Hawaiian Telcom back in 2017, and agreed to rebrand them but looks like they decided to just leave them to rust away.
Trying to get a paid advertisement.
When you just can't get enough.
Chico demonstrating that slats will not prevent him from sleeping on the bus bench. For a minute.
Fire trucks yielding to pedestrians before turning into King Intermediate. No emergency.
Joggers crossing the He'eia Stream.
I guess the sidewalk was too crowded for somebody.
Taking a break from pounding the pavement to be closer to the ocean.
Looking out at the wetlands that are slowly being restored by volunteers to support native birds and other species that used to thrive in this habitat.
Partial group photo at the entrance to the 18.5 acre state park.
When you have too much time on your hands.
Somebody needed some beach time.
Our walk got crashed by Scott and Rose who were looking for a shortcut.
Back on the road again as our ranks swelled by one. The other one drove off to find a parking spot. More shortcuts.
Looking out at the extremely low tide in Kaneohe Bay.
Where is the sidewalk?
Thanks to Chico for buying us ice cream at the landmark that was once the company store for Hygienic Dairy that was founded back in 1907.
Playing with plastic swine.
I hear you knocking, but you can't come out.
Traffic mirror selfie.
We need to pick up the pace, we are not even registering on the radar speed sign.
Crossing over Waiahole Stream.
Lining up to get our lunch at the centuries old establishment that has seen life as a poi factory, art gallery and present day restaurant.
Most of the group ate their fix of Hawaiian food while Laredo sunbathed as his adoring fans honked at him from the street.
Thanks to Lilia for picking us up. Enjoying riding in the back of the truck while we can as Senate Bill 1040 would seek to ban such ridership based on faulty logic by Senator Lee that traffic fatalities are on the rise but very few deaths can be attributed to riding in the back of a truck. Classic case of politicians trying to justify their political existence.
Laredo has left the house!
Our second leg of the perimeter walk covered almost 11 miles through the Windward stretch of the island with a fun group.
Photos taken by Chico Cantu, Jen Odence, Lilyn Avendano, Mari Saito, Quan Haberstroh, Scott Dea, Tessa Bugay, and yours truly. Not necessarily in order.
Note: I have been made aware that some hikers have been using my blog as a hiking guide and getting lost on the trails. Please note that this blog was made to document the hike for the crew(s) that did it. That is why some of my comments will seem to have no relevance or meaning to anybody outside of the crew(s) that hiked that trail. My blog was never meant as a hiking guide, so please do not treat it as such. If you find inspiration and entertainment from these hikes, that is more than enough. If you plan on replicating these hikes, do so in the knowledge that you should do your own research accordingly as trail conditions, access, legalities and so forth are constantly in flux. What was current today is most likely yesterdays news. Please be prepared to accept any risks and responsibilities on your own as you should know your own limitations, experience and abilities before you even set foot on a trail, as even the "simplest" or "easiest" of trails can present potential pitfalls for even the most "experienced" hikers. One should also always let somebody know of your hiking plans in case something doesn't go as planned, better safe than sorry.
{ 0 comments }