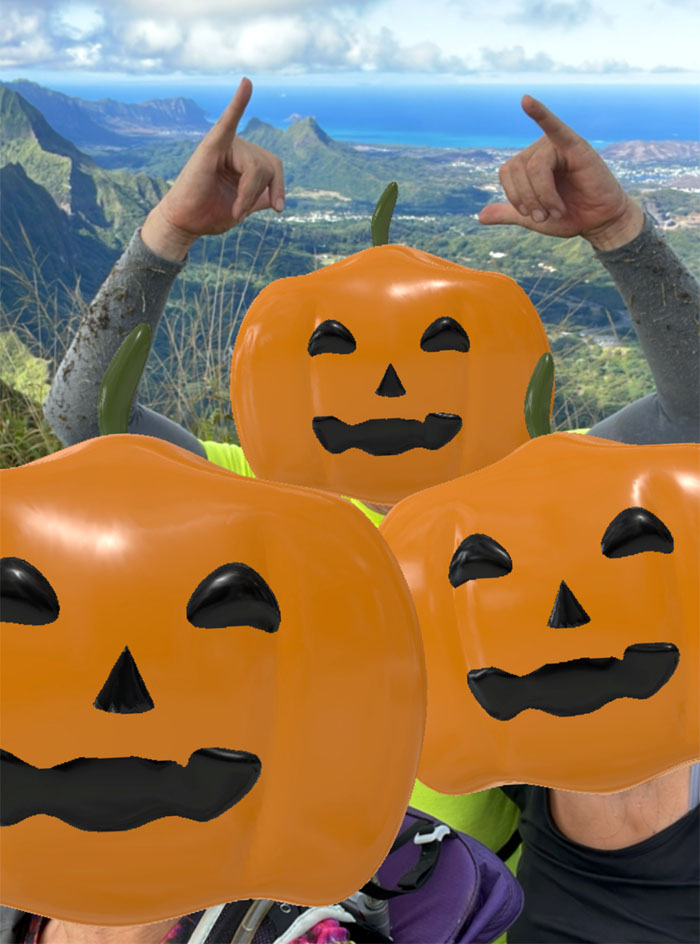 Picked up from the last time when I tweaked my ankle and knee. Thanks to Ferlino for dropping Lilyn, Tessa, and myself off on the side of the highway as we started off unusually late for our hike.
Going up the steps that time forgot, apparently the landscape service as well.
We pushed up the wrecked trail to start hiking the saddle.
Tessa contouring around the knob.
Stepping foot on the saddle that was marked by a thin and crumbly ridgeline.
This webbing looks familiar.
Tessa climbing to the top of the conical shaped rockface.
We were just missing a cauldron, black cats and broomsticks.
Somebody forgot their broomstick so they had to climb down.
Resuming our hike as we slowly gained elevation with each crumbly rock that we either climbed or dislodged.
No time for vertigo.
Up and over another crumbly rockface.
Somebody was muttering that they are going to retire this hike. Promises. Promises.
Looking for handholds and reservations.
The rest of the group climbing their way up.
Keep your hands and feet inside the ride at all times.
Lilyn climbing up the Windward side of the rockface.
Taking a picture of the person taking a picture. Redundancy at its finest.
Hiking on the edge.
Pausing at the area that was completely denuded of any vegetation.
Going up the second triangular rockface.
Not as hard as it looks.
I delayed telling inquiring minds where the spot was that another hiker had fallen 100′ down on the Leeward side a couple months ago.
Tessa climbing up to the spot I named after her. Inside joke.
Pulling ourselves back up to the ridgeline.
It was all upper body strength on this one. Who needs the gym?
Tread lightly.
Lilyn coming up the grassy slope with the panoramic views of the Windward coastline behind her.
Climbing towards our first peak.
360 degree group photo at the 2,740′ summit of Pu'u Kahuauli.
Traversing between summits.
Clear views from the 2,760′ grassy knob.
Somebody wished they had balls where they could stand up and swing them.
Passing the flat 2,820′ summit where we followed the rutted trail to the top of Haiku Stairs.
Just missing her wings.
Where is everybody? It was deserted. Not a soul in sight.
Except these spooky spirits caught on camera.
Don't we know this guy?
Time was not on our side so as not be a burden on the taxpayers of the City & County of Honolulu, we were forced to go down the safest trail on the island. What other trail has stairs and rails from top to bottom? Exactly.
Sunburst over Moanalua Saddle. Photo by Dale Yoshizu.
Tessa relaxing and pondering what it would be like to hike down the adjacent ridge from us. Only one way to find out.
Looking back at the old and new stairs. Thanks to Allison for letting us exit through her backyard. Fun Halloween hike with good company. Post hike meal at Kizuna. Domo arigato gozaimasu. Ni shuo shenme?
Photos taken by Lilyn Avendano, Tessa Bugay, and yours truly. Not necessarily in order.
Note: I have been made aware that some hikers have been using my blog as a hiking guide and getting lost on the trails. Please note that this blog was made to document the hike for the crew(s) that did it. That is why some of my comments will seem to have no relevance or meaning to anybody outside of the crew(s) that hiked that trail. My blog was never meant as a hiking guide, so please do not treat it as such. If you find inspiration and entertainment from these hikes, that is more than enough. If you plan on replicating these hikes, do so in the knowledge that you should do your own research accordingly as trail conditions, access, legalities and so forth are constantly in flux. What was current today is most likely yesterdays news. Please be prepared to accept any risks and responsibilities on your own as you should know your own limitations, experience and abilities before you even set foot on a trail, as even the "simplest" or "easiest" of trails can present potential pitfalls for even the most "experienced" hikers. One should also always let somebody know of your hiking plans in case something doesn't go as planned, better safe than sorry.
{ 0 comments }