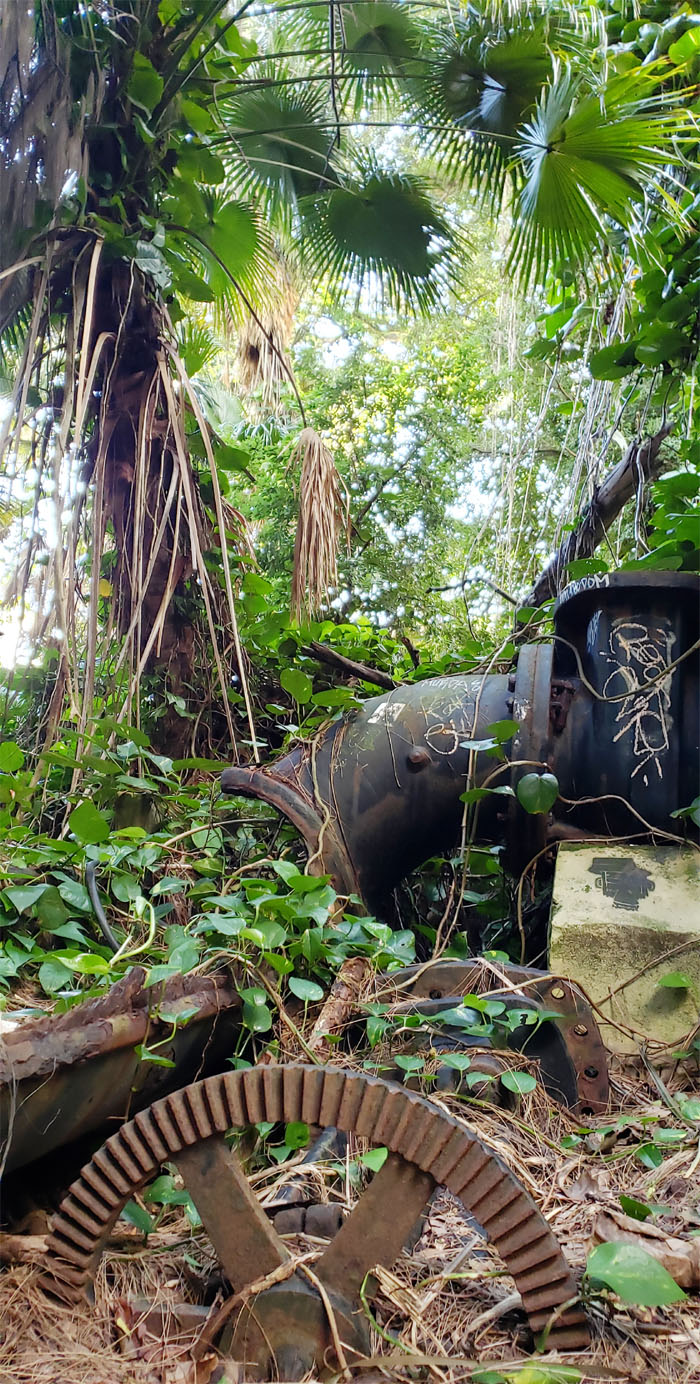 Like a gullible fool, I believed the weather forecast for a stormy day and passed on the pass. What can I say? I went to public school.
Aida, Art, Cathy, Cisco, Edgar, Lilyn, Quan, Sally, Tessa and myself met up on the Windward side to figure out how to fit 10 people into two cars, so that we could carpool around the island. Photo by Aida Gordon.
Our first stop was at the land of discarded shoes. Art diving into the sign as he takes the directions literally. Photo by Quan Haberstroh.
When a tree falls in the forest … Photo by Art Young.
… it's much easier to climb it horizontal than vertical. Photo by Aida Gordon.
Walking under the forest canopy. Photo by Lilyn Avendano.
Touring the abandoned Boyd estate built in 1869.
The home has seen better days since being left to rot back in 1985 and used by B-Listers to re-enact Halloween stories.
The graffiti has run rampant throughout the decaying structure.
Sometimes they come back.
Will the real Queen please take a bath.
Weight capacity has been reached. Photo by Lilyn Avendano.
See vine. Swing on vine. See vine snap. See idiot fall down. Photo by Lilyn Avendano.
A colony of fairy inkcaps colonizing the neighborhood. Photo by Art Young.
On the way out, some of us had to answer the call of nature and attempt grade school calisthenics.
Peeping into a slice of Middle Earth smack dab in the land of potable water. No open house for the hobbit house.
Let's see, 3.75 million divided by 10 comes out to empty your bank accounts and take a second job.
We drove to the land of the Mormons for our next exploration out on the spit of land that juts into the ocean. Photo by Tessa Bugay.
Group photo with some of the five islands in the background that represent the remnants of the giant lizard that was slayed and chopped up by Kana in Hawaiian mythology.
Playing in the sharp and jagged rocks.
Deja vu. Lonely. I am Miss Lonely. I have nobody. Photo by Lilyn Avendano.
Trying to touch the ocean without getting wet or cut. We left the parking lot where somebody combined a compliment with laziness.
Missed opportunities for some. Lunch time for everybody.
Somebody was so hungry that a dozen garlic smothered shrimp was not enough and had to order another garlic drenched hot dog to top it off.
We continued our circle island drive and stopped short of Sunset Beach to explore another abandoned building. How many hikers have disappeared here since 1916? Photo by Aida Gordon.
Walking around the paint splashed ruins.
Lilyn and Quan playing the instrumentals to their favorite song, "Hold on tight to your dreams." Photo by Sally Chow.
Climbing up the tree to see where the noise was coming from. Photo by Cisco Quintanilla.
The noise was coming from kids playing around in a custom built concrete skate park. Pretty cool.
When one has a lot of energy, one expends it by climbing up the walls.
A driver's worst nightmare. Having a backseat driver and a slow driver in front of them. Photo by Lilyn Avendano.
Quan climbing the twisted base to go out on a limb.
Tree squatters.
When you try to go fishing with a leaky bucket. Photo by Lilyn Avendano.
Somebody was trying to goad me into going further out on a limb. Just hoping for a splash. Photo by Quan Haberstroh.
Testing out the seaworthiness before taking our leave of the area. Photo by Sally Chow.
https://www.youtube.com/watch?v=aGN9n9hISDw
Video by Edgar Gamiao.
We got treated to free ice cream courtesy of Aida in the bustling art and surf town. Mahalo!
Getting lost in the Mad Max world of abandoned cars and boats and C&C workers cutting grass with equipment that doesn't work.
We soon found our bearings and got back on the right track. Photo by Tessa Bugay.
A bridge too far.
Entering the walled compound of abandoned buildings and stripped cars.
Checking out the first building in the sprawl that used to be a waste water treatment plant.
The rest of the group catching up to us. Photo by Aida Gordon.
Checking out the used car lot.
Edgar climbing up the steps to the second floor.
Looking down into the first floor.
Shitty reflecting pool. Photo by Art Young.
Checking out topside.
Sally going back down. Photo by Art Young.
We kept ourselves easily amused with what we had on hand.
Checking out one of the tanks.
Art dancing through the bushes. Photo by Lilyn Avendano.
We made our own AAA to get Lilyn's car out of the muddy rut. It was either that or catch the bus. I didn't have exact change.
Inside and outside riding through the muddy waters.
Video by Edgar Gamiao.
Waiting for the #60 bus to take us to our last place on the list. Photo by Tessa Bugay.
Entering the Indian murals ruins. Photo by Lilyn Avendano.
Life imitating art.
Our last group photo of the day left to right: Edgar, Art, Lilyn, Cathy, Aida, myself, Tessa, Sally, Cisco and Quan.
Siri, where am I? Hello? Photo by Lilyn Avendano.
https://www.youtube.com/watch?v=nRif6fP5d0s
Video by Edgar Gamiao.
That concluded our scheduled program of exploring abandoned places and eating all day. Fun times with good friends. Special thanks to Edgar and Lilyn for being our tour drivers all day.
Note: I have been made aware that some hikers have been using my blog as a hiking guide and getting lost on the trails. Please note that this blog was made to document the hike for the crew(s) that did it. That is why some of my comments will seem to have no relevance or meaning to anybody outside of the crew(s) that hiked that trail. My blog was never meant as a hiking guide, so please do not treat it as such. If you find inspiration and entertainment from these hikes, that is more than enough. If you plan on replicating these hikes, do so in the knowledge that you should do your own research accordingly as trail conditions, access, legalities and so forth are constantly in flux. What was current today is most likely yesterdays news. Please be prepared to accept any risks and responsibilities on your own as you should know your own limitations, experience and abilities before you even set foot on a trail, as even the "simplest" or "easiest" of trails can present potential pitfalls for even the most "experienced" hikers.