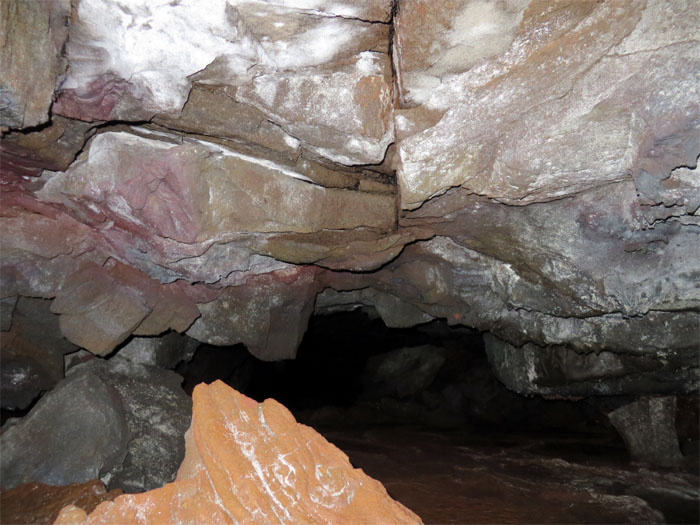 I had a free week off in between jobs, so I visited my parents on the Big Island and squeezed in a couple of fun hikes.
My first stop was Kaumana Caves which is a 15-20 minute drive from downtown Hilo.  The place has a sheltered picnic table, restrooms and drinking water. All the comforts a hiker can ask for.
Steep stairs descended into a mini-rain forest sprouting out of the breach of a 25 mile long lava tube that was created by an 1881 lava flow from Mauna Loa.
I explored the smaller cave opening to the right side first.
Making my way down into the cave, the light soon left me, to be replaced by total darkness. Pitch black. Not a speck of light. Except for my headlamp.  
The cave narrowed considerably at times, forcing me to duck and even crawl on all fours. I bumped my head more than once. On the solid lava ceiling. Ouch. 
The constant dripping of water was my only company on this hike. Lava stalactites that were formed during the 1881 lava flow.
Grafitti in the cave. Didn't see no petroglyphs. Lighting was a problem. After stumbling in the semi-darkness for half an hour, I turned around.
I made my way to the larger cave opening on the left side.
Appearances can be deceiving. The larger opening lead to a smaller opening.
I crawled under a ledge to start my second cave exploration.
It was cool, literally, to be inside a pitch black lava tube, with only a headlamp to help navigate. It's not just a hike, it's an adventure.
Unlike the cave on the right, this one had sections with ceilings that looked at least 40′ high and even split lava tubes.
Soon the cave floor became a maze of jagged and jumbled lava rocks, time for me to turn around. One could probably make a day of exploring the entire length of the caves in both directions. Just make sure you have backup on top of backup lights. Without lights, it would not be safe and fun getting out of there.
I drove down the road to Wailuku River State Park for the easiest hike to a waterfall yet. Can't even call it a hike. You park and Rainbow Falls is there, literally. No rainbows were present but at least the falls were gushing. Sometimes Mother Nature turns the waterfalls off due to lack of rain.  
Rainbow Falls is also known as Waianuenue in Hawaiian. There is a trail by the sign that will take you to the top of the falls.
There are another set of falls further upstream, known as Peepee Falls which feeds the famous pools known as Boiling Pots. Another hike for another day.
Checking out the 80 foot drop. Now it was off to have an early dinner with my parents at Lava Rock Café. Try their Southern Fried Chicken. Tasty.