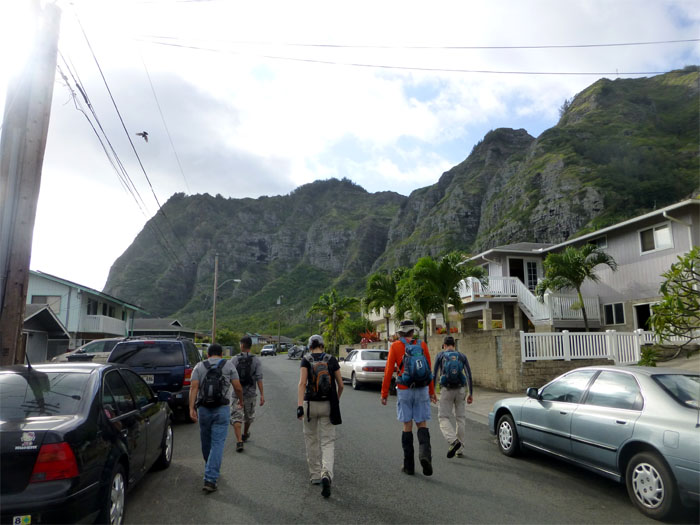 Glenn and I joined J, Tom, Kilei and Bob to climb another Kaupo Cliff section – #3 to be exact. We all met at the Tom-Tom trailhead and ran into Marcus who was leading a new group of hikers up the Tom-Tom trail.
The initial trail runs almost parallel to the homes on the left. It's so close at times, that you can hear people talking and smell what they are having for breakfast.
About 15 minutes into the hike, we left the bushes and the homes behind as we started making our way up.
Headed into the massive chute that separates Kaupo Cliffs #3 and #4.
As we climbed up these tree roots, Waimanalo Bob parted company with us and started contouring to the left to solo climb Kaupo Cliffs #2.
Who needs webbing when you have these solid tree roots to climb up?
Glenn climbing up a small rockface.
Kilei climbing up another rockface.
As we were climbing up another rockface, we all spotted Bob who was almost mirroring our progress on nearby #2.
Waimanalo Bob waving at us from Kaupo Cliffs #2, another cliff section that I still have to do.
Another view of us climbing up #3, provided courtesy of Waimanalo Bob from #2.
Glenn making his way up.
J and Kilei climbing up one of the more challenging rockfaces.
Kilei and Tom scrambling to the top.
Waimanalo Bob as he makes his way to the cross-over from #2 to #3. I understand that you can't reach the top from #2, which explains the cross-over.
Group photo at the top: Top row left to right: Bob, Glenn and J. Bottom row left to right: Tom, myself and Kilei.
We made our way on the Koolau Summit Ridge Trail to meet up with Marcus and the other hikers he was "qualifying."
Even experienced hikers can get lost or dis-oriented. As the trail meanders along the Koolau's, there is a junction where you are supposed to take a right if you want to head down the Tom-Tom trail. However, the junction is not that clearly marked, so some folks follow the more obvious trail as it curves left towards Kamiloiki Ridge. This is what happened to Kilei who got separated from our group. Luckily, we were all re-united several hours later.
We soon spotted the Caveman at one of the "proving grounds" that he uses to break-in new hikers to the group.
The new J clause that was created today. Never find yourself directly underneath a climber that is either going up or down if possible. Right after I took this picture, several rocks were dis-lodged that showered J who was checking out the geo-cache at the bottom.
The large rock that J is holding narrowly missed his head and bounced off his leg instead. He was very lucky that somebody was watching over him.
The graduating class of April 20, 2013 – Caveman qualified.
Standing left to right: Glen, Lori, Bob, Kilei, Tom, J and Marcus. Sitting left to right: Kevin, Jessica, Will, myself, Kim, Leilani and Sara.
There were a couple more spots that Marcus took his crew to check out their climbing skills and then we all went down the Tom-Tom trail and back to our cars.
The 3.8 mile hike took us a little under 5 hours, that included spending time at the proving grounds and recovering one of our "lost" hikers. Main thing was that everybody came out safe and had fun.