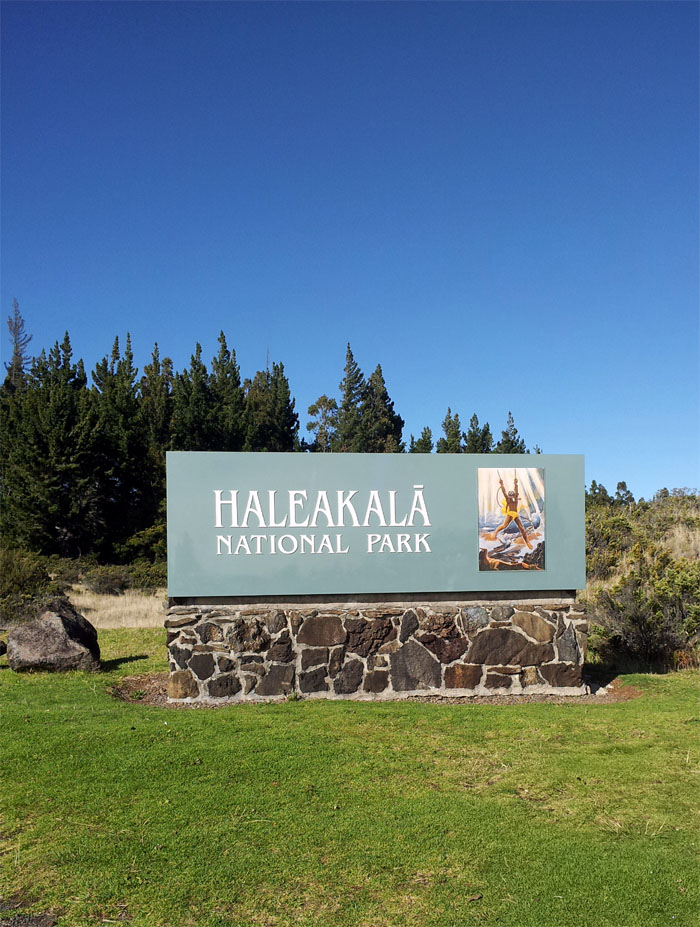 Taking advantage of Island Air's discounted fares, I hopped on a plane to Maui to see an old buddy, Everett, and hike into Haleakala Crater. On the way up, we stopped at Komoda Store and Bakery in Makawao, famous for their stick donuts, but they were on vacation!
Going up the winding road to the summit, we gradually started to climb above the clouds as we passed scores of bicyclists going back down.
Standing at the top of Haleakala or Pu'u Ula'ula (Red Hill) at 10,023 feet. The skies were remarkably clear and the thin air was nice and crisp, didn't even need my windbreaker. You can see the tops of Mauna Kea and Mauna Loa of the Big Island poking up from the clouds in the distance.
Click here to see the larger image.
We drove down to the parking area where the trailhead was located at. There are restrooms to use before you start heading out on the trail, but be warned as the air is quite chilly up there and the seats are not heated!
As we started down the trail into the crater, we could see the clouds slowly spilling into the rim.
We came across a bunch of Silversword plants that looked like they had just flowered and they were on their last buds, so to speak.
In Hawaiian legend, this is where a local fisherman, Maui captured the sun and forced it to have longer days in the summer and shorter days in the winter.
There are numerous cinder cones scattered on the crater floor, most of them are several hundred feet high.
"What are you doing?" This rhetorical question was repeated ad nauseum at two Australian tourists that had wandered off the trail by this paniolo (cowboy) guide that was leading a group of tourists down into the crater. He followed it up with threatening statements that it was a $500 fine, even though he is not a park ranger. The horse droppings do far more damage, as they have introduced alien grass and vegetation into the crater. After descending almost 2,000 feet into the crater, we turned around and started to head back up. The thin air and loose volcanic dirt, hence the name "Sliding Sands", made one work a little harder on the return trip.
As we got back to the top of the trail, we could look back and see that the clouds had advanced further into the crater. On some days, the entire crater floor is covered in clouds, now that must make for an interesting hike. The next time I make it over here, I plan on hiking the other trail, Halemau'u and spending a night in one of the cabins which would give more time to explore the crater and the lava tubes.