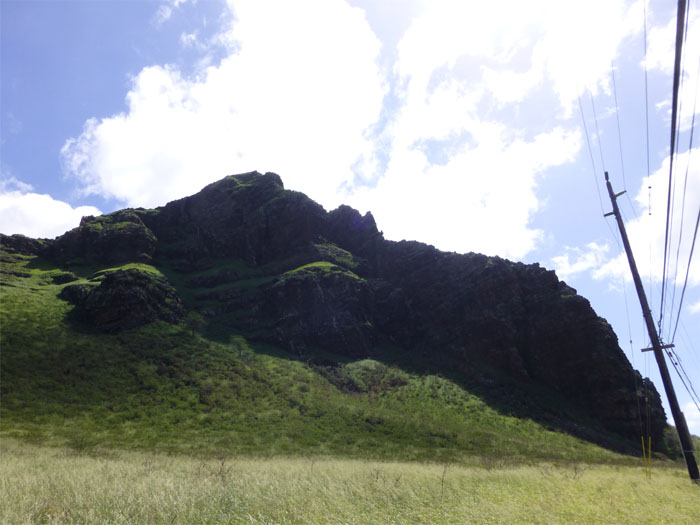 Walking back down from Waianae Valley after our failed attempt to hike Bolohead ridge was called off due to rainy conditions which made it unsafe to continue, we decided to end the day by exploring Upper Makua Cave.
We drove past Kaneana Cave, which I kick for myself for not stopping by and checking it out as I have never been to that cave as well. Several hundred yards after the cave, we parked on the side of Farrington Highway. There seemed to be several indistinct trails going up to the grassy gully, Scott and I and Jay and Marcus took two separate routes up to the cave.
Going up the gradually increasing slope that was littered with loose rocks that constantly shifted under our weight, made it seem harder than it actually was.
Eventually we contoured to the right using what seemed like goat trails through the grassy incline.
Jay, Scott and myself standing in Upper Makua Cave. It took us about 30 minutes to reach the cave from the road.
The cave is roughly 450 feet above sea level and affords one stunning views from Makua Beach to Kaena Point.
Jay mentioned that other hikers have started from this point to continue on towards Ohikilolo. That would make for an interesting hike one day. After checking out the great views, we made our way back down and had a tasty lunch at Tacos & More in Waianae.