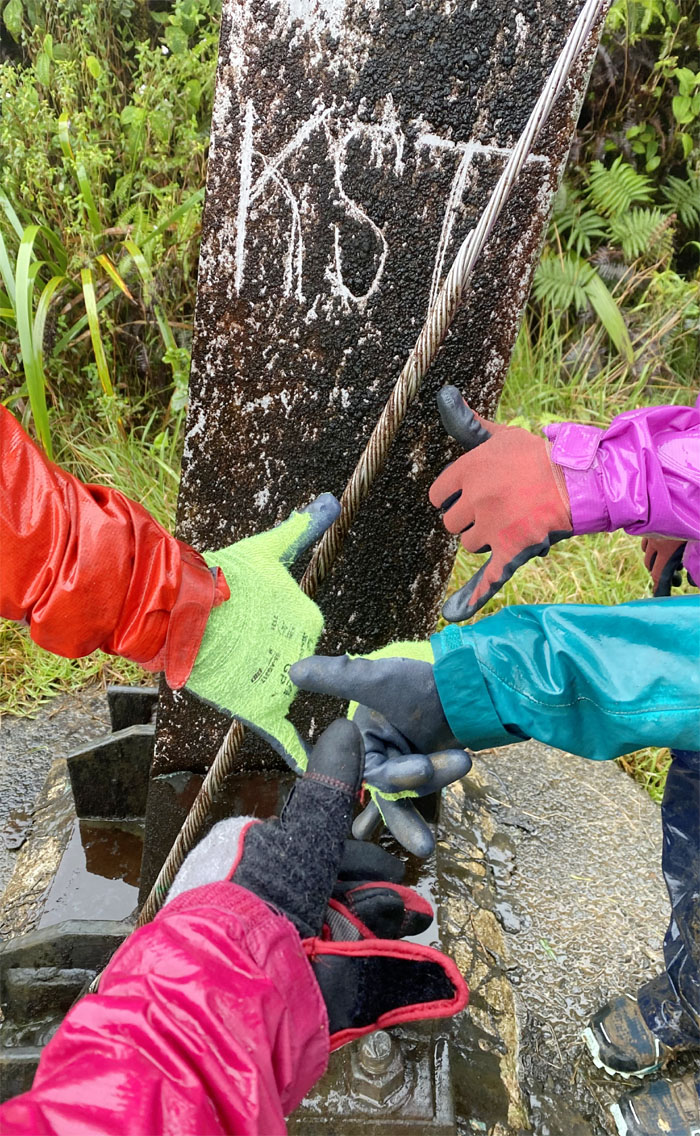 Back to back weekends where the hikes failed to meet the original expectations. Such is life. Photo by Tesssa Bugay.
Thanks to Cinja for dropping Katie, Lilyn, Tessa and myself off at the still closed park.
Contouring on the loop below the ridge line. Meanwhile, an owl had swooped close to Tessa and Lilyn looking for food but finding nothing but screams. Photo by Katie Bingham.
Gaining the ridge line where we headed towards the summit, despite the mixed feelings.
Lilyn going down a short, steep section of the trail. Photo by Tessa Bugay.
Tessa getting a free massage that didn't come with a happy ending.
The clouds and rain soon dropped in on the ridge to keep us company. Photo by Lilyn Avendano.
Leaving the wind swept and rain dappled large peak behind us. Photo by Tessa Bugay.
The trail got muddier as we traversed a couple more small humps on the ridge line. Photo by Tessa Bugay.
Approaching the powerline tower. Photo by Katie Bingham.
The debate to continue raged harder than the cold winds that were whipping around the base of the tower. Slight exaggeration. Free lunch was tossed out to sweeten the pot to go back. Photo by Tessa Bugay.
Group photo left to right: Tessa, myself, Lilyn and Katie at the 2,805′ top. Glimmers of views intermittently broke through the clouds to tantalize some of us, but the towel was already thrown in.
Somebody could barely contain their glee, as the group turned around. Photo by Tessa Bugay.
Contouring our way back to the ridge line. Photo by Lilyn Avendano.
I don't know if I was chuckling or holding back tears of disappointment. Photo by Tessa Bugay.
Retracing our steps on the muddy trail. Photo by Tessa Bugay.
Lonely. I am Miss Lonely. I have nobody. Can you be quiet Kenji? I don't think that's part of the lyrics. Photo by Lilyn Avendano.
We took a small break at the 2,441′ hill that afforded better views but not much better weather. Photo by Tessa Bugay.
I guess this is an improvement from the fetal position. Photo by Tessa Bugay.
The forecasted rain showers pelted us on our way off the ridge line, but no lightning bolts were seen or thunder heard. Photo by Lilyn Avendano.
Are you Korean? dangsin-eun hangug-eoleul haeyo? Walk away. Far away.
Scenic tree at the scenic spot. Photo by Lilyn Avendano.
Looking for the wreckage of the bomber that crashed in 1944. Photo by Lilyn Avendano.
Going down the gully. Alone. Lonely. I am Mister Lonely. I have nobody. Photo by Lilyn Avendano.
I didn't know the Rockettes were in town.
We had lots of company on the trail. Some were more passable than others.
Katie standing by the junction that leads to Camp Smith.
We spotted a human that was lurking in the tree line with intentions of scaring us. Avoid eye contact with Art.
Crossing the flowing stream but not before the girls cleaned their spikes in the water. Photo by Art Young.
Exiting the trail and entering the camping grounds. Aida and Quan also met us at the upper parking lot where Molokai Bread awaited us courtesy of Art. Mahalo to Art for dropping us back to our cars at the Manana trailhead.
Our aborted hike still turned in a respectable 11.4 miles under inclement weather with good friends. Post hike meal at Alley Restaurant where we collected on our promised free meals. It wasn't top grade sushi, but one should be thankful for any free food. Thanks Lilyn!
Note: I have been made aware that some hikers have been using my blog as a hiking guide and getting lost on the trails. Please note that this blog was made to document the hike for the crew(s) that did it. That is why some of my comments will seem to have no relevance or meaning to anybody outside of the crew(s) that hiked that trail. My blog was never meant as a hiking guide, so please do not treat it as such. If you find inspiration and entertainment from these hikes, that is more than enough. If you plan on replicating these hikes, do so in the knowledge that you should do your own research accordingly as trail conditions, access, legalities and so forth are constantly in flux. What was current today is most likely yesterdays news. Please be prepared to accept any risks and responsibilities on your own as you should know your own limitations, experience and abilities before you even set foot on a trail, as even the "simplest" or "easiest" of trails can present potential pitfalls for even the most "experienced" hikers.