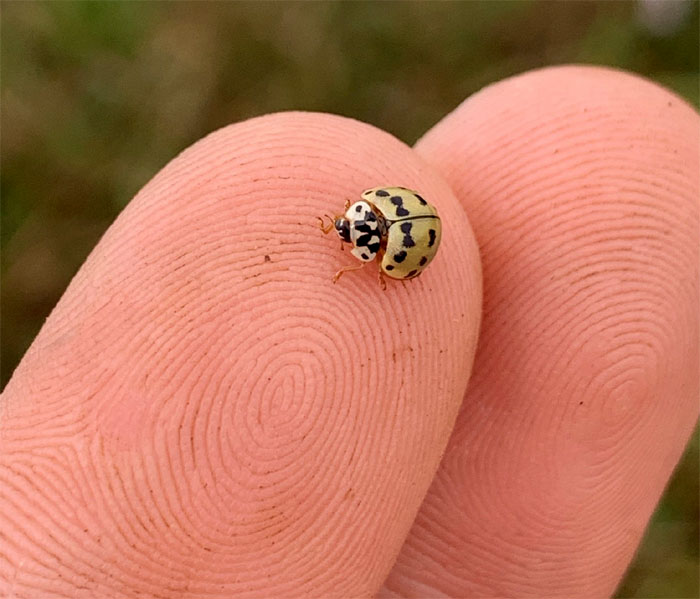 I told some friends go to hell this weekend and they took me up on it. Photo by Dennis Regan.
Mahalo to Allison for dropping Ani, Christine, Cisco, Janell, Ryan and myself off at the top of the trail. A short time later, Uber dropped off Dennis who rounded out the crew for the day.
Stepping on the trail strewn with chopped and fallen trees. Lumberjack's wet dream.
The morning sky beckoned us with false promises of clear summits. Photo by Ryan Meyer.
The trail to Homo Viator is fraught with misdirection.
Free Flipper! Willy has already left the park.
Hiking into the clouds. False promises becomes reality. Photo by Ani Lagpacan.
Looking back at our closing window of opportunity to see anything of scenic interest. Photo by Ani Lagpacan.
Group photo at the socked in summit, left to right: Ryan, Christine, Ani, Janell, myself, Dennis and Cisco.
Busy bee. More like an idle bee.
Making our way on the cloud soaked ridge line that was characterized with …
… multiple short ups …
… and downs.
Single file smiling on the ridge. Photo by Ani Lagpacan.
Ryan using his engineering skills to make the fence right again. We can't have any of those endemic plants escaping out into the wild.
Passing through dew kissed shrubs bedecked with crimson flowers.
Descending down through the clouds where we saw the bunker in the grassy meadows that marks the entrance to hell.
May you be in heaven half an hour before the devil knows you're dead. Oh wait, two weeks late to the drinking toast.
Hell has been described as a place of torment and punishment, with temperatures north of unbearably hot. We must be in a different location defined by a different religion. Photo by Christine Galiza.
Group photo at the dilapidated stairs that have seen better days. Light wind conditions made for cool temperatures with periodic moments of sunshine that provided welcome warmth.
Looking down at the stairs that the US Navy failed to finish. Photo by Dennis Regan.
Ani and Cisco went off to explore and find a plane wreckage from a time long ago. Photo by Cisco Quintanilla.
Wind conditions were favorable to flying Dennis's mavic drone, which provided us a birds eye view of the hellish surroundings.
Following the rusted rope out of hell as we passed the bunker that has turned into a sanctuary for unwanted tents. Photo by Ani Lagpacan.
Leaving the last of the rusted stairs behind us. Photo by Ani Lagpacan.
Making our way through a couple more short ups and downs.
Panoramic view from the geo marker.
Approaching the saddle.
A somber reminder of a search from four years ago that came up empty, but did result in the formation of OSAR.
What holds all this together? Not much. Photo by Cisco Quintanilla.
The rest of the group making their way down the saddle.
You should be in a painting. Photo by Christine Galiza.
Panoramic view of the saddle with Dennis. Photo by Christine Galiza.
Cisco coming down the saddle. Photo by Ani Lagpacan.
To climb or to contour? Pick your poison. Photo by Ani Lagpacan.
Looking back at the western half of the saddle we had just descended. Photo by Janell Tuttle.
Panoramic view from Hell to Heaven. Photo by Ryan Meyer.
Everybody's Irish at the end of the day. Except for those that don't consume alcohol. Photo by Janell Tuttle.
Looking towards Stairway to Heaven that was invitingly clear. Anybody want to continue? Anybody? Photo by Janell Tuttle.
Leaving the saddle as we dropped down the short spur ridge going into the valley. Photo by Ani Lagpacan.
There are supposed to be well north of two dozen stream crossings on this trail. Who's counting?
One of many thickets of tangled hau tree branches, I'm sure not as many as the stream crossings, but enough to be obstructive.
The last streambed crossing for the day. What was the total count?
One of seven bridges on the trail. Yes, I actually counted. Something to take my mind off the monotonous road. Photo by Cisco Quintanilla.
It's so hard to say goodbye, so let's not. Our hike traveled 13.38 miles through ridges, mountains, valleys and not to mention the very hospitable hell. Great hike with new and old friends. Post hike meal at Alley Restaurant where oxtail soup was still being dished out.
Note: I have been made aware that some hikers have been using my blog as a hiking guide and getting lost on the trails. Please note that this blog was made to document the hike for the crew(s) that did it. That is why some of my comments will seem to have no relevance or meaning to anybody outside of the crew(s) that hiked that trail. My blog was never meant as a hiking guide, so please do not treat it as such. If you find inspiration and entertainment from these hikes, that is more than enough. If you plan on replicating these hikes, do so in the knowledge that you should do your own research accordingly as trail conditions, access, legalities and so forth are constantly in flux. What was current today is most likely yesterdays news. Please be prepared to accept any risks and responsibilities on your own as you should know your own limitations, experience and abilities before you even set foot on a trail, as even the "simplest" or "easiest" of trails can present potential pitfalls for even the most "experienced" hikers.