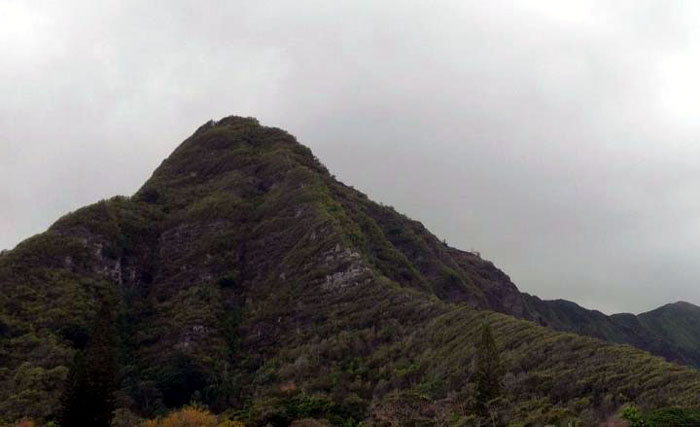 I tagged along with Marcus and another extreme hiker crew consisting of Scott, Wendy, Toney, Russell and Tess to complete Bear Claw by hiking up the Right Fork. We parked at the same place in Waimanalo when we did Left Fork last week, but had to do a quick and dirty "ninja" move to get to the trailhead of the right fork by climbing over a fence and rushing into the bushes to avoid detection. Talk about getting your heart beating in a hurry!
As Marcus mentioned before, the right fork is a tad steeper and harder going up than the left fork.
There was one major rockface that was considerably harder than the others coming up. Scott took the lead and threw down webbing for those that didn't feel comfortable free climbing the rockface. Surprisingly, I didn't need to use it going up.
While the presence of the inter-locking formosan koa trees was not as prevalent on the right fork as it was on the left fork, there were more rockfaces that had to be climbed.
Right fork is basically a steady uphill climb consisting of numerous rockfaces punctuated by the formosan koa trees.
We took a short break in the grove of ironwood trees, right after the junction where the two forks meet. There is also a geocache located here, but it was ruined by exposure to the elements.
As we made our way over the formation known as "Mushroom Rock", the clouds started to spill over from the Koolau's.
We took a group photo going up the ridge, but obviously I missed the message to stand up.
Looking back as we climbed up the ridge, we had a great view of Waimanalo and Bellows Field.
As with most hikes, there are always the "easy" way and the "hard" way. Marcus aka Caveman climbed over the rock formation while the rest of us elected to take the easier way by contouring around to the left of the rock formation.
I was half expecting to see the HFD helicopter hovering above our heads again as they did last weekend when we were almost at the summit. This time, I had my camera ready, but no show for the helicopter.
We all got to use our "right claw" at the top of Bear Claw, as clouds masked most of the view of Waimanalo in the background.
After another short break, we took a left and then proceeded down the Kuli'ou'ou Trail.
Thanks to Marcus taking the lead and using the "shortcuts" that bypassed most of the switchbacks, we made it down to Kuli'ou'ou Valley in less than an hour from the summit.