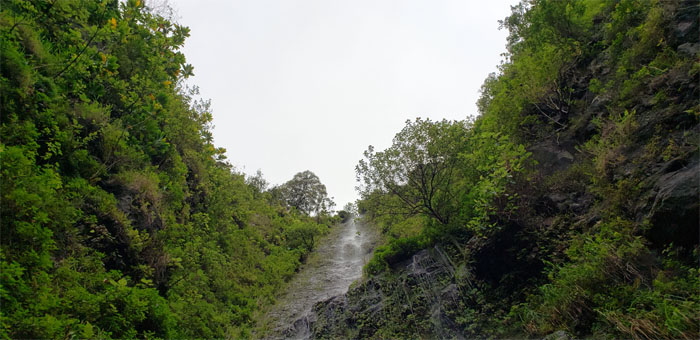 Talks of projected thunderstorms aborted our camping hike, so I asked Ani if she could show us a waterfall hike on the West side. Thunderstorms? Fool me once, shame on you; fool me twice, shame on me. I think it's been more than twice. Slow learner.
Thanks to James for dropping Ferlino and myself off to meet Ani and Chris in Waianae Valley. Somebody had no fear of break ins.
Luckily somebody downloaded the GPS tracks, otherwise extra exploring might have been in store for us today. That was okay as we had enough daylight to spare.
Following the pink bottle capped trail through the forest.
Sunbeams poking through the forest canopy.
Passing over moss encrusted rock walls.
Assorted fungi colonizing the fallen trees in the forest.
The nutrient rich stream feeding the kalo (taro), many of them were over our heads.
We dropped slightly off the fern covered trail to our left to …
… soak in this 20'+ waterfall. Photo by Ani Lagpacan.
We should be on that ridge over there, as we intersected with the Waianae Ramble Trail that also meanders through the valley.
Deep in the verdant valley, which is quite lush with streams, waterfalls and vegetation.
Following the garden hose to our left, which lead to …
… a plateau with a pick axe. Photo by Chris Klingebiel
So we dropped back down and tracked right and picked up another garden hose. Photo by Ferlino Carinio.
Looking ahead to the 100′ plus waterfalls that was discovered by Waianae Steve back in 2005. Photo by Ani Lagpacan
Making our way along the side of the cliff, mindful of potential falling rocks. Photo by Chris Klingebiel
Group photo at the base of the falls that is fed by the Ka'ala bog, left to right: myself, Ani, Chris and Ferlino.
Behind the waterfall scenes and kicking it for Kikaida. Photos by Chris Klingebiel.
Looking back at the constricted view of Waianae Valley.
Following the ribboned trail back out.
Passing the stream fed kalo patch.
Gnawing on left overs. Photo by Ani Lagpacan
Taking in the forest atmosphere.
We can see the road for the California grass.
I'm broken! Can somebody please put bug spray on me?
We returned to find Chris's car still intact in the parking lot. Cool waterfall hike that covered 4.7 miles with new and old friends. Post hike meal at Coquito's. Best Latin cuisine on this side of the island. Mahalo to Chris for dropping Ferlino and myself to my car that was also still intact.
Note: I have been made aware that some hikers have been using my blog as a hiking guide and getting lost on the trails. Please note that this blog was made to document the hike for the crew(s) that did it. That is why some of my comments will seem to have no relevance or meaning to anybody outside of the crew(s) that hiked that trail. My blog was never meant as a hiking guide, so please do not treat it as such. If you find inspiration and entertainment from these hikes, that is more than enough. If you plan on replicating these hikes, do so in the knowledge that you should do your own research accordingly as trail conditions, access, legalities and so forth are constantly in flux. What was current today is most likely yesterdays news. Please be prepared to accept any risks and responsibilities on your own as you should know your own limitations, experience and abilities before you even set foot on a trail, as even the "simplest" or "easiest" of trails can present potential pitfalls for even the most "experienced" hikers.