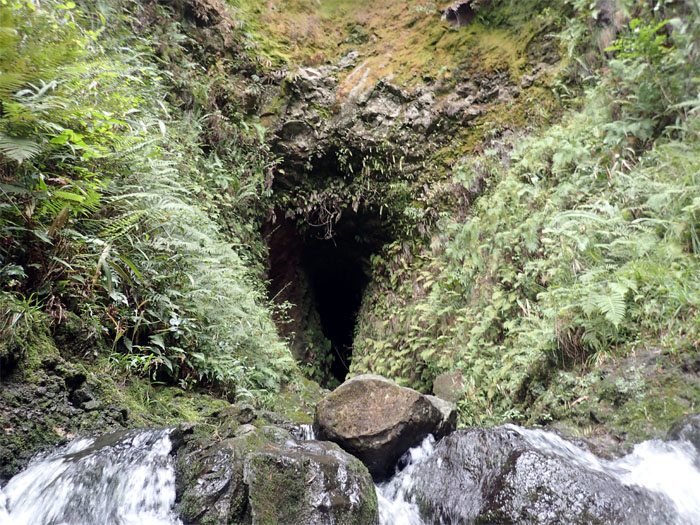 Flew over to the Valley Isle with Jasmin to do some exploring and hiking with Matt who was already there doing business. Thanks to Matt for picking us up at the airport, stopping at the market to pick up water and food and then heading off to the trailhead.
We yielded to the bovine blockade on the trail and made a wide detour to get around them.
Leaving the frisky cows behind us as we made our way down to the stream.
Getting our feet wet.
Rock hopping our way up the stream. Photo by Jasmin Nepomuceno.
Jasmin and Matt balancing on the horizontal tree.
Playing in the hau jungle gym that was suspended above the floor.
Making our way underneath the thicket of hau branches. Photo by Matt Vidaurri.
Taking a dip in the ice cold chest high water filled pocket.
More jungle gym time.
This pocket was a little deeper so we edged around the hole to get to the other side.
The trail throws a little bit of everything at you – cow patties, rock hopping, hau tree jungles, billabongs, waterfalls and a lava tube. Hence the name, Commando. Photo by Matt Vidaurri
Jasmin pondering the age old philosophical question.
Preparing to climb our first waterfall.
Spider-manning our way to the top. Photo by Matt Vidaurri.
Matt at the mouth of the vegetation fringed lava tube.
Jasmin and myself heading into the water filled tube. Photo by Matt Vidaurri.
Climbing into the tube while the gushing water is trying to push you out. Photo by Matt Vidaurri.
Matt checking the grey skies before we were fully immersed in the lava tube lest we get caught and swept away by a flash flood.
Artificial light leading the way in the pitch black tube. Photo by Matt Vidaurri.
Natural light backlighting the way. Photo by Matt Vidaurri.
Entering the cavernous section of the tube that my poor photography fails to illuminate and illustrate.
Making my way up the showery ledge. No hiker left behind. Photo by Matt Vidaurri.
We could see the light at the end of the lava tube.
You go that way and I'll go this way. Photo by Matt Vidaurri.
Some people leave their hearts in cities, I just left my spikes. To complete the hike, one must climb to the top of the waterfall behind us and jump off into the pool below it. Guess we have to come back another time to finish the hike.
Is that the way to Na'ili'ili-haele Stream? Photo by Jasmin Nepomuceno.
I always thought they were more ornamental than edible.
We explored a little more upstream before turning around and heading back down.
Nature's Rorschach test. What do you see? Photo by Jasmin Nepomuceno.
Passing part of the sprawling ditch system that used to irrigate the sugar plantations of yesterday. Photo by Jasmin Nepomuceno.
Now all we need are some green eggs and ham for a color coordinated meal. Photo by Jasmin Nepomuceno.
Too bad we didn't bring our fishing poles. Photo by Jasmin Nepomuceno.
We made it past the now slumbering cows with the bull still keeping an eye on us as we finished our less than four mile water park hike. Post hike meal at Paradise Market which serves up the best Chicken and Papaya. We rounded out the day with sightings of rainbow eucalyptus trees, turtle filled beaches, whales breaching and spouting, a full rainbow and ancient petroglyphs. Nothing to end the day like a dip in the hotel's Jacuzzi. Had to settle for the swimming pool instead. Shout out to Matt again for his generous hospitality and for showing us this fun trail and other spots on the island.
Note: I have been made aware that some hikers have been using my blog as a hiking guide and getting lost on the trails. Please note that this blog was made to document the hike for the crew(s) that did it. That is why some of my comments will seem to have no relevance or meaning to anybody outside of the crew(s) that hiked that trail. My blog was never meant as a hiking guide, so please do not treat it as such. If you find inspiration and entertainment from these hikes, that is more than enough. If you plan on replicating these hikes, do so in the knowledge that you should do your own research accordingly as trail conditions, access, legalities and so forth are constantly in flux. What was current today is most likely yesterdays news. Please be prepared to accept any risks and responsibilities on your own as you should know your own limitations, experience and abilities before you even set foot on a trail, as even the "simplest" or "easiest" of trails can present potential pitfalls for even the most "experienced" hikers.