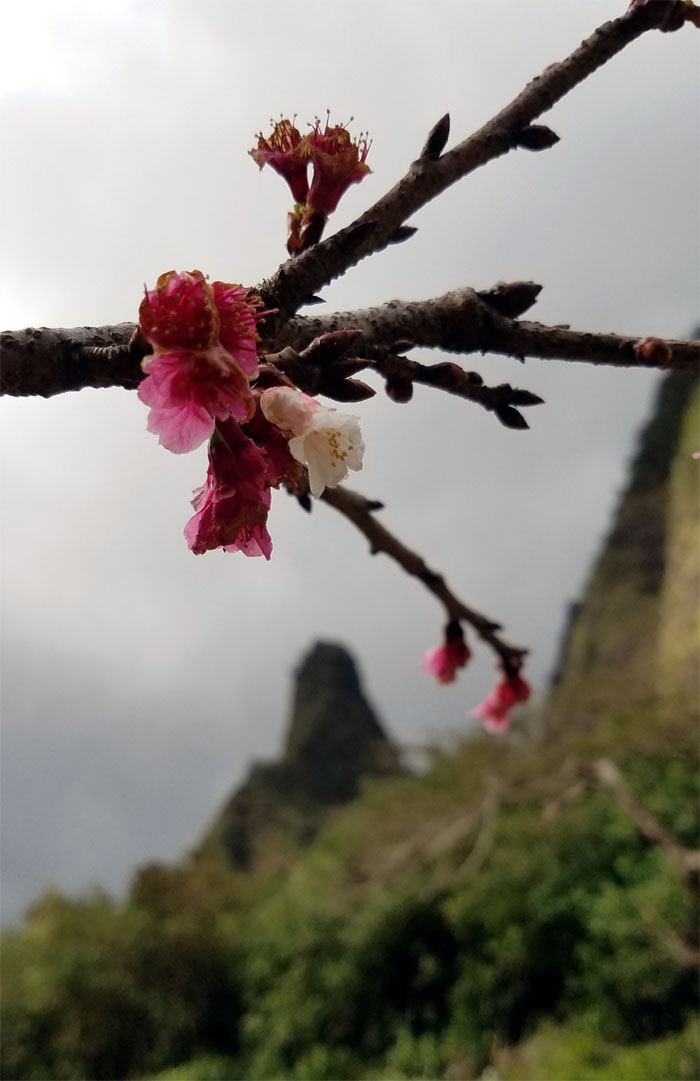 We woke up the next morning, checked out of the hotel and saw the future at McDonald's. Automated ordering. No more pesky humans, at least until the bugs are worked out.
Taking the less trampled trail as we dropped into the valley. Photo by Jasmin Nepomuceno.
We followed an obvious trail on the stream banks.
Heading deeper into the valley, the angle of the basaltic core changed from needle-like to spade-like.
Matt standing scale to the boulders that were probably washed down the stream by the torrential storm back in 2016.
What are friends for? Chiropractors did not pay for nor endorse this picture.
Leaving the stream behind as we started to gain elevation amidst a grove of ti leaf trees.
Straight up bushwhacking. Photo by Jasmin Nepomuceno.
Are we having fun yet?
Our forward progress soon came to a crumbly stop. Photo by Matt Vidaurri.
The view from 1,500′ within the Pu'u Kukui crater, still got 700′ more to go. Photo by Matt Vidaurri.
One slight problem. The route we approached soon became too steep, anymore vertical and we would fall off the needle.
Passing the TV room on our way down. Matt spotted another potential trail to check out when we had more time.
Finding our way back down.
Taking a different way back down. Photo by Matt Vidaurri.
White water action. It was said that back in 1790, the Battle of Kepaniwai that was fought in this valley was so bloody, the waters ran red from all the stacked bodies.
To boulder or not to boulder. Photo by Jasmin Nepomuceno.
The view from the bridge. Photo by Matt Vidaurri.
The view of the iconic pedestrian bridge. Photo by Jasmin Nepomuceno.
Why use the bridge when you have a stream to cross? Photo by Jasmin Nepomuceno.
Our attempt to thread the needle hike covered only 1.5 miles, but the hole was just too small. Just another reason to come back. We picked up the best bento at TJ's Warehouse Outlet, pickings were slim. Pays to get there early. Photo by Jasmin Nepomuceno.
Note: I have been made aware that some hikers have been using my blog as a hiking guide and getting lost on the trails. Please note that this blog was made to document the hike for the crew(s) that did it. That is why some of my comments will seem to have no relevance or meaning to anybody outside of the crew(s) that hiked that trail. My blog was never meant as a hiking guide, so please do not treat it as such. If you find inspiration and entertainment from these hikes, that is more than enough. If you plan on replicating these hikes, do so in the knowledge that you should do your own research accordingly as trail conditions, access, legalities and so forth are constantly in flux. What was current today is most likely yesterdays news. Please be prepared to accept any risks and responsibilities on your own as you should know your own limitations, experience and abilities before you even set foot on a trail, as even the "simplest" or "easiest" of trails can present potential pitfalls for even the most "experienced" hikers.