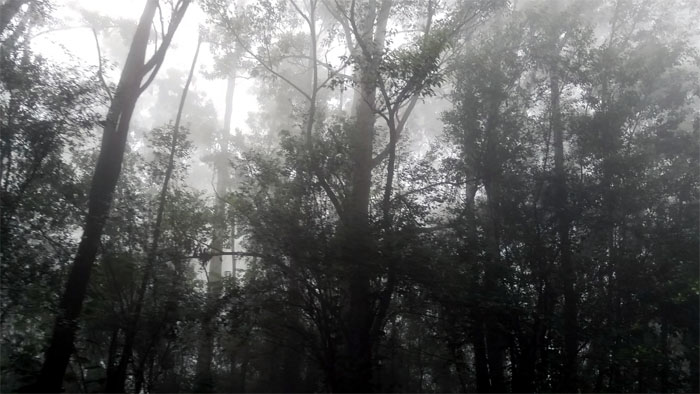 Analyn and I flew to Maui to meet up with Andy and Matt for another adventure filled weekend on the Valley Isle. After they picked us up, we ate breakfast at Zippys and went shopping for food and drinks at Walmart.
The weather pattern around the island pretty much dictated our plans for the day, which was exploring waterfalls on the way to Hana. I was not blocking the gate at our first waterfall, just standing on it … Photo by Matt Vidaurri.
… when Analyn decided to sit higher on the gate. Let the oneupmanship begin. Photo by Matt Vidaurri.
You should be a watercolor. Photo by Analyn Baliscao.
We took the side trail to the left away from the main falls to see the "true" twin falls, where I went out on a limb and sat on the lower branch. Photo by Matt Vidaurri.
Analyn went further out on a limb and perched herself on the higher branch. Photo by Matt Vidaurri.
It's not only the narrow, winding road and gawking tourists that will slow your travel to Hana; but also the occasional stray canine.
Our second stop had us passing through an irrigation system, that diverts water to Central Maui, before …
… Matt told us to turn around as conditions didn't look right.
Our third stop found us at this popular local watering hole where a couple folks were taking turns swinging into the pool.
We didn't want to crash the pool party, so we continued further up the trail to find a bigger waterfall.
Group photo left to right: Andy, Analyn, myself and Matt. Photo by Andrew Keller.
Looking back as we try to figure out which camera to look at. Photo by Analyn Baliscao.
Who pulled the pose off better? Photo by Matt Vidaurri.
I think the jury is still out on this one. Photo by Matt Vidaurri.
Take the photo or the plunge? Rhetorical question.
After Matt angled the car just right at our fourth stop, we prepared to dip our big toes in the brown water when Matt determined that we would be dipping our chests in the water, so we turned around and jumped back into the car.
Matt flew his drone over the valley, that is the largest single source of surface water in the State, at our fifth stop.
Three hikers standing in for the Three Bears that pretty much merged into one at our sixth stop.
Our last waterfall for the day. Parking was tight for most of the popular waterfalls. Watch the poop. Human poop.
The rain started coming down, so being that we didn't want to melt in the rain, Andrew and I went back to the car. We also found out that the remote works from quite a distance. Photo by Andrew Keller.
Analyn and Matt decided to explore the falls a little more. Photo by Matt Vidaurri.
The unwritten rule is that when standing on an arch, you have to arch your back as well. Photo by Matt Vidaurri.
Looking deeper into the falls. Photo by Matt Vidaurri.
It was time to stop playing in the rain and come back to the car. Photo by Matt Vidaurri.
Somebody talked up the coconut shrimp, how people from miles away comes to this very spot to scarf this heavily battered coconut shrimp down. And then he went next door to get the ribs. Local price to boot. Too bad the mountain apple tree in the front was not ready to have its fruits picked. Time was running out after our late lunch, so we drove back to Kahului to pick up Chris, whom had flown in on the 5pm flight.
We settled into our rooms at the Aston Mahana; thanks to Matt and went out on the town to poke around the art galleries, curio shops and especially looking for that "I survived the road to Hana" T-shirt. We also found a T-shirt for Andrew and his future offspring. Before taking our leave of the historical whaling turned tourist town, we experienced the largest banyan tree in the US, that has 17 tree trunks and covers almost an acre. That's a big tree. We picked up our dinner at Round Table Pizza with a 50% discount, thanks to Matt's military ID. Thank you for your service.
Note: I have been made aware that some hikers have been using my blog as a hiking guide and getting lost on the trails. Please note that this blog was made to document the hike for the crew(s) that did it. That is why some of my comments will seem to have no relevance or meaning to anybody outside of the crew(s) that hiked that trail. My blog was never meant as a hiking guide, so please do not treat it as such. If you find inspiration and entertainment from these hikes, that is more than enough. If you plan on replicating these hikes, do so in the knowledge that you should do your own research accordingly as trail conditions, access, legalities and so forth are constantly in flux. What was current today is most likely yesterdays news. Please be prepared to accept any risks and responsibilities on your own as you should know your own limitations, experience and abilities before you even set foot on a trail, as even the "simplest" or "easiest" of trails can present potential pitfalls for even the most "experienced" hikers.