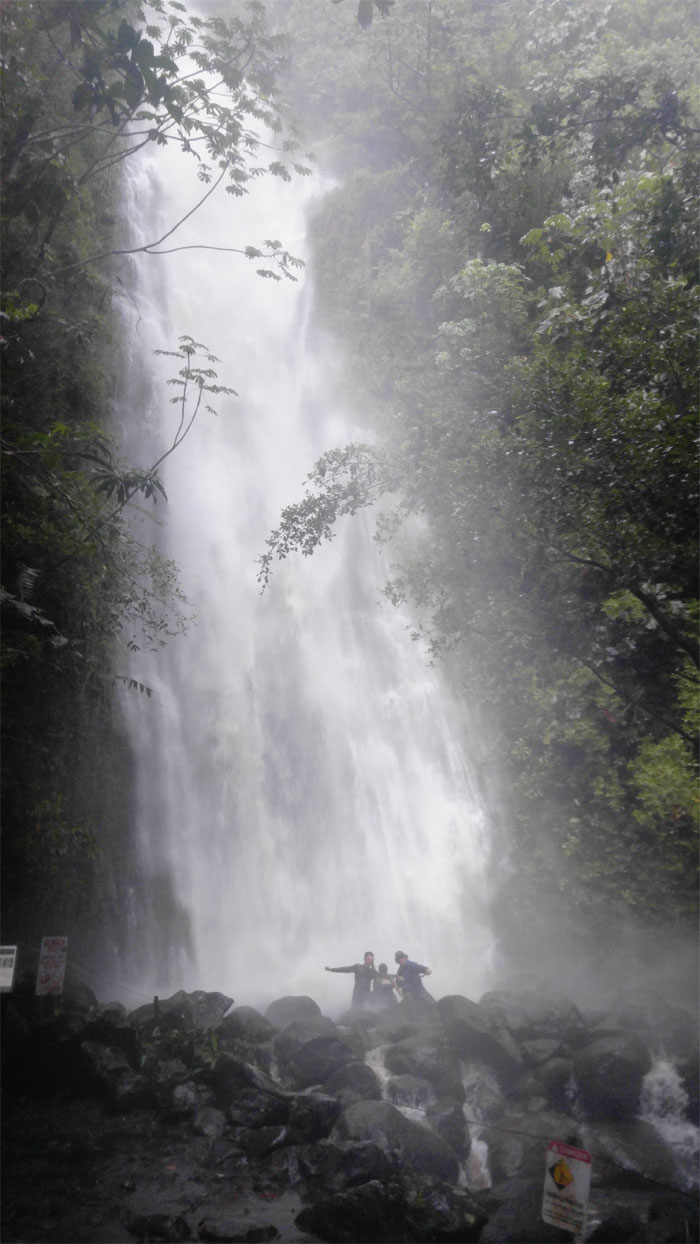 Remnants of Tropical Storm Darby chased Yoly and I off the mountains, so we hooked up with Ani's group to explore some raging waterfalls in Manoa Valley. And I do mean raging with a capital R!
We met up with Ani, John and Lester at the parking lot. The trail was open. The rain was on. Let's go look for some waterfalls.
The group crossing the bridge onto the Lost trail into Jurassic Park.
We had the normally bustling trail all to ourselves.
Come on over. The water was nice, cold and running. Another hiker attempted to follow us but was quickly dissuaded by the swollen stream. Photo by Yoly Bedford.
John heading upstream. We are not fish.
Yoly rock hopping along the embankment. Get wet. Get out. Get wet. Repeat.
We have arrived. And she's a gusher! Photo by Lester Santiago.
Yoly climbing up the side of the waterfall, right above the fallen tree. Crazy girl. I was content to do my 22 pushups challenge on the rain slicked log. Photo by John Caicedo.
After everybody was through playing in the water, we took a group photo underneath the falls left to right: myself, Yoly, Lester, Ani and John. We didn't spend too much time at the waterfall as the steady rain could have turned into a flash flood at any minute.
Making our way back across the rising stream. Photo by Yoly Bedford.
Raw, naked liquid fury crashing 100′ down into the pool.
Nature's washing machine. Rinse cycle.
Yoly wanted to visit the second floor. Lester stayed behind to keep the tourists company, who were being treated to quite the show.
Peering around the corner as we witnessed the massive torrent of white water rushing over the edge.
This was the turn around point. The water was just crazy.
John making his way down the slippery rooted rock face. Photo by Yoly Bedford.
Thanks to Ani for letting us tag along and showing us around the valley on a super fun waterfall hike. Early birds do not get free parking. Post hike meal at Serg's Mexican Kitchen. Less salt in the tripe stew please.
Note: I have been made aware the some hikers have been using my blog as a hiking guide and getting lost on the trails. It is not advisable to hike to waterfalls during heavy rain as one will be at risk to flash flood conditions and falling rocks. Please note that this blog was made to document the hike for the crew(s) that did it. That is why some of my comments will seem to have no relevance or meaning to anybody outside of the crew(s) that hiked that trail. My blog was never meant as a hiking guide, so please do not treat it as such. If you find inspiration and entertainment from these hikes, that is more than enough. If you plan on replicating these hikes, do so in the knowledge that you should do your own research accordingly as trail conditions, access, legalities and so forth are constantly in flux. What was current today is most likely yesterdays news. Please be prepared to accept any risks and responsibilities on your own as you should know your own limitations, experience and abilities before you even set foot on a trail, as even the "simplest" or "easiest" of trails can present potential pitfalls for even the most "experienced" hikers.