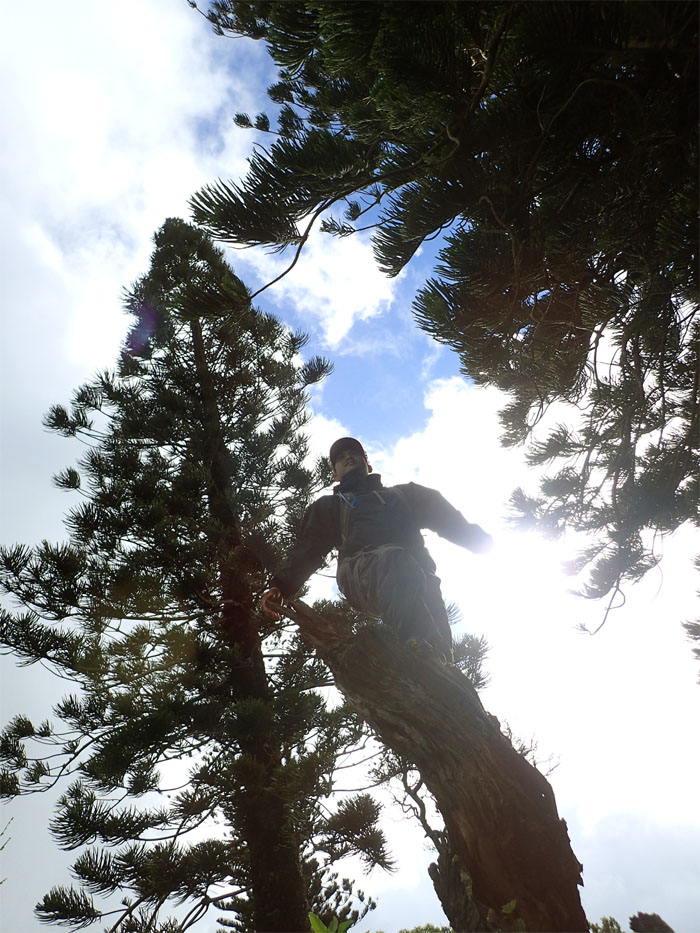 Rain clouds forced us out of Kahana Valley to Plan B.
Chris, Dale and myself drove to the top of Wilhelmina Rise for our Plan B hike.
Walking up the corridor that was flanked by the Board of Water Supply and unfinished business.
Chris and Dale making their way down the open ridge. We can't see the mountain for the clouds.
Never hike alone. Good advice from an inanimate object.
Chris and myself coming down one of several rocky sections. Photo by Dale Yoshizu.
Chris and Dale giving their quadriceps a workout.
City views. Just when we thought we left the rain behind us. It hit us like an old wet sock.
Chris and Dale headed towards the Captain Morgan tree stump.
Looking at the third waterfall spilling down from Ka'au Crater.
The last muddy push to the socked in summit.
Group photo left to right: myself, Dale and Chris before the clouds snatched our view away.
Chris and Dale hiking the short traverse on the Ko'olau Summit Ridge Trail.
Windward views on the left. Your right. Photo by Dale Yoshizu.
Chris and Dale approaching Lanipo Summit.
Time to hike a new ridge. Thanks to Troy for the beta on this trail.
Serious bushwhacking ahead. Where's that machete when you need one?
So close, yet so far.
Faded ribbons marked the abandoned HTMC trail, which has completely surrendered back to nature.
Chris ducking under one of many fallen trees on the trail.
Offspring of the Kahana Valley dragon.
Sea of uluhell.
Looking back at the now clear Ko'olau Mountains. The cruel irony. Photo by Dale Yoshizu.
Rock of Chris. Chris on the Rock. Chris Rock. Photo by Dale Yoshizu.
The trail soon opened that lead us to a …
… water tank. Dead end. We were not part of the Millionaire's Club.
We scooted and scrambled our way down the ridge through the brittle, rotten trees and loose rocks.
A little waterfall fed by the stream. Photo by Dale Yoshizu.
We threaded our way through the tree lined embankment, looking for a place to cross the stream.
The punishing cardio climb up the spur ridge towards the top to connect us back to Mau'umae Ridge Trail.
We were all tired and exhilarated upon reaching the top. Are we there yet?
Sun setting. Time to finish this hike. Photo by Dale Yoshizu.
Connected the ridges.
Heading back to our cars. I was glad the day and hike were almost over. What a day.
Our loop ridge hike covered 8.68 miles of bushwhacking and cardio hiking. Post hike meal at Big City Dinner. Well, at least for the two of us. One got lost and went home. Time to feed the dog.
Note: I have been made aware the some hikers have been using my blog as a hiking guide and getting lost on the trails. Please note that this blog was made to document the hike for the crew(s) that did it. That is why some of my comments will seem to have no relevance or meaning to anybody outside of the crew(s) that hiked that trail. My blog was never meant as a hiking guide, so please do not treat it as such. If you find inspiration and entertainment from these hikes, that is more than enough. If you plan on replicating these hikes, do so in the knowledge that you should do your own research accordingly as trail conditions, access, legalities and so forth are constantly in flux. What was current today is most likely yesterdays news. Please be prepared to accept any risks and responsibilities on your own as you should know your own limitations, experience and abilities before you even set foot on a trail, as even the "simplest" or "easiest" of trails can present potential pitfalls for even the most "experienced" hikers.