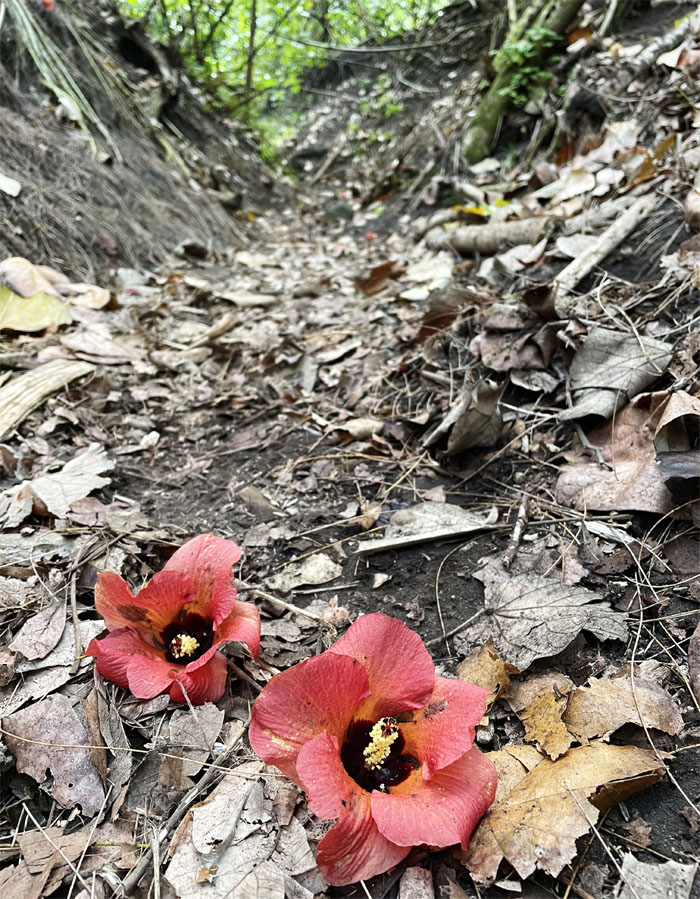 We spent the last day on the Big Island valley hopping and checking out a remote cabin on a private beach. Quan forgot her jacket upon checking out of Waimea Country Lodge. Losing and forgetting things seemed to be the common theme for our trip.
Trying to avoid the crazy lady running in the middle of the road. Photo by Quan Haberstroh.
Matt giving himself a hernia trying to be the next king. Give it up. Dayne Gonsalves of the Kingdom of Atooi already has claims to that position. Photo by Lilyn Avendano.
Tailgating for views and not food. Photo by Lilyn Avendano.
Group photo at the start of one of seven valleys that erosion, landslides and water have cut into Kohala Volcano, which is the oldest crust rupture on the island.
Heading down the trail. Nobody needs to use the bathroom right? No public or private toilets in the valley. Photo by Lilyn Avendano.
Can you see the bag of opihi for the pair of buns? Photo by Quan Haberstroh.
Looking out towards the sea cliffs that harbored and shadowed the black sand beaches. Photo by Quan Haberstroh.
We dropped down 490′ in elevation to get to the valley floor.
Drone's eye view of the waves rolling in towards the black sand beach. Photo by Matt Vidaurri.
Stepping foot in the long spear valley that has a long and rich cultural history for the Hawaiian people. King Kamehameha was born in this area and there are burial sites nearby in the sand dunes. Photo by Aida Gordon.
Unsynchronized jumping. A sport that is not coming to the Olympics anytime soon.
This lush and relatively untouched valley is under threat of a definitely not affordable housing development along the rim. It would seem that DLNR and Surety Kohala are in cahoots to develop a ten parcel subdivision of three to nine acre lots. Most of the wheeling and dealing was done behind closed doors with no public input and little transparency. Switch and bait. Just follow the money. Photo by Lilyn Avendano.
Walking the rock lined trail that was bordered by ironwood trees and sand dunes. I found out later that the blacked out signs posted on the trees were advising people of sacred burial sites in the sand dunes. Not pono. Photo by Lilyn Avendano.
Leaving the valley floor as we headed up towards the hill.
I will not be goaded into going out further on a limb. Photo by Quan Haberstroh.
Passing one of several pine trees on the trail.
We soon found the solitary bench overlooking Honokane Nui Valley. Time for our photo shoot.
Collection of six individual photos and not one collective photo in the bunch.
Aida soon realized that she was missing her wallet. Not in the right frame of mind to continue hiking, she bid us farewell as she turned around back to the truck as we continued down towards the valleys. Photo by Aida Gordon.
Switch backing our way down the trail until …
… we dropped down a roughly 50′ detour as the 2006 Kiholo Bay Earthquake had rendered parts of the Kohala Ditch Trail seemingly impassable. The remaining distance, terrain and time dictated that we split into two groups to make our final destination. Photo by Narissa Suvichai.
Rock hopping our way across the stream. Photo by Matt Vidaurri.
Matt trying to make positive traction on a sliding slope.
Looking down into the next valley.
Lilyn and Matt coming down the rock strewn trail to the valley floor.
The cabin that Mr. Bill Sproat built back around 1917. He was closely associated with the Kohala Ditch Trail.
Overlooking another black sand beach. We had this one all to ourselves.
Cue the Chariots of Fire soundtrack. Just needed to be barefooted to complete the picture. Photo by Lilyn Avendano.
Cartwheeling reflections.
It was hard to leave this "private" beach in this remote valley. But we had many miles to drive, a truck to return and a plane to catch.
Going back up the trail that has seen better days.
Am I missing something here?
Looking ahead to the ridges and valleys that we had traversed. Photo by Matt Vidaurri.
Going back down the slippery slope. Photo by Matt Vidaurri.
I read that there is another cabin, dam and infrastructure further upstream. Another exploration for another day. Photo by Lilyn Avendano.
Matt walking through the sunlight filtered bamboo forest section.
Going up the second bypass that we had missed coming down. Photo by Lilyn Avendano.
I am so glad that I came with you guys! Broken record.
Climbing our way up the last detour. Photo by Matt Vidaurri.
Lilyn and Matt emerging from the trail to the bench lookout. Less picture taking and more hiking.
Descending back down to the populated valley. Photo by Lilyn Avendano.
Quan on the black sand beach strewn with rocks of assorted hues. Photo by Narissa Suvichai.
Lilyn providing amusement for the Chinese kids clustered around the swings. Qiuqian shàng de zongsè wàiguó rén. Don't know if Google translated that correctly.
What goes down, must go back up.
We all made it back to the now crowded parking lot and street to find out that Aida's wallet was safe and sound in the truck. Somebody's Iphone then slipped off the tailgate and down a ditch where a half dressed person had to recover said phone. No pictures posted to preserve the person's dignity or what's left of it. Photo by Aida Gordon.
Post hike meal at Kings View Cafe where the first person that ordered got their food last. We also found out that the rental truck was due back today at 7AM and not 7PM. What we've got here is failure to communicate. On the way back, we had to slow down and take a photo of these not quite conjoined trees. Photo by Quan Haberstroh.
It was a long ride back to Hilo, so I decided to catch some flies. Photo by Aida Gordon.
We had our dinner at the only place to eat at Hilo Airport which was Uncle Miles Kitchen. It should be called Uncle Miles Microwave. Re-heated frozen food at highway robbery prices. Boarded the plane without incident and flew the 217 miles back home to enjoy a sunset upon landing.
Our valley hike that capped our four day trip to the Big Island covered a little over six miles through rugged terrain and stunning scenery. It was an amazing adventure on the largest island mass in the Hawaiian archipelago. Many thanks to Lilyn and Matt for arranging our accommodations and transportation and the rest of the group for a fun weekend.
Note: I have been made aware that some hikers have been using my blog as a hiking guide and getting lost on the trails. Please note that this blog was made to document the hike for the crew(s) that did it. That is why some of my comments will seem to have no relevance or meaning to anybody outside of the crew(s) that hiked that trail. My blog was never meant as a hiking guide, so please do not treat it as such. If you find inspiration and entertainment from these hikes, that is more than enough. If you plan on replicating these hikes, do so in the knowledge that you should do your own research accordingly as trail conditions, access, legalities and so forth are constantly in flux. What was current today is most likely yesterdays news. Please be prepared to accept any risks and responsibilities on your own as you should know your own limitations, experience and abilities before you even set foot on a trail, as even the "simplest" or "easiest" of trails can present potential pitfalls for even the most "experienced" hikers.