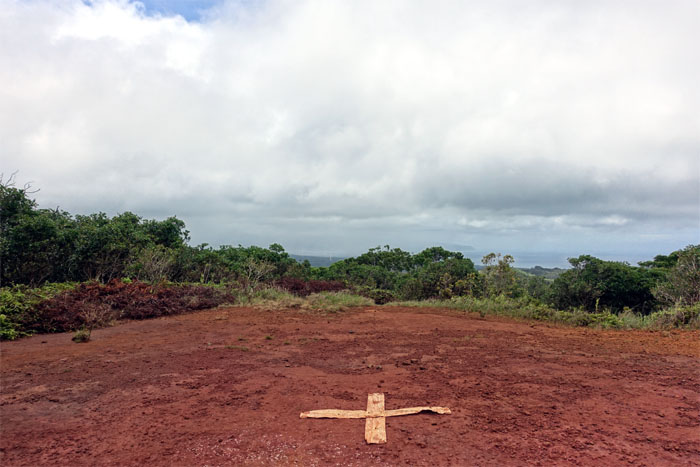 I have passed this trailhead a couple times on our way to traversing the Ko'olau Mountains in the past. Today, Mari and I hiked this short loop trail on the North Shore.
We parked at the end of Pupukea Road, walked past the Boy Scout Camp and Sunset Ranch to start our hike.
Watching our feet on the ground while looking up at the moss spackled trees, as there were dog poop mines dropped on the trail.
We soon caught up with another group on the Paalaa Uka Pupukea Road.
Mari entering the grove of paperbark trees to start the official trail.
The other group decided to follow us. Hiker see. Hiker do.
Signs that we were on a Na Ala Hele trail.
Mari descending on the switchbacks to the gulch.
Trail clearing needed.
Looking into the 1,129 acre Pupukea-Paumalu Forest Reserve. Thanks to TPL for the acquisition of this forested area to prevent further development.
Mari coming down the stepped section of the trail.
Mari crossing Paumalu Stream.
Moss covered tree stump on the trail.
Follow the sign.
Greener pastures.
Another stream?
Where's the bridge?
Mari hiking out of the gulch.
Mari contouring on the side of the ridge.
Steep climb up the rooted trail.
We turned right on the gravel road.
All uphill.
Our scenic point on the trail, where we gained a little over 700′ in elevation.
We left the trail and turned right back onto the paved road.
Passing the picnic shelter.
Looking out towards Kawailoa Wind Farm.
Walking in the rain.
Here she comes, coming round the bend.
Time to start dodging all that dog poop again until we make it back to our car.
Our loop trail through the densely packed forest covered 5.33 miles. Post hike meal at Papa Ole's. Gravy over everything makes the food taste better.
Note: I have been made aware the some hikers have been using my blog as a hiking guide and getting lost on the trails. Please note that this blog was made to document the hike for the crew(s) that did it. That is why some of my comments will seem to have no relevance or meaning to anybody outside of the crew(s) that hiked that trail. My blog was never meant as a hiking guide, so please do not treat it as such. If you find inspiration and entertainment from these hikes, that is more than enough. If you plan on replicating these hikes, do so in the knowledge that you should do your own research accordingly as trail conditions, access, legalities and so forth are constantly in flux. What was current today is most likely yesterdays news. Please be prepared to accept any risks and responsibilities on your own as you should know your own limitations, experience and abilities before you even set foot on a trail, as even the "simplest" or "easiest" of trails can present potential pitfalls for even the most "experienced" hikers.