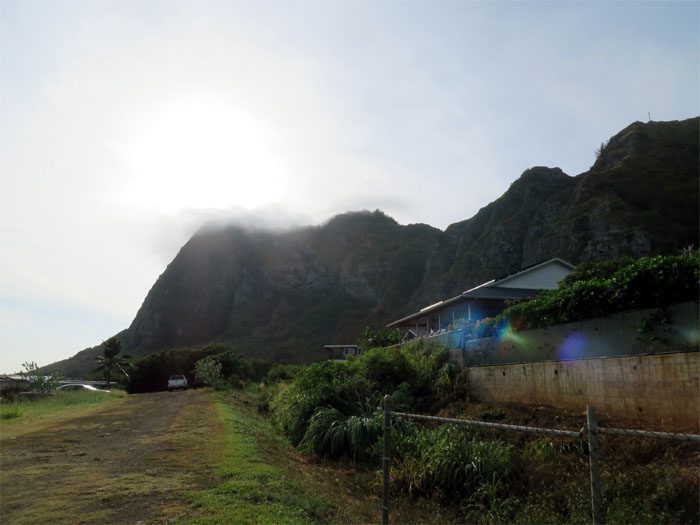 I had gotten wind from Hiram on our last hike that he was planning on doing Kaupo #1 in Waimanalo. Bob and I joined him on today's hike.
We entered the Waimanalo forest through the Tom-Tom trailhead and followed the ribboned trail to Kaupo Cliffs #2.
After descending into the chute, we soon found ourselves at the beginning of Kaupo #2.
Gaining elevation quickly, we could see why the base approach to Kaupo #1 is not climbable due to the steepness of the cliff. Somebody would have to top rope the cliff in order for others to start from the bottom.
We soon found a good spot with lots of trees to grab to cross over from #2 to #1. Sounds like scatalogical humor.
Crossing over. Photo by Bob Tyson.
Bob had tweaked his back and decided to stay on Kaupo #2 and snap a couple photos of us climbing Kaupo #1 before heading back down. Next time Bob!
We have arrived! Not at the top, but on Kaupo 1. Photo by Bob Tyson.
Climbing up Kaupo #1 was not as challenging as I had expected. Basic climbing up a cliff is the best way to express it.
Look, Bob is still taking our pictures. Wave. Photo by Bob Tyson.
That's how you enjoy life and continue to enjoy it. Or something like that. Photo by Bob Tyson.
There are really no close to the edge climbing parts that I remember. Or tricky rock faces.
I stand corrected.
Looking at our return route – the Tom-Tom trail that are marked by the powerline poles.
It's always nice to see your photo from a different perspective. Photo by Bob Tyson.
Nice day to be hiking.
Testing out my GoPro on a stick. My tripod was on its last legs, literally. Time to join the crowd and get those aerial shots.
I always thought those two volcanic cones were Diamond Head and Punchbowl. Geographically challenged.
Hmmm, how many hikers are flaunting the newly reinforced gates that are supposed to keep them off Kamehame Ridge?
Popular spot for paragliders.
Making our way to the Tom-Tom trail, we practiced rock climbing along the way. Still got to hit the VRG (Volcanic Rock Gym) one day.
Thanks to Hiram for letting me tag along this fun little 2.57 mile hike. Now I only got Kaupo Cliffs #7 left to do!