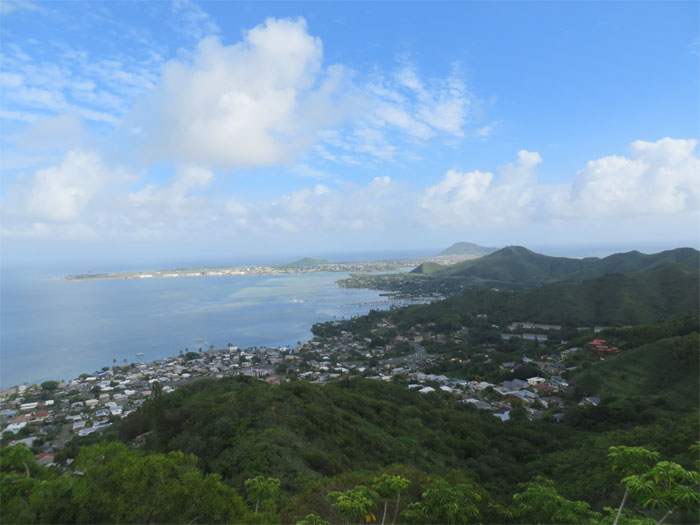 In the mood for a new and short trail to hike, Hiram and Jasmin met me on the Windward side of Oahu. Lipalu Place to be exact. Hiram and myself then jumped into Jasmin's car and we drove to Kokokahi Place, as the hike was going to be a one way trail for us.
We took one of the two parking spaces and walked downhill to the trailhead. The garden and the surrounding community of Kokokahi which means of one blood, was developed to promote racial harmony back in the 1920s.
The stone steps led us to a locked teahouse with maps and bulletins posted below. I was looking forward to practicing the Way of Tea. Instead, we continued the Way of Hiking.
The lower loop of the trail led us to this open air pavilion. Great spot to enjoy the views of Kaneohe Bay and have a picnic.
A stone lantern, donated by a Japanese University, sat watch on the trail.
Looking out towards Moku o Lo'e, better known as Coconut Island. This 28 acre island located in Kaneohe Bay is used by the University of Hawaii for marine research. Fans of Gilligan's Island will recognize this island as it was featured in the opening sequence of the TV show back in the 1960s.
Instead of looping the lower trail, we backtracked and connected to the upper trail.
The climb up towards the ridge was marked by eroded and overgrown parts. This trail is also called Oneawa Hills or Kokokahi Ridge.
Click here for the larger image.
Group photo overlooking Kaneohe Bay left to right: myself, Jasmin and Hiram.
We all tried to guess what the staging yard below us was. Military? Industrial? Anybody knows?
Keeping a safe distance from the enclosed cell antenna towers.
The building towering over the town is Pohai Nani, a retirement community, Jasmin had worked there last night. The trail continued over a series of small hills, up and down.
Looking down into Kapaa Quarry and the green pool of water below it. Stay on the right or Kaneohe side and follow the pink and orange ribboned tree branches as you make your down from the last hill. Being on the Windward side, the sprinklers soon turned on.
I wonder how long the tree took to swallow this rope.
Coming down, we missed the trail that would have led us to Kawaewae Heiau. Next time.
Crossing the riverbed. Amazingly, it was dry. And we were in Kaneohe! Global warming?
We returned back to civilization to be greeted by a No Trespassing sign. Auwe!
All around protection for this house. They have a four dog alarm system in place.
The hike was a tad shy of three miles. Not a bad way to spend a couple hours on the Windward side.