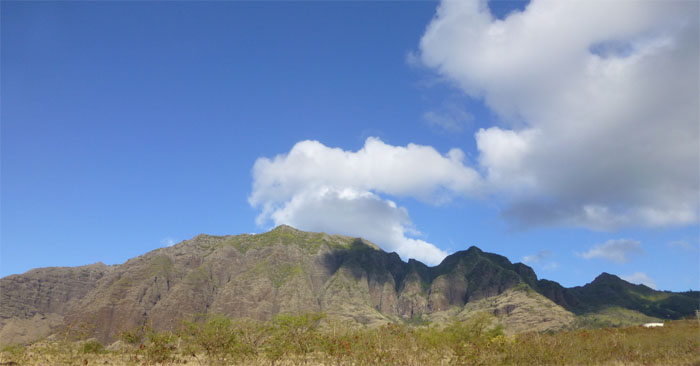 I got the invite from Marcus to join his crew of Russell, Tess, Ted and KiLei to hike Kawiwi to Kamaileunu Knife Edge, the hard way. Is there any other way with the caveman? I called up Glenn and he picked me up and off we went to travel all the way to Makaha Towers and their strutting peacocks. We met the rest of the crew around 7:30am and then carpooled to the end of Waianae Valley Road.
The parking lot was already near capacity with cars and trucks from what looked like a mixture of hikers and hunters. We pushed off around 8:20am walking up the paved road and eventually going into the bushes past the water tank. It started off as a typical Waianae hike, hot and dry as we followed the fenceline up to the ridge. Photo by Ted Calvero.
Mother Nature gave us a welcome relief from the blazing sun by misting us with a passing rain shower. That's the kind of rain I don't mind getting on hot hikes, a refreshing mist instead of being miserably soaked.
Marcus promised this hike would have a lot of rockfaces and scrambling. He wasn't exaggerating at all. Fun, fun, fun.
Looking back towards Waianae and Lualualei Vallies.
We ran into another group that was climbing the last major obstacle before gaining the summit, which was a near vertical rock face.
It was fortunate that we ran into this other group as they helped by hauling up our backpacks which made it easier to climb up the tricky section. We also had good spotters at the bottom and at the top, which helped out tremendously. The black webbing in the photo is for the backpacks and not the hikers.
We made it to the top of Kawiwi around 10:30am. Our hiking group had swelled from 7 to 12 hikers. Bottom row left to right: Kinky, Katie, Yoshi, Jay, Ted, Glenn and myself. Top row left to right: Tom, Tess, Russell, Marcus and KiLei.
Nothing beats having lunch at the top of a mountain. Well, almost nothing. Marcus also regaled us with what breaking up with a Swedish bikini model will do to you, such as free climbing up an insane rock wall on the Waianae range now known as Griego Wall. Photo by Ted Calvero.
After lunch, our ranks swelled by two as Jay and Tom joined our group that turned left towards Kamaileunu. Kinky, Yoshi and Katie turned right towards Tiki Ridge that would lead them back down into Waianae Valley. As we all waited our turn to climb down the first notch, the trade winds started to pick up and I actually felt chilly, on a Waianae hike!
Coming down the first notch was just a prelude to what was coming next, a much bigger notch that made our Pali Notches hike that we did last weekend, look relatively tame. Photo by Ted Calvero.
Scrambling on huge chunks of rocks all seemingly thrown together at random, made for an interesting puzzle as you have to figure out where are the best places to put your hands and feet.
Glenn free climbing down the second notch. The ropes that were tied around the boulder at the top looked like they could slip off at any moment, so we all decided not to use them. Luckily, under the watchful eyes of AFLAC, we were safely spotted coming down.
Coming down the first half of the second notch with it's initial near vertical rock faces and limited sight was the hardest part. Once past that hump, it was relatively smooth climbing down.
After we all made it safely down the monster notch, there were more rock scrambling in store, to get out of the notch and up towards Kamaileunu ridge.  
We made it to the top of Kamaileunu ridge around 1:15pm and took a second break. As we sat perched on the rocks, Glenn and I remembered this is the spot where we had ended our Kamaileunu hike last year, before heading back down the ridge. Click here for a larger image.
About 15 minutes later, we headed down the narrow rocky ridge from the summit. There were a couple rockfaces that we had to climb down from, but it was all downhill, albeit a rocky one.
As we got closer down to Makaha Valley, the rocky ridge gave way to dry, grassy terrain. Eventually the grassy ridge ran into a dirt trail, where we turned right and then walked a bit until we turned left onto a paved road.
The paved road led us to an old Hawaiian rock temple otherwise known as Kaneaki Heiau, the best preserved heiau on the island of Oahu.
After some of us respectfully walked around the heiau, we hit the back trails that returned us to the Makaha Towers around 4:30pm. Some folks split and went home and the rest of us had dinner at Tacos & More in Waianae.