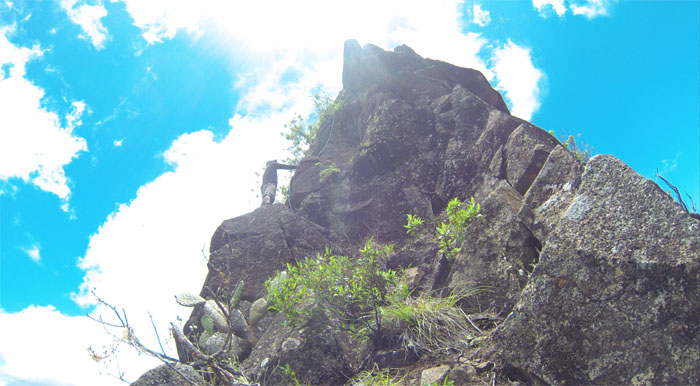 Happy Father's Day! I joined Marcus and his crew of Tom, J, and Susan for a hike in the Waianae Mountains that I've done before, but we were doing it in reverse today. We staged a car in Waianae Valley and parked at Makaha Towers.
The hike started off on a paved road that got steeper as we walked all the way to the end of the road. Bonus cardio. We had to walk back down a little bit until we found the junction that was marked "CY POND."
A dirt trail connected to another paved road that took us by Kane'aki Heiau, which is the best preserved Hawaiian temple on the island. We took a break, as Susan explored the ancient grounds.
After the break, we swung around the fence and continued on the road until we came across the next junction that is marked with the number "38" and coffee trees. J parted company with us at this point as he was not feeling well and decided to wait for some friends to do a scaled back hike.
Early on, we followed ribbons, bottle caps and paint as we picked our way through the valley. The incessant peacock calls and fleeting views of them flitting from tree to tree kept us company in the valley, as we bushwhacked our way up to Knife Edge.
We finally popped out of the valley and onto Knife Edge Ridge. It was a nice day to be on the Waianae Mountain Range!
Looking into Makaha Valley and the deep blue ocean waters offshore. Photo by Tom Engle.
We climbed up the ridge, scrambling over small rock faces. Just enough to get our blood flowing.
The rock faces soon started to get bigger and higher. More fun. There was only one section of rope that we saw, the rock face that is above the one Susan is climbing. We didn't use it, but it's there for assistance if needed.
Marcus going up a "knife edge" rock face.
Nice top down view coming up Knife Edge Ridge. Around this section, the trade winds started to kick in and help cool us down. That felt better than an ice cold Coke. Photo by Susan Beebee.
We soon made the summit of Kamaileunu Ridge, which at 3,200'+ is the third highest point on the island. Not even skipping a beat to stop and take photos, we quickly gave up that elevation as we made our way down to the crossover.
The main reason we came to climb this hike, the big notch, soon popped into view. Artillery fire from nearby Schofield Barracks also started popping.
Looking down into the mountain pass that breaks out into KoleKole Pass and Lualualei Valley.
Another shot of the big notch.
Marcus spotting Susan as she makes her way up the notch. There are 2-3 ropes that somebody left here, it's there for help if needed.
Looking back at all the fun rock scrambling we had coming down.
Tom free climbing up the notch.
My turn going up.
Susan coming around this boulder section where you had to pull yourself up to make it over.
Susan easily tackling the smaller notch.
Top of Kawiwi Ridge at 2,975′, with Mount Ka'ala in the background. 
We had company at the top, hundreds of small flies and moths and they were biting!
Maybe one day I can have a relationship with a Swedish bikini model, break up and have a wall named after me. Maybe not.
There were some questions as to which trail we were going to take down. It was between Tiki Ridge, Polka Dot Trail and Kawiwi Ridge. Guess which one we took?
The last two times I've been up this ridge, it's always been up. Going down was a nice change of pace.
No downclimbing this rock face today.
Susan climbing down one of the numerous rock faces that make up the ridge. It is definitely harder going down than up.
Tom posing at one of the scenic view points. Who we kidding? The whole ridge is a scenic view point!
Leaving the rocky ridge and into thick grass with loose rocks rolling underneath our feet. We then followed the rock strewn dirt trail and paralleled the barbed wire fence until we emerged onto the paved road.
Going down the road that I love to hate.
We said goodbye to the peacocks and artillery fire as we finished our fun hike that was filled with rock climbing galore.
The 5.82 mile hike took us 8 1/4 hours to finish. Not record breaking, but I'll take it for today.