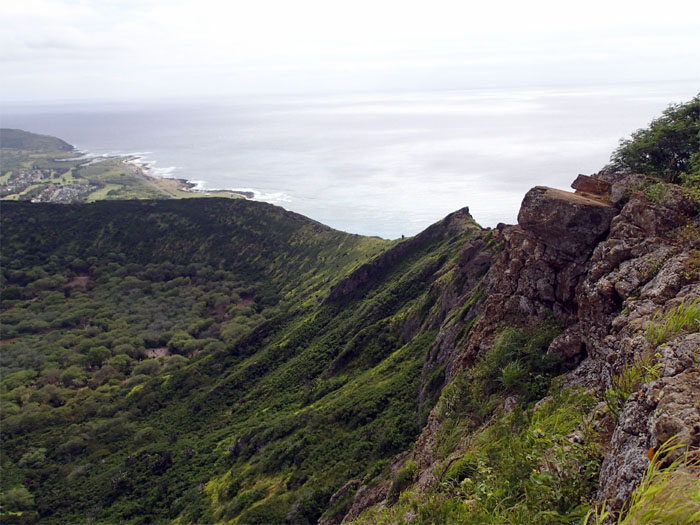 I joined Will and Chris on a slightly different route up Koholepelepe or Koko Crater Rim today.
Instead of starting from the end of the rim, we were going to take a "shortcut" and go up from the spur ridge that was inside the crater.
The spur ridge is quite noticeable once you look for it past the stripped tree tops. The waning moon was still visible as well.
Not often that you find one of these on a hiking trail. Luckily we were in the middle of a botanical garden.
We soon passed a equipment shed on our left, indicating that we were on the right trail. Thanks to Baron for the directions and idea.
If you see this, you have gone too far. Turn around.
The base of the ridge is just a stones throw from the equipment shed. Not really bushwhacking, but watch out for the sharp as steel cacti lurking in the tall grass. It hurts like a bee and then some.
Now we can see where we are going.
There was nothing tricky or technical with this ridge.
Basic scrambling up a nicely inclined ridge.
I took a shine to this spur ridge and will use this route when traversing the crater rim in the future.
Gusty winds greeted us at the top of the rim.
Dragon Fruit Cacti are in abundance on this section of the rim. Fruiting season occurs June to December.
Chris trying out his climbing skills. For those less inclined, the rim can be contoured on the left on fairly level ground. Photo by Will Lee.
As we neared the summit, we met another group coming down. Who yields? The one that seizes the opportunity to pass the gap.
The winds were making for a bad hair day.
Great town views at 1,208 feet high. Group photo left to right: Chris, myself, and Will.
Going down the makai or ocean side of the rim, we ran into a couple that had come up from the arch. The crater rim seems to be getting a lot more traffic lately.
Looking across the crater floor to see that puka or hole in the rim that I have yet to see up close.
The Halona Blowhole parking lot was surprisingly open, considering that this was the weekend.
The last rock to climb on the rim. After this, it was all downhill.
We took the left trail down, which sits opposite the spur ridge that we had taken up.
I don't think many people realize that there is a horse stable tucked away here.
Looking back at the trail that we had just descended, we noticed this sign. Oops.
By most accounts, Koholepelepe means "traveling vagina" in Hawaiian. The route we had taken today, resembles something that visits said passage. Or is it just my imagination? I think I had too much sun today.